The Bosch WTW875W0 Series 8 heat pump dryer with energy efficiency A +++ is one of the dryers that Amazon provided with the note that the Stiftung Warentest found it "good". The dryer, which has been in the range since 2015, can also demonstrate its good functionality on the basis of 6 customer reviews, 5 of which are very good. Incidentally, the price of the front loader in white has currently been reduced from 1.149 euros to 643,90 euros, which is a saving of 44%! (As of June 1, 2017)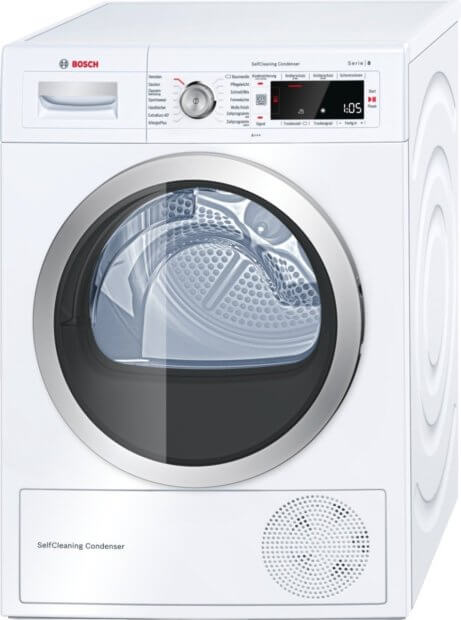 "Good" says Stiftung Warentest
At Amazon there is an extra page for large electrical devices and one more for heat pump dryers, which were found to be good by Stiftung Warentest. You can find this page here . One of the models listed there is the Bosch WTW875W0 Series 8 heat pump dryer with energy efficiency class A +++. In addition to the good rating from Stiftung Warentest, users find it very good. The front loader with 8 kg capacity has a self-cleaning condenser and many other advantages.
In a review on Amazon it says: "The laundry has always come out almost wrinkle-free, cuddly soft and it doesn't even smell remotely burnt or anything like that. [...] This dryer does the laundry 1A on a large scale, is very quiet in operation and very energy-efficient."
Buy Bosch WTW875W0 Series 8 heat pump dryer
If you order directly from Amazon, you can also book useful services for the device. For example, there is a free disposal of old devices that you can take advantage of. In addition, you are free to choose the delivery date so that you get your new heat pump dryer delivered when you are really at home.
Very good dryer from Bosch
The Bosch WTW875W0 Series 8 heat pump dryer with energy efficiency A +++ is a front charger in white with a capacity of 8 kg. At 62 dB, it is quieter than comparable devices. The different programs are gentle on every type of textile.
Data and details about the dryer
The dryer Bosch WTW875W0 Series 8 has the following on its data sheet:
Dimensions: 65,2 x 59,8 x 84,2 cm
Weight: 55 kg
Weight with packaging: 57 kg
Laundry capacity: 8 kg
Noise emission: 62 dB
Functions / settings: Self-cleaning condenser, acoustic signal, load detection, display, moisture sensor, child safety device, crease protection, short programs, remaining time display, honeycomb drum, special programs, start delay, drum lighting
Here is an overview of the dryer test winners
Which dryer do you have?
Do you have a heat pump dryer in use that you can recommend? Or do you have experience with the Bosch WTW875W0 Series 8 dryer? Feel free to leave a comment on the topic! :)
After graduating from high school, Johannes completed an apprenticeship as a business assistant specializing in foreign languages. But then he decided to research and write, which resulted in his independence. For several years he has been working for Sir Apfelot, among others. His articles include product introductions, news, manuals, video games, consoles, and more. He follows Apple keynotes live via stream.
The page contains affiliate links / images: Amazon.de