With Bose SoundTouch the manufacturer of high-quality audio equipment Bose® offers an extensive product portfolio with which you can listen to music wirelessly in different rooms as well as outdoors via WLAN or Bluetooth. The buttons on the Bose SoundTouch speakers can be assigned individual streaming services, your own music library, Internet radio and the like using the iOS app. This allows you to start your very personal music selection at the push of a button, without the need for a computer, smartphone or tablet.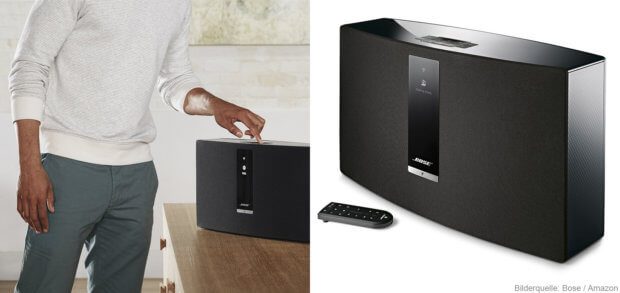 Bose SoundTouch speakers and more for multiroom music
For years, Bose has been a reliable supplier of high-quality accessories for enjoying music and other audio experiences, from movies and series to podcasts. Various Headphones count as much as individual speakers and comprehensive loudspeaker systems. The wireless music enjoyment indoors and outdoors can, for example, be achieved with the Bose SoundTouch system will be realized. In addition to individual devices, there is also the option of using the Bose SoundTouch products and other Bose speakers via the Link adapter to pair. Sources for the audio signals can be accessed via WLAN or Bluetooth.
Wireless link adapter
The Bose SoundTouch Wireless Link Adapter connects different Bose speakers in the house to create a wireless multiroom system. Optimal connection of different Bose products via WLAN. Control via remote control, app or push of a button possible - depending on the device.
30,05 EUR
10 series wireless speaker
Bose SoundTouch 10 - wireless speaker that can access and play audio media via WiFi and Bluetooth. Can be controlled with the app for smartphone and tablet, also comes with a remote control. Model available in black or white as well as with Amazon Echo Dot in a bundle.
20 series wireless speaker
The speaker Bose SoundTouch 20 Series III provides a wireless music system in your apartment or house. Use music services such as Spotify and Deezer at the push of a button or remote control. The link adapter and the app can also be used here. Music streaming, films, series, your own audio library and much more are always available.
30 series wireless speaker
Bose SoundTouch 30 Series III wireless music system - also available in black and white. The Bose SoundTouch speaker plays music from your own collection, internet radio, streams from Spotify and Deezer and much more. Can be coupled with the Link Adapter, additional SoundTouch speakers and accessories.
Download the Bose SoundTouch app
The Bose SoundTouch app for iOS devices such as iPhone, iPod touch or iPad from Apple was last updated at the end of July 2017 and is therefore up to date. The Bose SoundTouch app is also available for the Apple Watch, so that you can also control the speaker system via wearable . With the mobile software you can assign devices, control the volume individually in each room, select music services and much more. You can find the download of the Bose SoundTouch app for the Apple operating system at iTunes / in the App Store. If you use a smartphone or tablet with Android, you will find the right download in the Google Play Store (also updated in July 2017).
The wireless speaker system in the test
We cannot (yet) deliver a test of the Bose loudspeaker system here in the blog. However, you can see on the individual Amazon product pages that the speakers were rated with an average of 4 out of 5 stars. The 5-star ratings predominate. The sound should be decent, and the sound deserves it in the name of the products. "Great sound, great trading, great!"For example, a current review from July 14, 2017 is summarized.
The good thing about ordering or buying on Amazon: You can return the speakers, headphones and other accessories from Bose if they don't meet your needs. However, there should be hardly any problems with wireless streaming, using your own music library and other sources. A personal test should therefore be positive;)
Your opinion, questions and answers
Do you already use the Bose speakers from the SoundTouch series, perhaps in conjunction with the Echo Dot and Alexa? How are you enjoying music with the system? Which sources do you get the music from and everything always goes smoothly? How flawlessly can you enjoy music with the Bose SoundTouch speaker system? Feel free to leave a comment with your experiences and opinions. I look forward to your input!
After graduating from high school, Johannes completed an apprenticeship as a business assistant specializing in foreign languages. But then he decided to research and write, which resulted in his independence. For several years he has been working for Sir Apfelot, among others. His articles include product introductions, news, manuals, video games, consoles, and more. He follows Apple keynotes live via stream.
The page contains affiliate links / images: Amazon.de