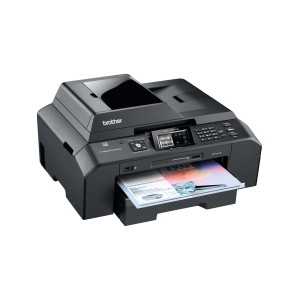 Another more than useful multifunction device for the home is the Brother MFC-J5910DW. It far exceeds the expectations that one usually has of a [printer->inkjet printer] of this price range for the desk - or better next to it, since it is a bit larger. First of all, it is of course compatible with Mac OS X and Windows. The absolute advantages of this "jack of all trades" among the [multifunction printers->multifunction printers] include duplex printing and some other great features.
Airprint and Wifi setup with WPS
The Brother MFC-J5910DW has a [WiFi interface-> w-lan] and is incredibly quick and easy to integrate into the home WiFi network. This can be done using the software supplied (but only Windows) or - if the router has WPS (like every halfway [current Fritz-Box-> Fritz-box]) - using the touchscreen display of the [Brother device-> brother]. This is very quick and very easy to do. You can then access the device on all computers in the house / office. Of course there is still the possibility to connect via [USB the connection-> usb].
In addition to the fax function (fax connection cable is included), the Brother has a scanner and a copier function. The support surface is A4 in size, supplemented by a multiple paper feed on the lid. Scanning or copying can be controlled via the computer or the color touch display. Both A4 and A3 pages can be printed out on the device. To do this, however, the A4 paper must first be removed and replaced with A3 paper.
iOS device owners are allowed to use the air printtechnology that enables direct printing from iPad, iPhone and iPod. As additional interfaces there is a card reader for [SD card->sd card] and [Memory Stick (Duo)->memory stick] as well as a USB input (e.g. for direct printing from the camera). Images, texts, pages, etc. scanned directly on the device can either be saved directly on the computer or on memory Cards and [USB storage media->usb-stick].
Small update: A friend who has the multifunction printer himself just pointed out that there is even one App called "Brother iPrint&Scan" which allows to scan and print from iOS device. If you want to take a look, you can find it here Link to the app store. If you use the app and have problems finding the printer in the network, you should activate IPV6 in your router or in the Fritz-Box. That seems to help in most cases.
Recurring usage costs? Hardly noticeable!
On the subject of running costs in operation, the following can be emphasized: The printer has 4 individual [ink cartridges (C, Y, M, K) -> ink cartridges] that do not have a chip. This means that you can choose from numerous offers when buying additional cartridges. For example, there are 20 cartridges at a price of just under € 17, which means less than € 1 per cartridge. Hard to imagine and cannot be compared with the costs that other manufacturers have to deal with when you have to buy a new original cartridge.
In my opinion, this "4 in 1 device" is a good choice with an ingenious price-performance ratio and a guarantee of 3 years.
Jens has been running the blog since 2012. He appears as Sir Apfelot for his readers and helps them with problems of a technical nature. In his free time he drives electric unicycles, takes photos (preferably with his iPhone, of course), climbs around in the Hessian mountains or hikes with the family. His articles deal with Apple products, news from the world of drones or solutions for current bugs.
The page contains affiliate links / images: Amazon.de