Buy Nintendo Classic Mini - Not just since the NES Classic Mini or the Ataribox are retro games, especially video games from the 90s, to be bought as new editions. The latest highlight, however, is the one that was officially launched recently Nintendo Classic Mini Console with 21 pre-installed SNES classics from Super Mario Kart to The Legend of Zelda and EarthBound. And the good thing about it: if you know the prices of the games for the original console, which are charged on eBay and Amazon, the Nintendo Classic Mini will be rated as cheap;)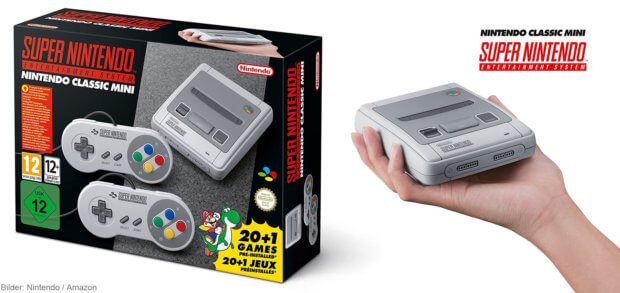 2017: The year for Nintendo freaks
It wasn't until March 2017 that the Nintendo Switch with a brand new part of The Legend of Zelda. Now there is the Nintendo Classic Mini as a new, compact edition of the Super Nintendo Entertainment System (SNES) for all retro fans. The cult console of the '90s lead through the N64 was replaced, brought a number of classics and the first parts of today's well-known series of games into living rooms and children's rooms all over the world.
SNES Classic Mini console with 21 games
Nintendo Classic Mini with 20 + 1 games for pocket-sized retro fun. Scope of delivery: 1 x Super Nintendo Classic, 2 x Super Nintendo Classic controllers, 1 x HDMI cable, 1 x mini USB cable, 1 x manual. Games are preinstalled directly on the game console. Attention: If you get a price of 12,99 EUR displayed here, then Amazon will unfortunately eject it without us being able to change anything. The 12,99 EUR is unfortunately only the price for the power supply, which unfortunately was built into Amazon as a product option. The SNES Mini costs more, of course.
Games list: These are the 21 pre-installed games
The game collection of the Nintendo Classic Mini brings you a journey through time through the 90s as well as a wild ride through different genres. Donkey Kong brings you jump & run fun, Final Fantasy makes RPG friends happy, fighters or fighting games are available with Street Fighter 2, classic racing game fun is offered by F-Zero, and 3D racing fun is available with Super Mario Kart. Of course, there are also games with Kirby, Yoshi, Mega Man and Link (The Legend of Zelda). Here is the full list:
Contra 3 - The Alien Wars
Donkey Kong Country
EarthBound
Final Fantasy 3
F-Zero
Kirby Super Star
Kirby's Dream Course
The Legend of Zelda: A Link to the Past
Mega Man X
Secret of Mana
star wing
Star Fox 2
Street Fighter 2 Turbo: Hyper Fighting
Super Castlevania IV
Super Ghouls' n Ghosts
Super Mario Kart
Super Mario RPG: Legend of the Seven Stars
Super Mario World
Super Metroid
Super Punch-Out !!
Yoshi's Island
Buy Nintendo Classic Mini or not?
As the owner of an original SNES console and a connoisseur of the current prices for the individual games, I can only recommend buying the Nintendo Classic Mini. Even if the prices of the (now far too many) used offers are higher than the introductory price, you save a lot of money when you buy the SNES mini console with 21 games than if you buy the old console and the original game modules would!
More articles on the topic
Nintendo Classic Mini on the Nintendo website: Here
First article about the Mini-SNES here in the blog: Click
Nintendo products at a fair price: In this shop
After graduating from high school, Johannes completed an apprenticeship as a business assistant specializing in foreign languages. But then he decided to research and write, which resulted in his independence. For several years he has been working for Sir Apfelot, among others. His articles include product introductions, news, manuals, video games, consoles, and more. He follows Apple keynotes live via stream.
The page contains affiliate links / images: Amazon.de