A cable box, or cable collection box, is a practical accessory for the home, the office, the coworking space or your holiday apartment. The box has space for cables, multiple socket outlets, power packs and even smaller devices such as the battery charger or the mobile phone power pack. Cables can be led out through entrances and ventilation slots and the heat escapes. So there is no heat build-up if several power supplies are stored in the cable box. In the following I have listed some products for you to prevent cable clutter. Which the right cable collection box is for your cable management depends on the design, the color and above all on the size.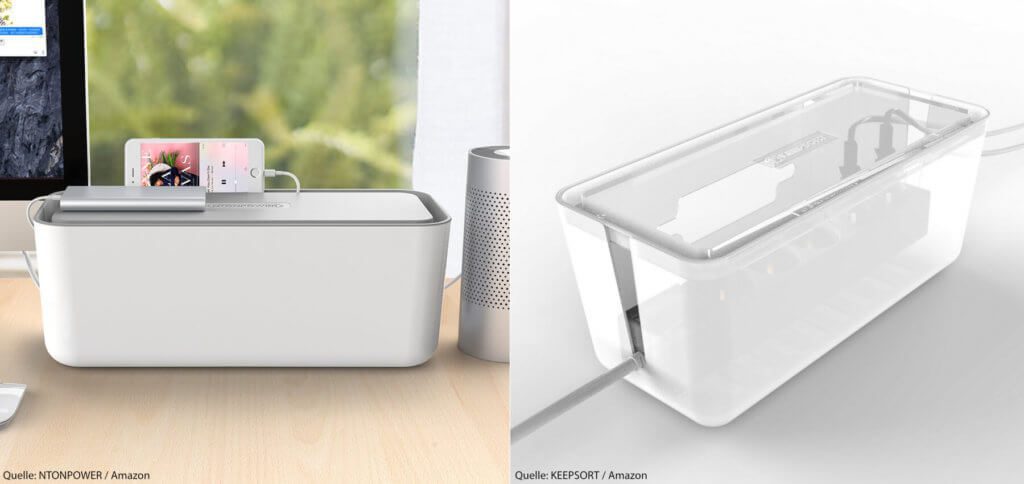 Areas of application for the cable box
A cable box for this and that power cable, the junction box, the power supply unit and the like can be used in many places in the household as well as for work and hobbies. The first thing that comes to mind is cables in the office or living room - or the cables of the many smart home devices; after all, we are living in 2019. Here I have put together a few examples where a cable collection box for power cords, multiple socket outlets and adapters can be useful:
Coworking space in which many laptops and smartphones are supplied with electricity
Entrance hall, where telephone, router, smart speaker, lamp and Co. are on the sideboard
Rehearsal room in which a lot has to be gathered from electricity via audio cable
Car in which batteries are charged and data is transferred for video shoots with cameras, DSLRs, drones, etc.
Office, living room, etc. - wherever help with cables, multiple socket outlets and the like is needed
Practical for drone recordings: Battery charging case for DJI TB50 battery
Cable collection box - safety for children and pets
The box for cables, socket strips, distributors and other electronic parts is not only great for keeping under control (or hiding) in the mess of cables, but also for increasing security in the house. Because where the cables, slots and power packs are housed in a box, neither the teeth and claws of dogs and cats nor the curious fingers of small children stand a chance. The collection box for cables is not only a practical accessory for cable management, but also a way of keeping children and / or pets away from dangers and devices from failures in the corresponding household.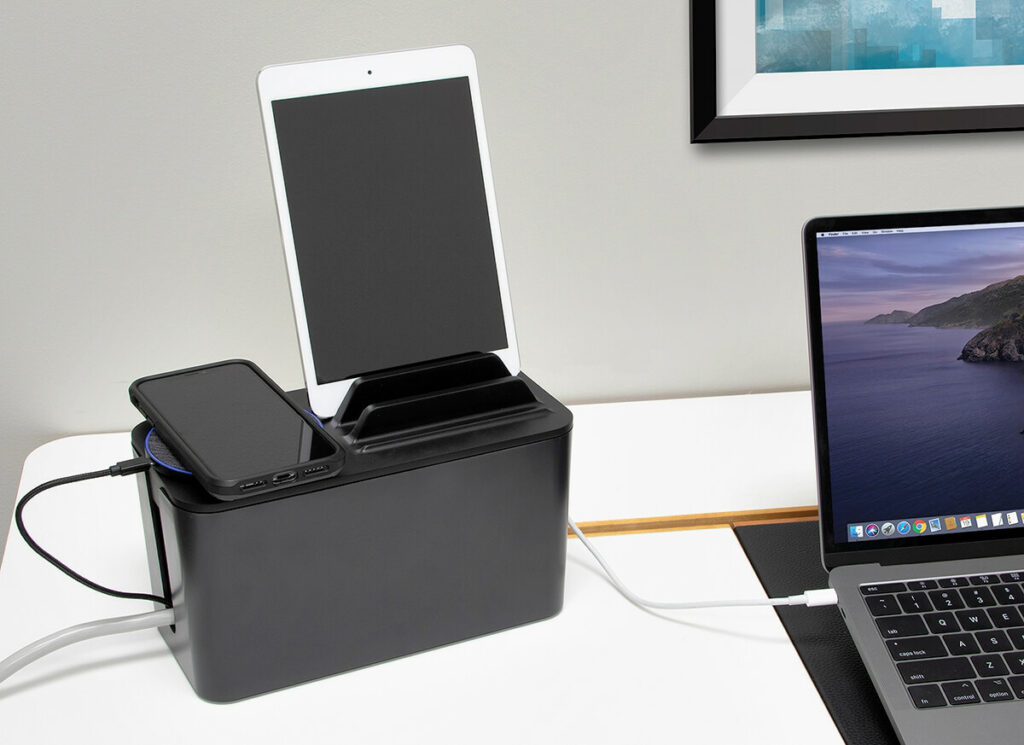 Update 25.11.2020/XNUMX/XNUMX: Cable box with smartphone and tablet holder
Something is also happening in the area of ​​cable stowage options. Fortunately, there are innovative companies like Bluelounge that come up with ideas and develop practical features. In the current case has Bluelounge a cable management box on the market, which should be of particular interest to us iPad and iPhone owners. The lid of the box is shaped so that two of the devices can be set up vertically while the charging cables are fed out of the lid of the box. On the one hand, the whole thing looks neat and, on the other hand, the iPads and iPhones don't fly around on the floor, but rather stand neatly on the box.
You will find the "Bluelounge CableBox Mini Station". here on amazon.
Buy cable box from Amazon
If you want to buy a box for cable management from Amazon, then I recommend you not only pay attention to the color and design, but also to details such as dimensions, ventilation and possibly feet. The dimensions of the cable box are important so that all items from the charger to the junction box to the power supply fit into it. Slots or holes for ventilation protect against overheating when the connected devices are in operation. And the feet are not only spacers that also help against the build-up of heat, but also ensure that the box does not slip away with the appropriate rubber coating. In the following table I have summarized several articles with details and information so that you can get an overview.
cable box
Item details
Peculiarity
Price (2/2019) / Link
LogiLink cable box in black or white
Large: 407 x 157 x 133,5 mm

Small: 240 x 130 x 120 mm

Minimal but robust design
Here from 7,97 EUR
KEEPSORT cable organizer in black or white
XL: 310*138*130mm

XXL: 430x180x160mm

Side and bottom ventilation; Cable routing through the lid; Velcro cable ties incl.
Here from 15,97 EUR
Pazzimo cable box set of 2 boxes in white
Box 1: 140 x 386 x 135mm

Box 2: 106 x 227 x 118mm

Two cable boxes in a set; simple design with lots of space
Here for 29,99 EUR
NTONPOWER cable box in gray or black
Small: 138 x 310 x 131 mm

Large: 430 x 180 x 160 mm

Structure like KEEPSORT model, including edge in the lid that holds smartphone and tablet
Here from 15,99 EUR
Hama cable box in white, black and wood look
Dimensions: 400 x 160 x 130 mm
Nice, rounded design; optionally with wood look (and Hama socket strip)
Here from 19,69 EUR
Cable management boxes made of wood or with a wood look
If you are less into sterile plastic optics, you should take a look at the boxes for cable management made of wood. There are some pretty and very practical collection boxes that also look good in a country-style living room. The positive customer ratings speak for themselves: The boxes are not only pretty to look at, but also serve their purpose very well: They ensure that the cable clutter in the apartment is stopped.
Cable box bestseller from Amazon
Most of the article models listed above can be ordered via Amazon Prime with fast shipping and fast delivery. Whether it's a mess of cables at the desk, security for cables and children or order in video production - with the right dimensions and the right look, your cables, power supply units and socket strips can be stowed away quickly. The Hama model comes with an optional junction box to hide. In the following list you will find the bestsellers of the cable boxes that you can buy on Amazon. This list updates automatically so that you always see the latest top articles.
Conclusion on the cable organization
In order to find the right cable box, one has to pay attention to the details of the products. In addition to the shape and color, the height, width and depth as well as ventilation are of course very important. In addition to the cable organization, the box is also used to hide the power strip, which makes the household safer and the office tidier. When choosing products, pay attention to the sale of Amazon or Prime, so that shipping and delivery are processed quickly. Feel free to leave a comment and tell me how a cable box helps you to organize cables or hide the power strip;)
After graduating from high school, Johannes completed an apprenticeship as a business assistant specializing in foreign languages. But then he decided to research and write, which resulted in his independence. For several years he has been working for Sir Apfelot, among others. His articles include product introductions, news, manuals, video games, consoles, and more. He follows Apple keynotes live via stream.
The page contains affiliate links / images: Amazon.de