The Consumer Electronics Show (CES), which was launched 50 years ago, again produced many technical innovations at the beginning of 2017; also and especially with regard to Apple-compatible gadgets. I would like to briefly show you the best Apple accessories that were presented at CES 2017.
Apple accessories at CES 2017: iPhone case, MacBook dock, Apple Watch camera
By the company Incipio an iPhone 7 case with an integrated 3,5 jack connector was presented. This means that users of the iPhone 7 (Plus) can again connect standard headphones. And the smartphone is also protected with a handsome cover for scratches, bumps and other damage.
The manufacturer for MacBook docks Henge Docks presented several products at CES 2017. The most interesting thing is not the vertical, but the horizontal dock with security features and a whopping 13 ports from USB over HDMI towards Ethernet. A great gadget for Apple laptops that are less and less equipped with interfaces! That's comparable OWC DEC with integrated 4 TB storage.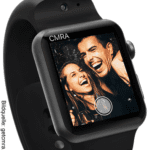 The company was also innovative CMRA therefore and showed a bracelet for the Apple Watch that brought a front and rear camera. The energy supply is guaranteed by the integrated battery, and communication with the iPhone is via Bluetooth / WLAN. An adjustment or a conversion of the Apple Watch is not necessary, which makes the product very user-friendly.
Two more products for MacBook and iPhone / iPad
From Griffin a new Lightning cable for the MacBook Pro comes onto the market. The manufacturer's cables and plugs are held together with magnets and detach from each other if, for example, you get stuck on the cable. So the MacBook doesn't fall down. That is why the cables are also called "BreakSafe". Are already on the market USB-C models and already Lightning adapter from the competition OKCS.
And then was from NanoLeaf presented a smart home solution for fans of LED light. The Light elements for the wall can be freely arranged and combined up to 30 pieces. The control happens via Apple HomeKit more compatible App from iPhone or iPad.
Video of the Apple highlights at the Consumer Electronics Show
Of course, I wasn't at CES myself, there is no time or money. The information comes from a video on the English language site MacRumors.com. Here is the report (also in English) from the trade fair:
Further information and links
After graduating from high school, Johannes completed an apprenticeship as a business assistant specializing in foreign languages. But then he decided to research and write, which resulted in his independence. For several years he has been working for Sir Apfelot, among others. His articles include product introductions, news, manuals, video games, consoles, and more. He follows Apple keynotes live via stream.