Auf dem Apple Germany YouTube channel there was recently a help video explaining how to change the passcode in iOS on the iPhone or iPad. It explains in text, images and spoken instructions how to change the iPhone passcode or create it first to protect the data on the device. In this article I have briefly summarized the instructions for you and also linked the video.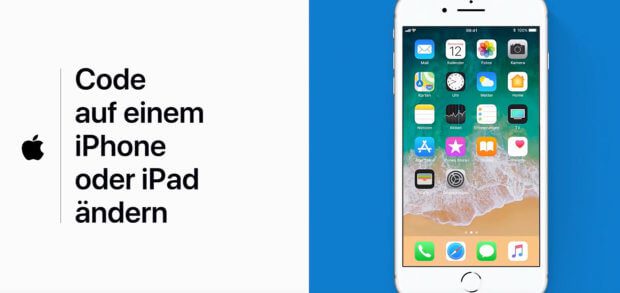 Make smartphone more secure: change / set iPhone passcode
In the video embedded below you will find an explanation of how to set and change iPhone passcodes under the current Apple iOS system, including animations, pictures and spoken instructions in German. If you don't want to watch a video, but rather work through simple bullet points, then I have the appropriate summary for you here.
Change / set iPhone passcode - this is how it works:
Settings and then on Touch ID & Code tippen
If necessary, enter the existing code; then on Change code tippen
If a security code has not yet been assigned: on Activate code tippen
When changing the iPhone passcode, enter the old one again
Then enter a new six-digit code
Confirm this in the next step (enter again)
Done - if everything went well, that will be it again Touch ID & Code Menu displayed
Why set an iPhone code / iPhone PIN?
The access code is set under iOS on the iPhone or the iPod Touch and iPad so that not everyone can access the data, images, videos, contacts, media and settings stored on them. Every time the home screen is called up from standby, you will be asked for the passcode (in the standard setting). In the above-mentioned menu item, however, a time can also be set after which the query comes and in which the home screen can be activated from standby without a PIN query.
iPhone security: "Delete data after 10 login attempts" is not that dangerous
Instructions as video
And here is the video recently uploaded by Apple, in which the whole procedure for changing the iPhone passcode is clearly explained again:
After graduating from high school, Johannes completed an apprenticeship as a business assistant specializing in foreign languages. But then he decided to research and write, which resulted in his independence. For several years he has been working for Sir Apfelot, among others. His articles include product introductions, news, manuals, video games, consoles, and more. He follows Apple keynotes live via stream.