Do you only have one HDMI connection on the television or do you only want to play one of three automatically recognized sources for reasons of convenience? Then the inexpensive HDMI switch from mrocioa is certainly a practical addition to your home cinema or living room. The small device, which does not require a separate power supply, offers 3 HDMIinputs and one output. In addition to Chromecast, Fire TV (stick), Apple TV, Sky box, game consoles and more, 4K video, Dolby Atmos, 3D movies and other features supported.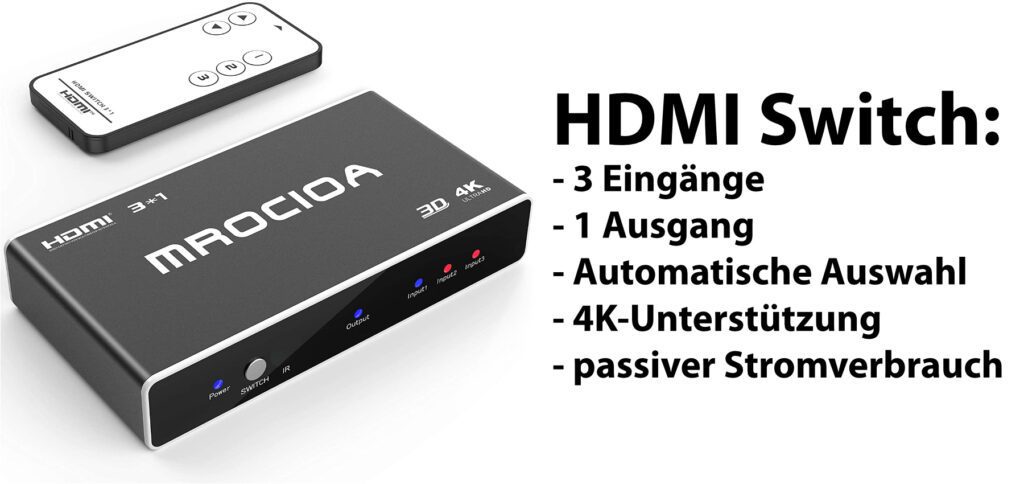 Automatic HDMI switch for Apple TV, Fire TV, Sky-Box, PlayStation, etc.
The cheap 4K HDMI switch has on the Amazon product page Average rating of 4,4 out of 5 stars. Currently, 70% of the ratings are 5-star reviews. This is probably also due to the fact that, unlike others, this device transmits images and sound from all connected sources. This actual core task is not fulfilled by all switches.
Some HDMI switches, which supposedly work with all possible sources, only transmit the sound but no picture with Google Chromecast, Amazon Fire TV Stick, Apple TV or a combination of different devices. It should also be emphasized: If the automatic selection of the video source does not suit you, there is a toggle button on the device and a remote control included in the scope of delivery;)
0,40 EUR
Which cables for the mrocioa HDMI switch?
HDMI 1.4, HDMI 2.0 or HDMI 2.1? Which cables should I use with the above device? Since you cannot transfer 8K content with it, the latest standard from 2017 is no longer applicable. You don't need one for 4K videos, HDR-10 and the like HDMI 2.1. HDMI 1.4 or 1.4b from 2011, on the other hand, is too old, does not offer HDR and transmits 4K with a maximum of 30 Hz.
So what you should use for the ideal transmission of video, films, series, video games, image and sound on this HDMI switch is HDMI 2.0. To be more precise, HDMI 2.0b, the standard from 2016. This enables a resolution of 3.840 x 2.160 pixels at 60 Hz or 60 fps. HDR and various audio features are also supported. If you already have 2.1 cables, it doesn't matter. These are backward compatible.
A selection of cables with an average rating of very good with an impressive variation in lengths are available on this product page. There you will find the offer from KabelDirekt. Connections for televisions, switches and source devices are offered in black, white and black-blue combinations. The lengths are 0,25 m, 0,5 m, 1 m, 1,5 m, 2 m, 3 m, 4 m, 5 m, 6 m, 7,5 m, 9 m, 10 m, 12,5 m, 15 m and 20 m.
After graduating from high school, Johannes completed an apprenticeship as a business assistant specializing in foreign languages. But then he decided to research and write, which resulted in his independence. For several years he has been working for Sir Apfelot, among others. His articles include product introductions, news, manuals, video games, consoles, and more. He follows Apple keynotes live via stream.
The page contains affiliate links / images: Amazon.de