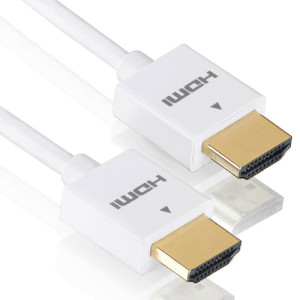 To be honest, until now I didn't even know that you have to pay attention to the support of the HDMI version with HDMI cables. But after reading a little bit, it turned out that not all HDMI cables are the same as HDMI cables. There are probably older versions that are not compatible with the new 3D TV models. For these TVs it is recommended to use a cable that HDMI Complies with standard 1.4a and offers an additional channel for the network (Ethernet). Those would be the technical details that should be met. In practice, however, it is also helpful if the cable has the smallest possible plugs and a flexible line, because modern LED televisions are often very flat and require cables to be routed around narrow edges.
A [HDMI cable-> hdmi cable] that seems to be a real insider tip in terms of price and quality is the deleyCON Flexy HDMI cable, which is available in lengths of 0,5 m, 0,75 m, 1 m, 1,5m, 2m and 3m is available. You can choose between black and white for the normal HDMI connection and the black version also has a cable with a [mini-HDMI-> mini-hdmi] or [micro-HDMI-> micro-hdmi] connector.
The deleyCON cable is ideal for small devices such as the [AppleTV-> appletv], [Raspberry Pi-> raspberry-pi], notebooks, Mac Mini, X-Box, PS4 and many others. As mentioned, the cable supports [3D TV-> 3d-tv] and also [Full HD resolution with 1080p-> full-hd] as well as the Ultra HD standard with 2160p.
A click on the product below leads to the page on which you can select your desired variant.
Jens has been running the blog since 2012. He appears as Sir Apfelot for his readers and helps them with problems of a technical nature. In his free time he drives electric unicycles, takes photos (preferably with his iPhone, of course), climbs around in the Hessian mountains or hikes with the family. His articles deal with Apple products, news from the world of drones or solutions for current bugs.
The page contains affiliate links / images: Amazon.de