The Choetech USB-C to HDMI adapter offers video transmission while charging the battery with a maximum of 60 watts. If you stream films, series, games and videos from your Apple MacBook or Apple MacBook Pro via HDMI in 4K resolution and with up to 60 Hz (60 fps) on a monitor or television, then the USB-C to HDMI adapter from Choetech is ideal. The dongle supports simultaneous use as an HMDI output and power input - so the battery of the MacBook (Pro) lasts even during the series marathon ;)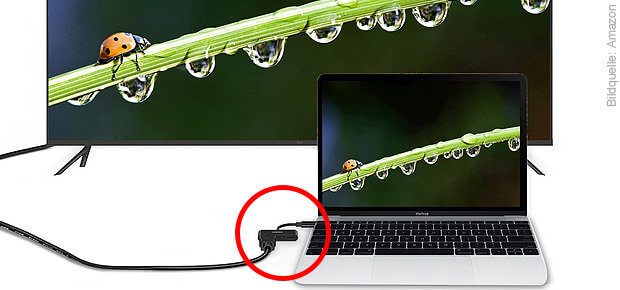 Choetech USB-C to HDMI adapter
This dongle is certainly not the cheapest for your Apple MacBook, but according to the satisfied customer reviews on Amazon, it may be the best. So far there have only been 5-star reviews in which the good transmission of VoD streaming, the transmission of presentations (from a smartphone) and the compact dimensions of the device were praised. It is also noted that the MacBook is "properly supplied with power". (As of July 13, 2017)
A few technical details
Here I would like to show you a few more technical data of the Choetech USB-C to HDMI adapter, so that you can see immediately whether the dongle is something for your video and film transmission:
Dimensions: 51 mm x 21 mm (device); Total length with cable: 100 mm
Weight: 18 grams
Transmission of films and series, videos and sound in 4K UHD with up to 60 Hz / 60 fps
Charging the source device with up to 20V and 3A, i.e. 60W (very suitable for the Apple MacBook)
Mirror Mode and Extend Mode: display or extend the screen
Great for pairing with TV, monitor, projector and charger
More information about Ultra High Definition
On the subject of 4K displays and 5K displays, Apple has a corresponding one Support article for you. If you want to know what is meant by 4K, UHD, QFH and Co., then I recommend you this guide to 4K. I gave you exact definitions, image examples, number of pixels and the difference to Full HD. If you have any questions or a comment about the described USB-C to HDMI adapter from Choetech, please leave a comment!
After graduating from high school, Johannes completed an apprenticeship as a business assistant specializing in foreign languages. But then he decided to research and write, which resulted in his independence. For several years he has been working for Sir Apfelot, among others. His articles include product introductions, news, manuals, video games, consoles, and more. He follows Apple keynotes live via stream.
The page contains affiliate links / images: Amazon.de