Gifts for men Finding it, especially for Christmas 2016 or when his birthday is coming up, is not that easy. Depending on how your friend, husband or best friend is made, the gift should of course suit him, his hobbies and interests. Here I have you 10 + 5 gift ideas for men packed together - I couldn't summarize everything with a simple list of 10;) These "Men's gifts"Come from the fields of technology and nerd stuff; I want this blog too Christmas Remain true to theme. ;) Maybe you will find one in the next few paragraphs Gift for the friend.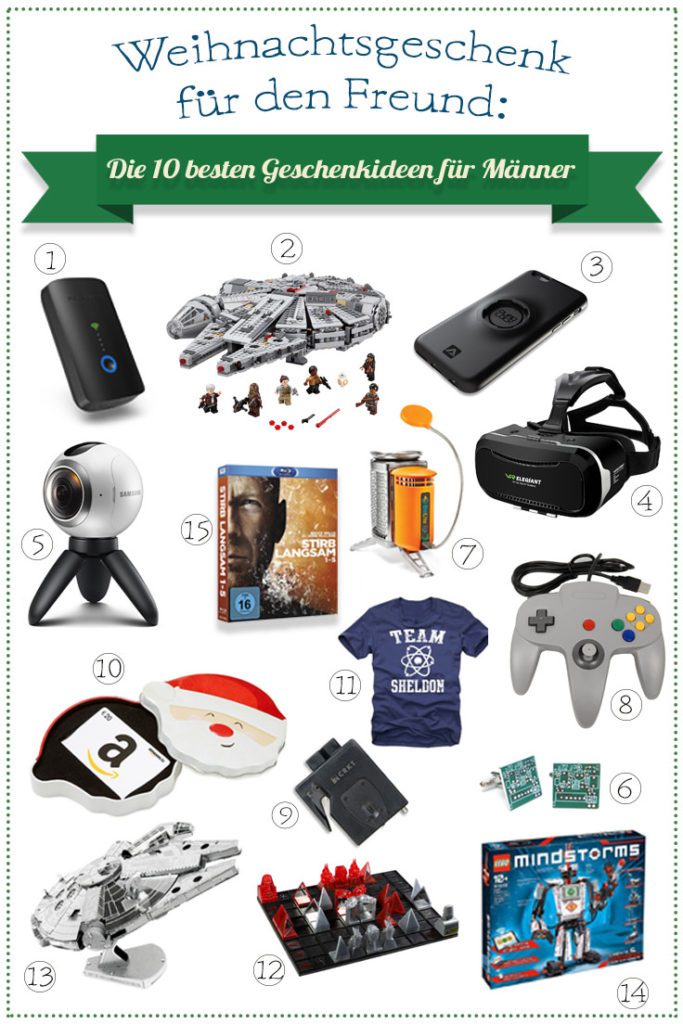 1. Wireless card reader, WLAN repeater and more from RAVPower
This "jack of all trades" is particularly suitable as a technology gift for men for Christmas 2016 if they are tech-savvy and want to use different storage media or connect different devices wirelessly while on the go. With this RAVPower Gadget you have an extensive Christmas present for your boyfriend or husband, with whom he will be happy for a long time. More detailed information about the device I have it here for you.
No products found.
2. LEGO Millennium Falcon as a present for a friend
If your bride and groom is both a play child and a Star Wars fan, the LEGO Star Wars set 72105 will be a nice surprise. Because this set brings you a playable Millennium Falcon home at a reasonable price. Not only good to look at, but also due to the possibility of opening it and the figures ideal for recreating scenes from Star Wars.
LEGO Star Wars Millennium Falcon
This LEGO Millennium Falcon can be opened and thus extensively playable. For this extensive set with figures like Han Solo, Chewbacca, Rey, Finn and BB-8, the price is reasonable.
3. Quad Lock iPhone case and accessories for on the go
The right Christmas present for a friend if they have an iPhone? Well, if he is also on the road a lot and wants to transport the iPhone safely and attach it in the car or on the bike, then I would recommend a Quad Lock cover. You can find more information about this all-rounder here and in this article.

4. VR glasses for Christmas: Finally being in 360 ° video
The 360 ​​° videos have long since taken over YouTube, Facebook and other platforms. There are also many other areas where virtual reality has had its place. Universal and inexpensive VR glasses like those from ELEGIANT are not bad at all. It is suitable for smartphones (iPhones and Android devices) from 4,7 to 6 inches. A video to try out you can find here.
No products found.
5. Samsung Gear 360 as a Christmas present for a friend
If your loved one likes to make videos himself, then maybe their own 360 ° camera would be a great gift. The Samsung Gear 360 camera combines quality, small pack size, a reasonable price and functionality. A comprehensive article on the camera i have here for you.
No products found.
6. Cufflinks in chip or circuit board look
These cufflinks are classy and yet nerdy and can be both a classic and a funny gift for a boyfriend or husband. In addition to the matching Tie clip these accessories are the ideal Christmas present for men who not only like to tinker with technology, but also wear a suit from time to time.
7. BioLite camping stove with USB charging connection for mobile phones
Do you like to go camping or does your friend like to go out camping with friends? Then, especially in the cold season, this cook is perfect for warming up food, boiling water and charging the iPhone battery. Because the BioLite cooker generates electricity that can be tapped via a USB socket. A detailed article on this i have here for you (note: the price indicated there has already been reduced again on Amazon!).
8. N64 Game Pad with USB connection for emulated gaming fun
Your friend likes to play old N64 games on the PC or Mac using an emulator? Then you can contribute this controller for a more authentic feel. If you choose this gamepad as a Christmas present for your friend, you may not see him for a few days because he is gambling and exulting. Nevertheless, he will definitely be grateful to you :)
9. Gift idea for a friend: car seat belt safety tool
In addition to all the fun and technical innovations: you can also give your friend a little bit of security as a gift for Christmas. If your friend travels a lot in the car, you can give him this so-called Exitool for Christmas. It is attached to the belt and helps to cut the belt in an emergency, smash the car window, etc. I've already had it in my hand and I think the workmanship and the quality are very good!
10. Universal Christmas present for the friend: Amazon voucher
Not sure if the first nine items on this list make good Christmas gifts for your friend? Then just give him an Amazon voucher. You are welcome to print out this article so that he knows what he can do with his voucher;) Basically you can't go wrong with this Christmas present!
11. "Team Sheldon" fun t-shirt for fans of The Big Bang Theory
If your friend or husband likes The Big Bang Theory look, then this t-shirt is the right gift for Christmas. Not only different sizes, but also different colors or color combinations of shirt and print are possible. The price is reasonable.
Big Bang Theory - Team Sheldon Shirt
The ideal Christmas present for fans of The Big Bang Theory series. Different sizes, colors and printing colors. And all at a very affordable price.
12. getDigital Khet Laser Game 2.0 (better than chess!)
Okay, let's dig a little deeper into the nerd box and bring a board game to the table or under the tree, where the important thing is to direct a laser beam by means of mirrors. The goal: to hit a certain figure of the opponent. So if chess is too boring for you, you should get it for free.
getDigital Khet Laser Game 2.0
Place mirror figures and direct a laser beam to the detriment of the opponent. That is the goal of this board game. The ultimate nerd alternative to chess. A great Christmas present for a friend.
13. Metal Earth Millennium Falcon (Set MMS251)
The current number 1 bestseller among the Metal Earth craft kits, and yes: it's the Millenium Falcon again. Anyone who does not like the VW Polo 1 among the Star Wars spaceships can no longer be helped. Everyone else can get this metal construction set for Christmas.
Metal Earth building set Millennium Falcon
No screws or glue are required for this craft kit. So if you want to put your boyfriend or husband in a corner immediately after the presents have been given so that he can occupy himself, this gift is the right means to an end.
14. LEGO Mindstorms EV3 as a Christmas present for a friend
Men are just big boys, and big boys want big toys. With this set (number 31313) from LEGO you pack a multifunctional toy for building and programming small robots under the Christmas tree. But don't worry: you don't need a lot of previous knowledge, the set is recommended for ages 10 and up.
LEGO Mindstorms EV3 building set
With the LEGO Mindstorms EV3 set you give your boyfriend or husband a creative and multifunctional Christmas present. He will enjoy it for a long time, because the construction and programming options are quite extensive.
15. Die Slowly Blu-Ray Box with Parts 1 through 5
What is easy to forget: Also Die Hard is in its original form a film that takes place around Christmas. Because of the action-packed storyline, which can be something for the sofa warrior, it's easy to forget. And with a total of five films, the box is also sufficient for sophisticated entertainment over the entire Christmas holidays. ;-)
1,10 EUR
Die Hard 1-5 Blu-Ray or DVD Box
This set brings 5 ​​parts of the film series with Bruce Willis to your home and under the tree. Excitement, fun and a lot of boom-boom are guaranteed.
Conclusion on the gift ideas for the friend or men in general
Christmas gifts for men are there many. This article should give you a small selection from the tech and nerd universe. We didn't even get into many areas of gifts for men, but you already have a small overview (I think I'll post more tips myself as a comment below!).
If you are still looking for gift ideas for women, you can go here at my list of gifts for the girlfriend watch. And if you still have Christmas gift ideas for your boyfriend or for men, please let me know in the comments. Happy Holidays everyone! :)
After graduating from high school, Johannes completed an apprenticeship as a business assistant specializing in foreign languages. But then he decided to research and write, which resulted in his independence. For several years he has been working for Sir Apfelot, among others. His articles include product introductions, news, manuals, video games, consoles, and more. He follows Apple keynotes live via stream.
The page contains affiliate links / images: Amazon.de