The Cocoon GRID IT Organizational aid is a great solution for cables, pens, adapters, cell phones, smartphones and other accessories that you want to transport, but which should not fly around in your backpack or bag. I tested the organization system made of different elastic bands and I am positively surprised. For the transport of cables, chargers and small technical parts, pens and tools, I will probably use the Cocoon GRID-IT organization system more often. For travel, I have already reserved a place in hand luggage for the part.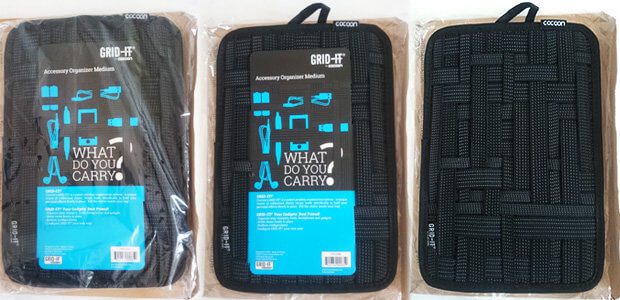 Preview of the test report
When I saw the product for the first time on Amazon, I thought to myself: It looks a little better than a seat cushion that someone has sewn elastic knickers on, but it's very similar. When Amazon delivered the organizational aid in the shortest possible time, as usual, I was pleasantly surprised.
Because it is a very high quality, super processed and durable product. I will update this review accordingly if I have been using the Cocoon GRID-IT for a longer period of time. But I can already imagine that I can put "long-lasting" on the list of descriptive adjectives.
Organization system Cocoon GRID-IT in the test
The Cocoon GRID-IT Organizer was ordered with the dimensions 30,5 21 cm x cm. This fits perfectly into the 15-inch sleeve of a laptop or Apple MacBook. You can attach all kinds of cables, adapters, power supplies, a multitool for repairs, pens, etc. I have made sample pictures for you: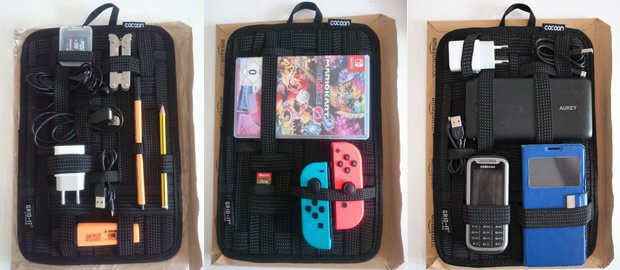 Objects that are too strong do not fit into the pocket on the back of the Cocoon GRID-IT. The Basic Law fits into it (see photo), with a Capri-Sun (for the elderly: Capri-Sun) it becomes difficult. Then the zipper no longer closes. I will probably use the bag for writing paper and business cards in the future.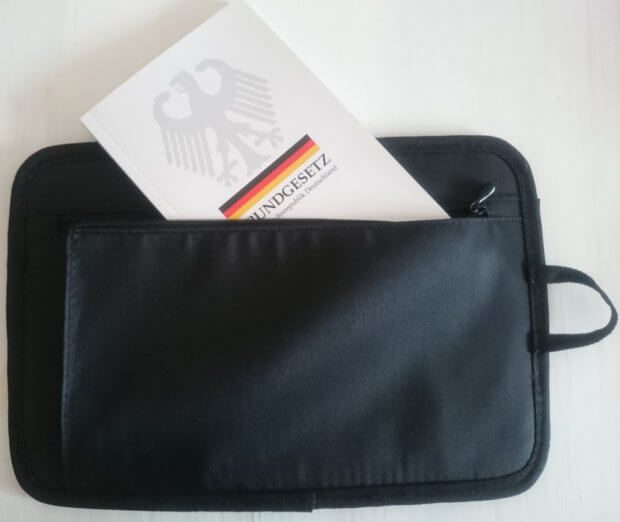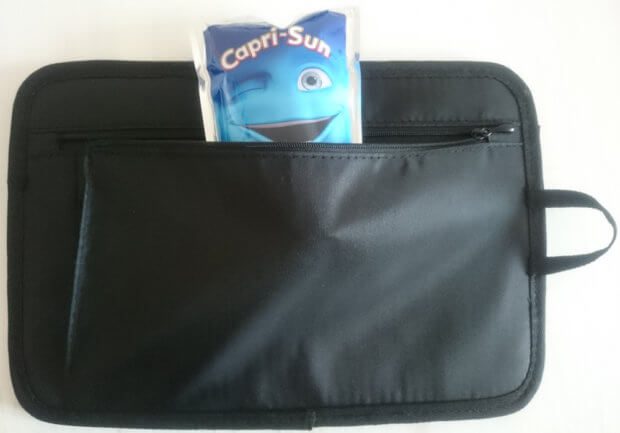 More grip than expected
As I said: At first I didn't think that the Cocoon GRID-IT was really as great as many reviews on the product page described it. But already after unpacking and loading it for the first time, it was clear that the thing could hold up properly. And this is not only due to the elastic bands that are stretched with a lot of tension, but also to the sewn elastic threads.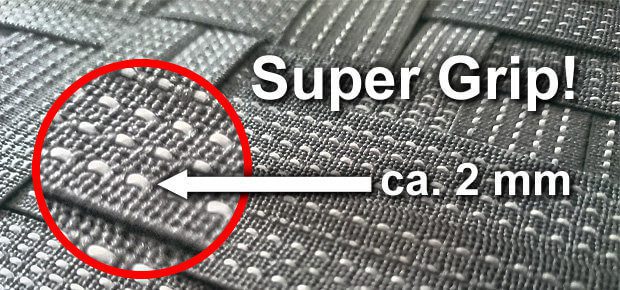 Depending on how tight the individual strands are, the resulting "knobs" are between one and three millimeters long. They provide a lot of grip, so I even dared to pour the GRID-IT and move it wildly in all three axes. The result: not even the smartphone or the heavy one Power Bank fell out.
Various sizes and colors (2010)
The organization system is available in the right size and color for your individual areas of application. Many different accessories and smaller devices can be attached to the variously arranged rubber bands. Headphones, smartphone or iPhone, cables for Mac, MacBook, iPad, etc.
I have the version Medium black in use. Here I have summarized a small comparison of individual models for you. So you can see which organization system is ideal for tidying up your accessories and which one fits into the pocket of your MacBook - there are colors to choose from Black, Grey, Red and Blue:
| | | | |
| --- | --- | --- | --- |
| | Small / small | Medium / medium | Large / large |
| Height x width | 26 13 cm x cm | 30,5 21 cm x cm | 38,5 24,5 cm x cm |
| Back pocket | ja | ja | ja |
| Ideal for… | Small parts, charging cables, make-up kits, headphones, small accessories | Chargers, cables, smartphones, pens, granola bars, switch controllers and games | Chargers, cables, tools, smartphones, cell phones, small tablets, etc. |
New models since 2016/2017
Every time you research a topic again, you learn something new. Because the models described above seem to have been available on Amazon since 2010. However, while searching for the individual product pages, I found a single product page where you can select all colors, color combinations and sizes. And that with newer versions of the product ...
You can choose this color / color combination:
Black
Blue
Grey
Red
Black + purple
Black + blue
Gray + blue
In addition, these newer size options can be selected:
18 x 13 cm
21 x 16 cm
24 x 19 cm
26 x 13 cm
27 x 19 cm
31 x 21 cm
38 x 24 cm
38 x 27 cm
More benefits and comments on the article
Shipping via Amazon is recommended, as the item will then be at your home quickly - ideal if you want to optimize the organization of your hand luggage or backpack at the last minute. Incidentally, what I consider particularly positive about the Cocoon GRID-IT is that it has a rigid structure. Even if you load one side heavily and hold it by the other, it won't sag. In addition, thanks to the loop, you can hang your accessories anywhere - on the plane, on the train, on the desk, etc. You just have to be careful not to put everything in the wrong way round;)
Pictures of the Cocoon GRID-IT in action
---
Conclusion: clear buy recommendation
Whether for everyday use in a backpack or briefcase, when traveling in hand luggage or suitcase, in the office as an organizational aid or on hikes for muesli bars and the power bank - I can give you that Cocoon GRID IT I can only recommend organizational help with the very well-holding rubber suspenders. It keeps things tidy and neatly holds the small parts and technical accessories. You have to shake it too much to make something fall out. From my side there is definitely a purchase recommendation for everyone who wants to organize their stuff better!
After graduating from high school, Johannes completed an apprenticeship as a business assistant specializing in foreign languages. But then he decided to research and write, which resulted in his independence. For several years he has been working for Sir Apfelot, among others. His articles include product introductions, news, manuals, video games, consoles, and more. He follows Apple keynotes live via stream.
The page contains affiliate links / images: Amazon.de