It is there, the "second wave" of Covid-19 infections long predicted by the experts. After the vacation months and with the start of the wet and cold season, the number of cases increases across Germany, even though the tests are not much more than usual ( ). If you want to stay up to date or want to prepare for your home office again, you will find the right links here. A recommendation right at the beginning: Take a look at the website of your city or the district office responsible for you - there is usually an overview of the number of cases for your region, even broken down by cities and municipalities.
An overview page that I have used again and again in the last few days and weeks to find information about the situation in Germany is the one from ZDF. On the information page of "ZDF heute" there are the number of cases and the latest news from Germany and all over the world. The list heads, unfortunately, as one would expect, the United States. For Germany, for example, there is a graph that shows the reported new infections per day.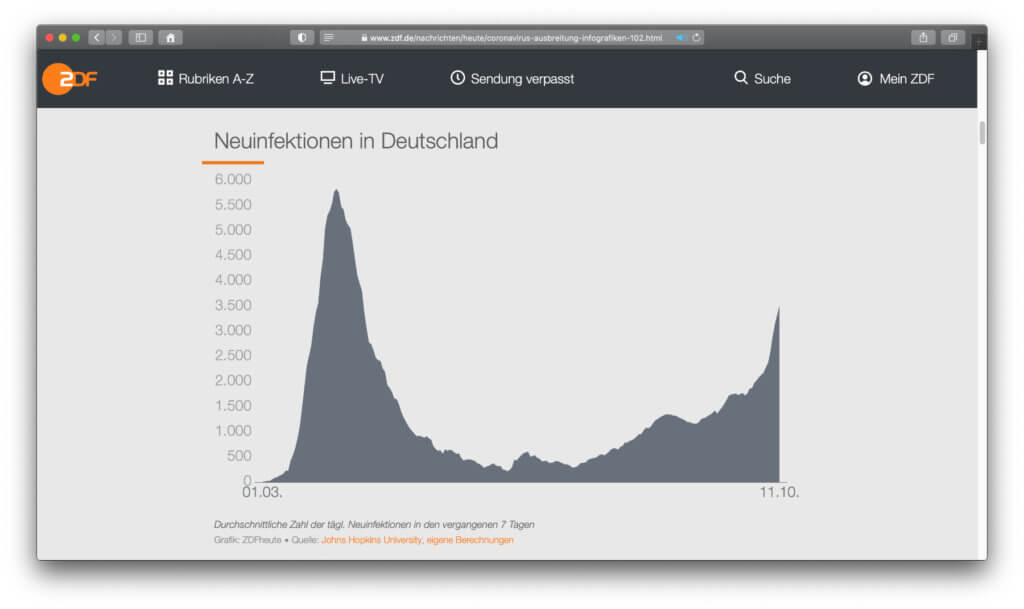 As of October 12, 2020, with over 3.500 new cases per day, we are roughly at the level of March 25, 2020. Further overviews provide information on new cases by world region (Europe, Asia, North America, South America, Africa, Oceania). The Europe graph is currently the highest with an average of 16,6 new infections per 100.000 inhabitants (rising since July). The global comparison goes back to the details of Germany: the counties are also broken down according to the number of cases.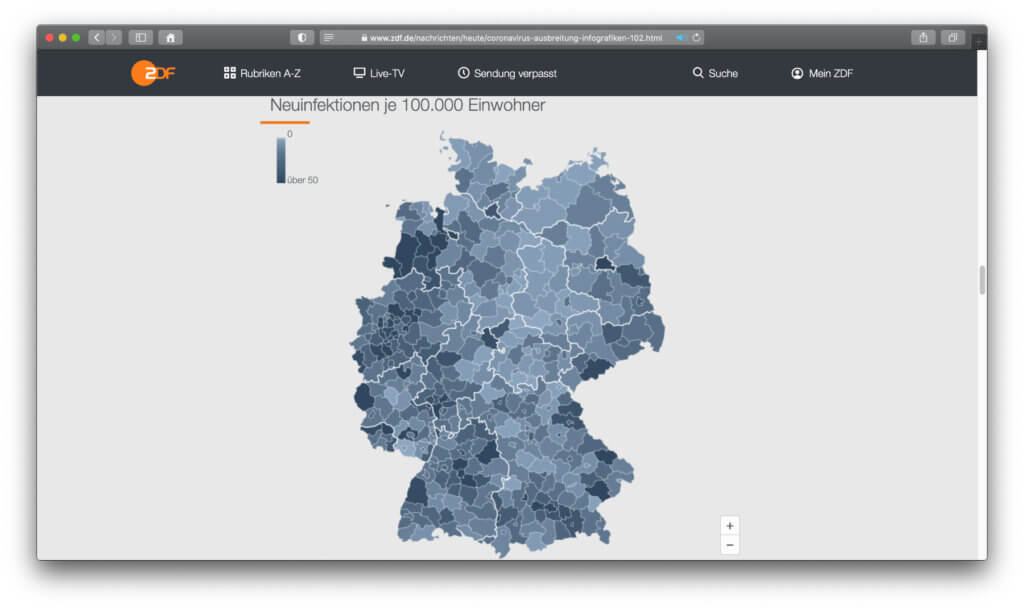 Direct sources: Johns Hopkins University and RKI
Many Germany-wide overviews are based on the reports from the individual cities, districts and countries. However, with regard to global developments, the information is often based on data from Johns Hopkins University in Baltimore. This university is one of its core areas in which teaching and research is carried out, medicine, health sciences and international politics (Wikipedia). You can find information about the coronavirus on the following websites of the Johns Hopkins University:
In Germany, the Rober Koch Institute (RKI) provides important data and figures on coronavirus, Covid-19 and what goes with them. Already on the Home page of the RKI website there is a list of informative sub-pages in a "Frequently asked questions" section. This makes it easier to navigate the site so that you can find the information you are looking for more quickly. For example this:
Corona warning app for information on critical contacts
What everyone should have installed, both on the Apple iPhone and on an Android phone, is the Corona warning app. If you want to buy a used older iPhone for your child, for older family members or for yourself in order to be able to install the Corona warning app, then have a look here: Readers question - Old iPhone wanted for Corona warning app. The app warns you anonymously if you have had contact with a person who tested positive.
[appbox app store id1512595757]
[appbox googleplay de.rki.coronawarnapp]
A short disclaimer in advance: If you tend to want to keep track of the latest developments and this causes you to worry about yourself, then maybe you shouldn't install an info app. Because the constant information and updating can, as with social media apps, lead to stress and thus to psychosomatic suffering. If you are calm with the information, then you can take a look at these apps:
The topics of coronavirus, Covid-19 and Co. will keep us busy again in the coming weeks and months. You don't have to repeat everything that has already been said in detail. But you can point it out again in order to learn directly from the "first wave". Here in the blog in the first half of the year, for example, these articles were about coronavirus, protection, home office and the like:
After graduating from high school, Johannes completed an apprenticeship as a business assistant specializing in foreign languages. But then he decided to research and write, which resulted in his independence. For several years he has been working for Sir Apfelot, among others. His articles include product introductions, news, manuals, video games, consoles, and more. He follows Apple keynotes live via stream.