Has at the end of August Code42, the software company behind the backup service Crash plan, the offers for private users have been removed from the portfolio. The backup product CrashPlan for Home itself should then be completely discontinued from October 23, 2018. If you want to look around for an alternative or a new backup service for use with the Apple Mac, iMac or MacBook in view of this message, then this is the service Backblaze recommended. Regular readers of this blog know that Backblaze is here long time has a good repute;)
CrashPlan alternative: Backblaze as a reliable service
CrashPlan is giving up its backup service for private end users and will only focus on business solutions for business customers in the future. So if you need a backup provider as a private user of an Apple Mac, Backblaze should be advisable. This provider has a very good connection in Germany and manages to push large loads of data through the line very quickly. With other providers, if you want to back up several TB, for example, you sometimes don't get a full backup even after months. You can find offers from Backblaze on the Backup service website.
System crash, ransomware, virus and other threats
A backup is always a good idea. Whether you upload your important files and folders to an external hard drive or connect them to a cloud service, it's worth it. Not only viruses, which are also increasingly being written for OS X and macOS on the Apple Mac, can damage or delete your files. Ransomware is the buzzword of the current hour, because more and more cyber criminals want to extort money from PC and Mac users with this type of malware. In addition, there are natural influences (fire, water, thunderstorms) and other reasons for system crashes. The data backup is also prior to creating one Fusion Drive or its Resolution necessary.
Backblaze invites users and shows advantages
Backblaze recently invited the outgoing users of CrashPlan to its company blog. In the blog entry, in which the provider presents itself as the perfect CrashPlan alternative, a comparison with the suggested by CrashPlan Service Carbonite and its products Carbonite Basic as well as Carbonite Prime shown. Backblaze as a CrashPlan alternative turns out to be particularly suitable for Apple users, fans of automation and bargain hunters: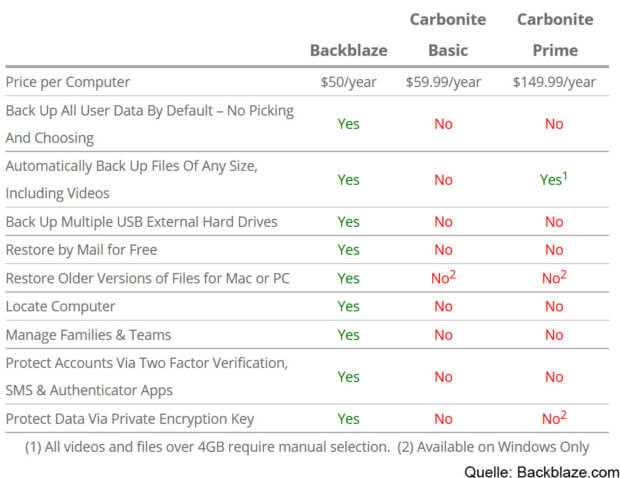 Worth reading: Which media for data backup?
Your opinion and experiences
If you want, you can register here at Backblaze. But I'm also interested in your opinion on the subject: How do you feel about data backup? Are you familiar with the individual providers from Backblaze to CrashPlan to Carbonite - and which one do you trust? Feel free to leave your opinions and experiences on the topic as a comment - even if you know a CrashPlan alternative that is better in your opinion. ;)
After graduating from high school, Johannes completed an apprenticeship as a business assistant specializing in foreign languages. But then he decided to research and write, which resulted in his independence. For several years he has been working for Sir Apfelot, among others. His articles include product introductions, news, manuals, video games, consoles, and more. He follows Apple keynotes live via stream.