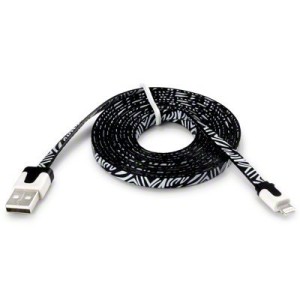 It doesn't always have to be the chic gray that already adorned computers [1972->1972]. The manufacturer Cellapod seems to have had enough of the fact that cables always have to look boring and have set about the design lighting to USB cable that can now be found in stores under the brand name "Niedlich". The cable is usually used to connect the iPhone 5, iPad or iPad mini to the charging station, the [car plug->iphone car adapter] or to the Mac.
And the good news for girls: The USB cables are not only available in black and blue, but also in red and pink. Of course with the chic zebra look or in the design with white dots. The cable is a total of 2 meters long and is sufficient even if you have your power supply unit on the floor but your iPhone is on your desk. You can find the different colors and designs of the Lightning USB cable via searching "Cute Lightning USB" on Amazon
Jens has been running the blog since 2012. He appears as Sir Apfelot for his readers and helps them with problems of a technical nature. In his free time he drives electric unicycles, takes photos (preferably with his iPhone, of course), climbs around in the Hessian mountains or hikes with the family. His articles deal with Apple products, news from the world of drones or solutions for current bugs.