At the last Cyberport Cyberdeals before Christmas 2017, some technical devices will be offered for sale again at a really great discount. The technology offers of the authorized Apple dealer for the Cyberdeals of calendar week 51/52 include an Apple MacBook Pro (2016), an Apple MacBook Air (2017) as well as various televisions, notebooks, external hard drives, Bluetooth boxes and much more . TL; DR: Click here for the offers.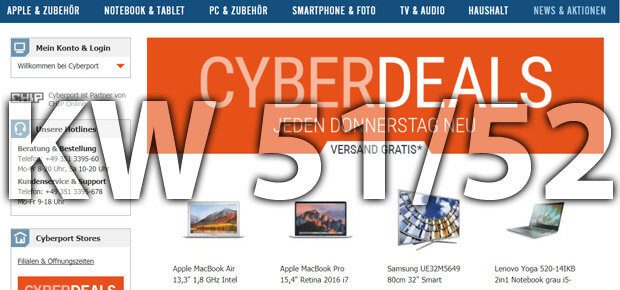 Buy Apple MacBook Pro 15,4 ″ and Air 13,3 ″ cheaper
The discount on the technology offers from Cyberport Cyberdeals that exist until Wednesday next week mostly refers to the RRP, the recommended retail price. Therefore, the starting prices may seem a bit high to you. Here are this week's Apple Deals for the said campaign:
| | | |
| --- | --- | --- |
| | MacBook Pro 15,4 ″ | MacBook Air 13,3 ″ |
| vintage | Late NEVER | Mid 2017 |
| CPU (processor) | Intel Core i7 with 2,7 GHz | Intel Core i5 with 1,8 GHz |
| Display | 2.880 1.800 x pixels | 1.440 900 x pixels |
| RAM (working memory) | 16 GB | 8 GB |
| hard disk | 512 GB | 128 GB |
| Graphics chip | AMD Radeon Pro 455 (2 GB graphics memory) | Intel HD Graphics 6000 |
| Actual price | 3.199 EUR | 1.099 EUR |
| Cyberdeals price | 2.349 EUR | 879 EUR |
Further technology offers
Furthermore, with the Cyberdeals of week 51/52 2017 you get a Samsung Smart TV with 32 inch screen diagonal for only 299 EUR instead of 529 EUR or with 55 inch for 729 EUR instead of just under 1.250 EUR, a SONY Bravia TV for 529 EUR instead 849 EUR and a full HD monitor from Samsung with 27 inches and a price reduction of 60 euros. Also of interest are the reduced WD My Passport hard drives for mobile use, which bring 3 TB of storage for less than 100 euros, as well as a Dyson cordless vacuum cleaner, two SDigital Bluetooth speakers at a huge discount, a cheap NAS and, and, and ... You can access the offers via this banner:
Think about Christmas today!
Christmas falls on a Sunday this year! Therefore, by Thursday at the latest, you should think about the gifts that you want to order via the Internet and online shops. If you have absolutely no idea yet and the Cyberdeals are not the right one for you, the person to be gifted or your wallet, then there are a few tips for last minute Christmas gifts here in the blog:
After graduating from high school, Johannes completed an apprenticeship as a business assistant specializing in foreign languages. But then he decided to research and write, which resulted in his independence. For several years he has been working for Sir Apfelot, among others. His articles include product introductions, news, manuals, video games, consoles, and more. He follows Apple keynotes live via stream.