It is not long until Christmas and technology is increasingly on the wish lists that the red-clad man from the North Pole receives. That is why anyone who is helping Santa Claus handing out presents in two and a half weeks would be well advised to stop by Cyberport's current cyber deals. With a new design of the promotion page, an Apple MacBook Pro 15,4 ″ Retina (2016), a SONY 4K Bravia and much more will be offered cheaper from today and until Wednesday next week. TL; DR: Click here for the offers.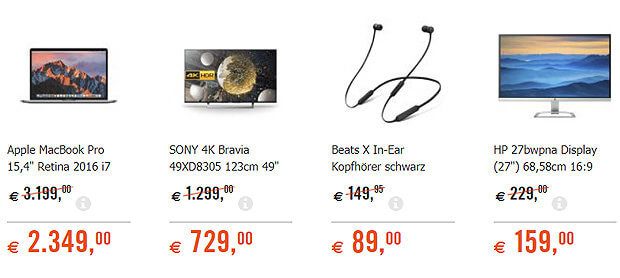 Apple MacBook Pro 15,4 ″ Retina (2016) cheaper
Instead of the recommended retail price of 3.199 EUR, you pay only 49 EUR for the Apple MacBook Pro 50 ″ Retina (2017) as part of the current Cyberport Cyberdeals of week 15,4/2016 2.349. A great saving that can be used directly for further unanswered wishes, for the savings account or for a Christmas or New Year's holiday. So if you wanted to give yourself or someone else the corresponding MacBook Pro with i7 processor anyway, then this is definitely the best deal of the week!
Further deals: Cyberport Cyberdeals of week 49/50 2017
Of course, there are also many, many other Cyberport technology offers among this week's deals, which include numerous Windows notebooks, but also a 27-inch HP monitor, Beats X in-ear headphones, a Pioneer AV receiver with AirPlay, a Sony Xperia XZ (Smartphone with a good camera), an HP OfficeJet printer, Sony headphones, a gigabyte mainboard, a USB-C docking station, a Toshiba Smart TV with 55 inches and a lot more! You can find the respective price comparison of the RRP and the special price on Cyberdeals promotion page and the technical details on the product pages linked there.
Technology offers are new every week
Every Thursday there are new cyber deals at Cyberport. The current technology offers are valid from today, December 7th, 2017 until next week, Wednesday, December 13th, 2017. So if you found this post over the weekend via the Sir Apfelot newsletter, you can still grab it;)
After graduating from high school, Johannes completed an apprenticeship as a business assistant specializing in foreign languages. But then he decided to research and write, which resulted in his independence. For several years he has been working for Sir Apfelot, among others. His articles include product introductions, news, manuals, video games, consoles, and more. He follows Apple keynotes live via stream.