Vero is a social network that experienced a pretty strong hype at the beginning of 2018 and was discussed or used by numerous influencers, media, companies, artists and so on. Details and information as well as media reports and extensive criticism of Vero can be found in this summary. Whether you have read them or not: If you have landed here, it is probably because you want to delete your Vero account or terminate your Vero user account. Well, then here are the instructions for it ...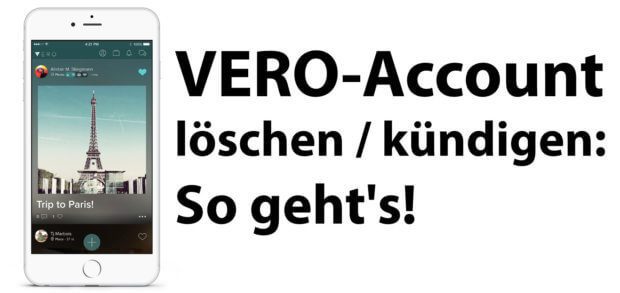 Deleting a Vero account: Here's how
Have you let yourself be carried away by the great hype surrounding the Vero app and now you realize that there was no social media revolution after all, then it is time to take your data from the directories and the servers of the operator. But once you're inside, you won't get out that quickly - it's not as easy as with Facebook or other established alternatives. This is how the user-side procedure for deleting a Vero account looks like:
In the Vero app, tap on the profile icon in the top left
Tap the question mark in the circle
On the Vero Support page under "Who do you want to contact?" Select "Delete my account"
Now state in writing in the feedback window that you want to cancel your Vero user account
In the upper right corner, tap the button for sending feedback
Has the Vero user account been canceled?
No. The final decision about leaving the social network rests with the support staff who will process your request. So asking these multiple times is perhaps not the stupidest idea. According to the Vero CEO Ayman Hariri the system for permanent logout is currently so complicated because many users (allegedly) want to delete the account on an impulse, but then want to reactivate it. There should be a simple process for deleting the Vero account in the future. So if you are currently only considering registering with Vero for a test, you should probably leave it easy;)
After graduating from high school, Johannes completed an apprenticeship as a business assistant specializing in foreign languages. But then he decided to research and write, which resulted in his independence. For several years he has been working for Sir Apfelot, among others. His articles include product introductions, news, manuals, video games, consoles, and more. He follows Apple keynotes live via stream.