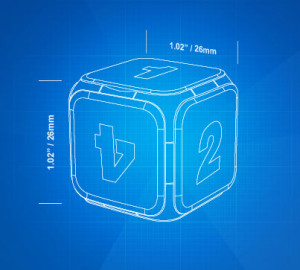 Now that a number of parlor games such as Monopoly, Carcassonne, Catan and the like have found their way onto the iPad, it was only a matter of time before a dice came along that "served" these games. With the Dice + A Bluetooth cube has now come onto the market that aims to fill this gap and improve the gaming experience. With an edge length of a good 26 mm, the Dice-plus is slightly larger than the usual dice that come with board games. This may be due, among other things, to the technology that is built into it, because the numbers rolled also light up.
Currently, the price for the cube is 40 EUR, which is of course no small matter when you consider the price of "normal" cubes. A current problem is still that of the dice Apps needed to play with him, because no game can do this "in house". In order to bridge this initial phase until major manufacturers have integrated a cooperation with the cube into their apps, one can be found in the app store Game collection for Dice +, with which you can get started right away. This app is available for free and offers nine games like backgammon and some others that had to be renamed to avoid trademark infringement. But surely everyone knows the game in which you have to bring your 4 pieces "home" and can throw out other game pieces on the way.

The cube uses Bluetooth Smart technology, which means that although it is particularly energy-efficient, it is only compatible with iOS devices that support this standard. This is the case with the iPad mini, the iPad 3 and 4, as well as the iPhone 4s and newer models. The cube can be recharged via a micro-USB cable, but according to the manufacturer it should last a good 20 hours of gimmicky before it needs to be recharged.
There are also points of criticism from some people - from my point of view not entirely unjustified: What do you do if a game requires 2 or more dice, for example? What do you do when you want to play board games that need dice with more or less than six faces? There are dice for role-playing and other games that are based on the platonic solids: tetrahedron, hexahedron (cube, cube), octahedron, dodecahedron and icosahedron ([see also school cube-> school cube]). That would have to be solved somehow by the manufacturer.
For now, however, you should get along well with a Dice +, because there are already 9 games that work with it. Unfortunately, the cube is currently only available directly from the manufacturer, who sends it to Germany for 5 EUR postage.
Here is a little video that shows how to use the dice in backgammon, for example:
Jens has been running the blog since 2012. He appears as Sir Apfelot for his readers and helps them with problems of a technical nature. In his free time he drives electric unicycles, takes photos (preferably with his iPhone, of course), climbs around in the Hessian mountains or hikes with the family. His articles deal with Apple products, news from the world of drones or solutions for current bugs.