Digital Detox is the new trend for all digitally stressed people who want to be offline longer and generally want to reduce the time in front of displays and monitors. According to a recent survey, digital fasting is an issue for over half of the participants in Germany. With digital detox, less internet means above all: Consume less digital garbage. Because the use of social media, news sites, Google, YouTube and Co. does not always serve purely to obtain information and personal training.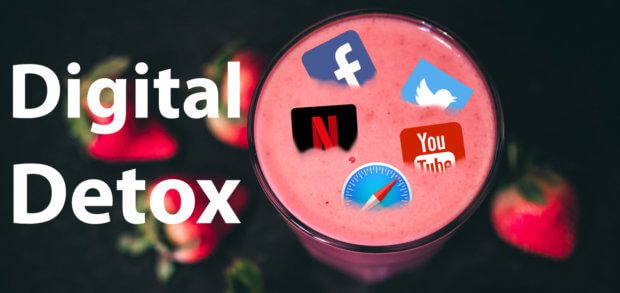 What is digital detox?
Digital Detox is an English neologism that moves "detox", i.e. the detoxification of the body (and mind), into a digital subject area. With the measures that are summarized under this term, body and mind are to be cleansed of digital media, their content and influences. Because smartphones, tablets, light notebooks and small netbooks in particular make it possible for everyone to be online at all times, to hang out on Facebook, Twitter, Netflix and the like or to play games or use other apps. The time and energy for this are often only invested for diversion and entertainment.
There is an interest in being offline
The star has an infographic veröffentlicht, which refers to a survey by Bitkom, the results of which were retrieved from Statista. According to a survey of 1.010 Germans aged 14 and over last year, 38% are not interested in digital detoxing. After all, 11% have already dealt with it and want to try out the break from cell phones, smartphones and computers in 2018. 44% of those surveyed have already tried not to use digital media: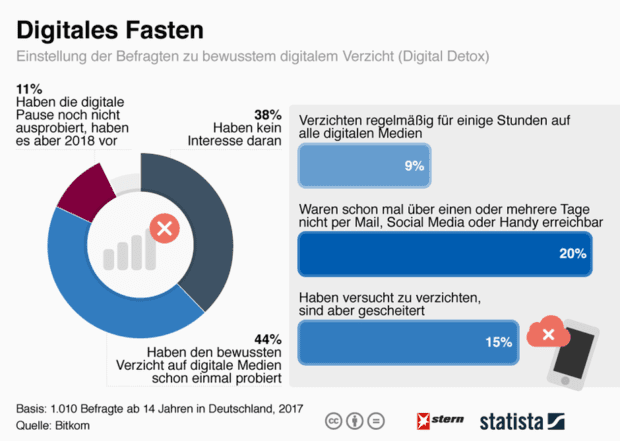 Relaxation without a smartphone: vacation as a start
For many people, holidays are often an opportunity to completely change their lifestyle and try out new things. If you are one of those people, you can do without the internet during your non-working hours, ignore Facebook, Twitter and YouTube and switch your smartphone (s) to airplane mode. Then take the opportunity and skip the television, computer and handheld console. Also don't check every five minutes whether someone has written you an email or WhatsApp. The digital detox can create an emptiness for the time being if there is otherwise excessive consumption of screen content; but if you don't give in to it, you will quickly find analog activities to pass the time.
On vacation, to take it up again, sightseeing without a smartphone is worthwhile. Just go to the nearest tourist center, get a map (yes, made of real paper!) And check out the POIs. You will see: sights, restaurants, markets and squares can also be visited without the Internet. This also applies to the beach, the mountains, lakes and steppes;) The vacation of cell phones, mail and WhatsApp can and should be carried into everyday life - if you notice that you don't need smartphones or computers all the time, at the clock to check or to pick up information (there are newspapers and the radio for that too), then you will surely notice a general improvement in life.
7 tips for less digital stress
At the end of 2017, the Süddeutsche Zeitung published a guide with seven tips for digital detox - for everyone who wanted to shine with good intentions in 2018 and spend more time without pixels;) To remind you again, I would like to briefly mention the Tips from the SZ to sum up:
Outsource services: Use maps instead of Google Maps, use a real alarm clock to wake up and read the time from the watch on your wrist (not a smart watch) - this reduces the general potential for distraction!
Fewer apps, more Browser: Apps from Facebook, Twitter, WhatsApp, Amazon, eBay and Co. use push messages to ensure that smartphones are constantly in people's hands - simply deactivate messages or use the respective websites instead of the apps!
Digital Detox Apps: It sounds illogical, but there are actually some apps that can stay offline and thus help with digital detox. I have some representatives for you in this guide collected.
Addressing social norms: Are friends, acquaintances and colleagues required to reply to messages or emails immediately? Then this should be clearly addressed as a factor in personal stress. If you want your contacts to respond within a few minutes, ask yourself if that is the right thing to do.
Smartphone-free time: The world keeps turning even if you don't always have the smartphone on your man or woman. Many feel incomplete and insecure without the device - but especially if you belong to this group of people, you should try Digital Detox!
Smartphone-free rooms: Especially at home, squares or an entire room can easily be turned into a digitally liberated zone. Smartphones, tablets and the like shouldn't play a role at the dining table or in the bedroom! So: just leave out the cell phone and just eat, talk, sleep, etc.
Flight mode or switch off directly: If the previously mentioned measures for the digital detox do not prove to be fruitful for you, then go a radical step further: switch your mobile phone or smartphone to flight mode or completely off. Eliminates the distractions; first for a day, then maybe longer.
Digital detox as a business model
For special hardship cases, whose life and world revolve to a large extent around the digital, web content, social media and the like, there is professional help. In addition to addiction support and therapies against a corresponding dependency, there are already seminar providers in Germany who have secured terms with "Digital Detox" in them with an ®. I personally find digital detoxification as a business model to make maximum sense for those people who have enough self-reflection to determine the problem, but cannot do without being available and online at all times of their own accord.
Said providers list seminar and camp opportunities in their programs. With training courses and group activities under the motto "Less is more", they want to take action against constant availability and show that one lives and works more effectively in "offline mode". This makes them interesting for employers, project teams and as speakers in coworking spaces through seminars, lectures and camp offers. Because everywhere in the world of work, efficiency is a top priority and (privately used) smartphones / computers are viewed as a risk.
Conclusion on digital fasting
Digital detox can be understood as active measures, thanks to which one cannot be reached at all times or that clings to their smart devices all day and half night. Various tips and advice from this post can already help you with your own detox. If you are researching this topic for the team or another group, then perhaps the said providers for seminars and camps could be helpful. For the individual, however, it can help to simply leave smartphones in airplane mode, switch off push messages and / or read the time on a clock;)
After graduating from high school, Johannes completed an apprenticeship as a business assistant specializing in foreign languages. But then he decided to research and write, which resulted in his independence. For several years he has been working for Sir Apfelot, among others. His articles include product introductions, news, manuals, video games, consoles, and more. He follows Apple keynotes live via stream.