DJI has unveiled a new drone with First Person View (FPV), fittingly DJI FPV called. The quadrocopter with three flight modes brings the necessary controller and glasses for real-time perception of the flight with it. In addition, all other required parts (battery, cable, charger, etc.) are included in the scope of delivery. The new DJI FPV is ready to fly and invites you to use it directly. The drone, the scope of delivery, other accessories, the individual prices and other details can be found in the manufacturer's official shop. And of course in the further course of this post;)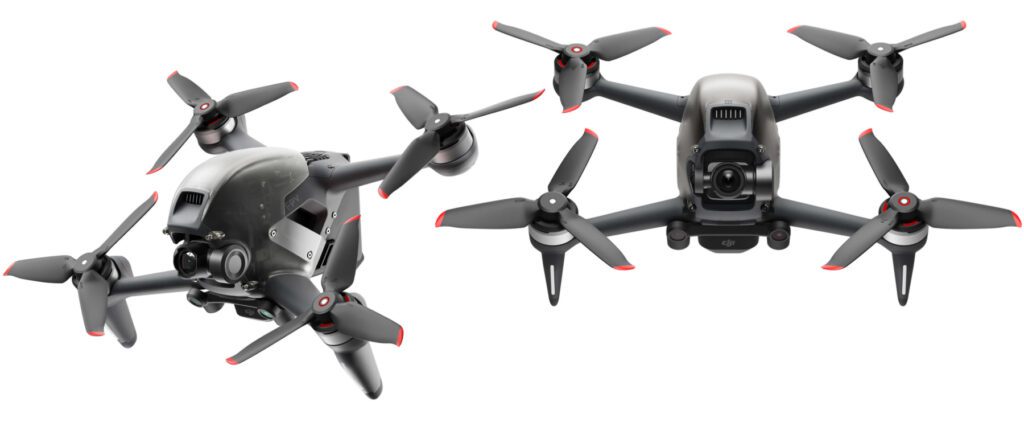 DJI FPV - Technical data of the new drone
Here I have summarized the most important data for quick commissioning. So you know directly how big and heavy the device is, which recording options are available to you and what you have to consider with regard to the microSD:
Manufacturer: DJI
Model: FPV
Release: March 2, 2021
Special feature: fast first-person quadrocopter including various flight modes and safety mechanisms

Dimensions: 255 × 312 × 127 mm (with propellers)
Weight: 795 g
Camera sensor: 1 / 2,3 ″ CMOS
Field of view: 150 °
Camera resolution: 4K (3.840 × 2.160 pixels) with 50 or 60 fps; Full HD (1.920 x 1.080 pixels) with 50, 60, 100 or 120 fps
Video formats: MP4 (H.264/MPEG-4 AVC) or MOV (H.265/HEVC)
Photo capture: Yes, with single image mode
Photo format: JPEG
ISO: 100 - 12.800
Image stabilization: Yes, via DJI's own RockSteady technology
Distortion Correction: Yes
File formats supported on SD cards: exFAT (recommended) and FAT32
Maximum recommended memory on the microSD: 256 GB
And here are a few more details about the flight of the drone and the technical possibilities / restrictions that need to be taken into account. After trying it out for the first time, you will know how far you can go and what else there is to try:
Max. Rate of climb: no limit in M-mode, 15 m / s in S-mode, 8 m / s in N-mode

Max. Rate of descent: in M-mode no limit, in S-mode 10 m / s, in N-mode 5 m / s
Max. Speed: in M-mode 39 m / s (140 km / h), in S-mode 27 m / s (97,2 km / h), in N-mode 15 m / s (54 km / h)
Safety mechanisms: emergency brake with hover flight, automatic flight to the starting point, detection system with obstacle detection (in N mode)
Maximum altitude: 6.000 m
Maximum distance and interference-free image transmission: 10 km (FCC), 6 km (CE), 6 km (SRRC), 6 km (MIC)
Maximum flight time: around 20 minutes (without wind, at 40 km / h)
Maximum floating time: around 16 minutes (without wind)
Maximum flight distance: 16,8 km (without wind)
Maximum wind resistance: 39 to 49 km / h
Tilting the camera gimbal: controllable from -50 ° to 58 ° with a mechanical range from -65 ° to 70 °
Operating temperature: -10 ° C to 40 ° C
Introducing DJI FPV - Release Videos
With "Introducing DJI FPV" and "Redefine Flying", DJI has released two videos to mark the launch of the new drone. I have embedded these for you in the following.
DJI FPV Combo - scope of delivery of the drone
The DJI FPV Combo, the standard package of this new drone offer, brings everything you need to take off. Of course, it is advisable to buy additional batteries for a longer flight time. But with the standard scope of delivery you are already well equipped:
1 x DJI FPV drone
1 x DJI FPV Intelligent Flight Battery (2.000 mAh battery)
1 x DJI FPV remote control 2 (two-hand controller)
1 x pair of replacement control sticks
1 x DJI FPV Goggles V2 + headband + pads
1 x DJI FPV Google's V2 battery (1.800 mAh)
4 x DJI FPV Goggles antenna (for 2,4 to 2,4835 GHz + 5,725 to 5,850 GHz dual-band transmission)
4 x pair of DJI FPV propellers
1 x DJI FPV gimbal protector
1 x DJI FPV top cover
1 x DJI FPV power supply + power cable
Other cables: 1 x DJI FPV Goggles power cable (USB-C), 1 x USB-C data cable, 1 x USB-C OTG cable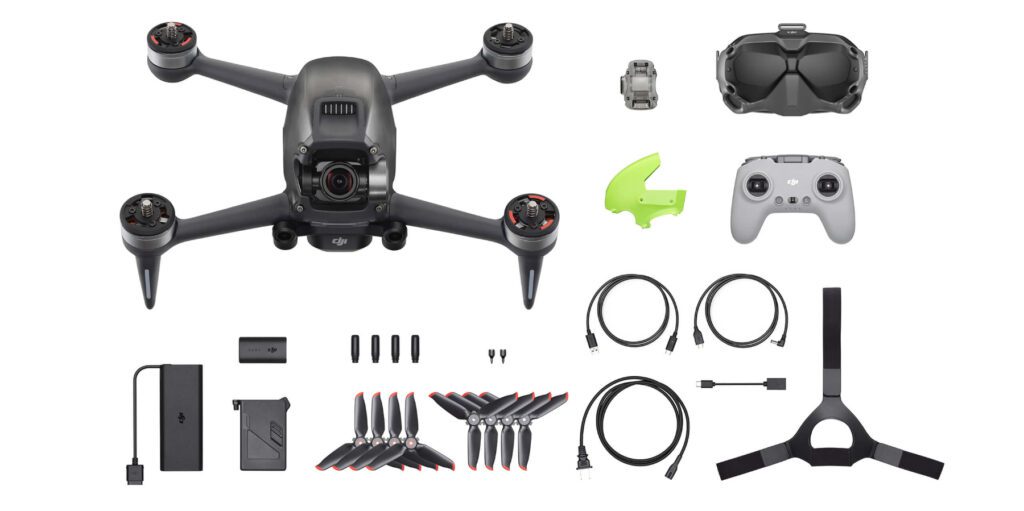 DJI FPV price - This is what the new drone will cost in 2021
What does the DJI FPV cost in the package described above? I can tell you: 1.349 euros. Of course, it should be noted that it is a device combination that is ready to fly. The drone, control unit and VR glasses are included in the combo package, so you can get started right away. It may only be that you still have to charge one or the other battery or the controller. But then it can really start. If the DJI FPV Combo at a price of 1.349 euros is not enough for you, then take a look at the accessories under the next subheading;)
DJI FPV Accessories - Motion Control Unit, Fly More Set and more
On the official DJI's shop page In addition to the package described above, with which you can theoretically take off immediately, you get a lot of accessories. I have listed the most important things here:
DJI FPV Intelligent Flight Battery: Additional battery for another 20 minutes of flight fun (149 €)
DJI FPV Fly More Set: Two batteries for another 40 minutes and a battery charging station (€ 279)
DJI motion control unit: one-hand controller with motion control (149 €)
SanDisk Extreme 128GB microSD card: memory card for drone or goggles (29 €)
DJI Care Refresh: Protection package for replacement devices in the event of damage (price depending on the contract)
New DJI drone for first person view and video recording
There is space for a microSD memory card both in the drone itself and in the goggles. DJI recommends a maximum capacity of 256 GB. If you use such a memory card, then you can not only experience the (more or less) wild flight in real time, but also record it. So you can present your flying skills to others, edit the video material or incorporate it into a larger video project. Further details as well as an FAQ, in which frequently asked questions get an answer, can be found on the already linked shop page of DJI. Have fun!
After graduating from high school, Johannes completed an apprenticeship as a business assistant specializing in foreign languages. But then he decided to research and write, which resulted in his independence. For several years he has been working for Sir Apfelot, among others. His articles include product introductions, news, manuals, video games, consoles, and more. He follows Apple keynotes live via stream.