Under the slogans "Fly as you are" or "Anyone can fly", DJI has announced a keynote for tomorrow, October 30.10.2019th, XNUMX. According to the saying, one can assume a new drone that has many automatic functions and maneuvers. However, it would have to be for everyone - even without it Drone license plate - can fly, have a weight of less than 250 grams for the German market; because for everything above you need an address label for the drone. So what can we expect at the DJI Keynote on October 30.10.2019, 14, at 00:XNUMX p.m. local time? Probably a DJI Mavic Mini drone! ;)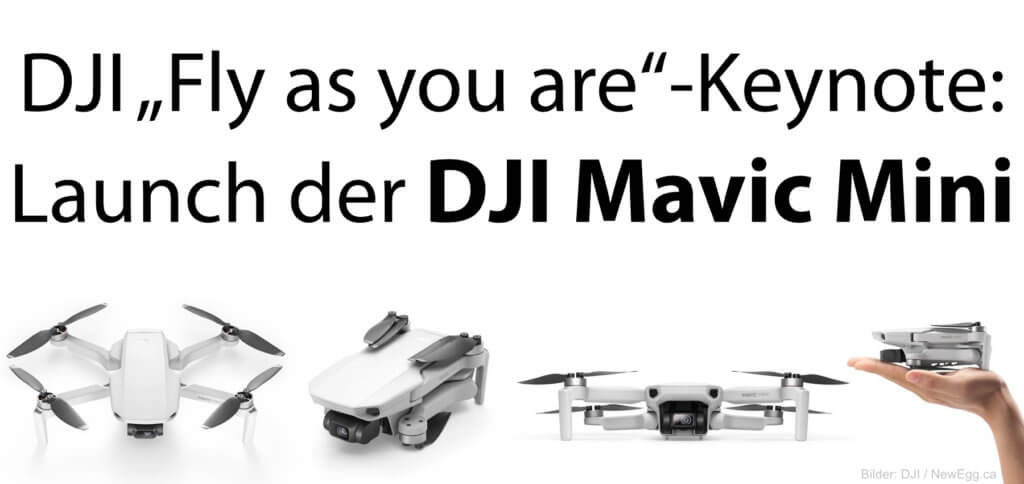 DJI Keynote "Fly as you are" / "Anyone can fly"
Nowadays, it is extremely difficult for manufacturers of products to be built around a bit of hype to keep their news a secret until it is revealed. Unless something is leaking or gossiping from an internal source, it is someone from the supply chain or a dealer.
Like among other things The Verge shows, (at least) one retailer from Canada has already listed the product in the online shop for everyone to see. You can see the product page of the DJI Mavic Mini drone, which will probably be in the program tomorrow, with technical data and price on the Shop page of NewEgg. Other sources in the Verge post are FCC listings and hands-on pictures of DroneDJ.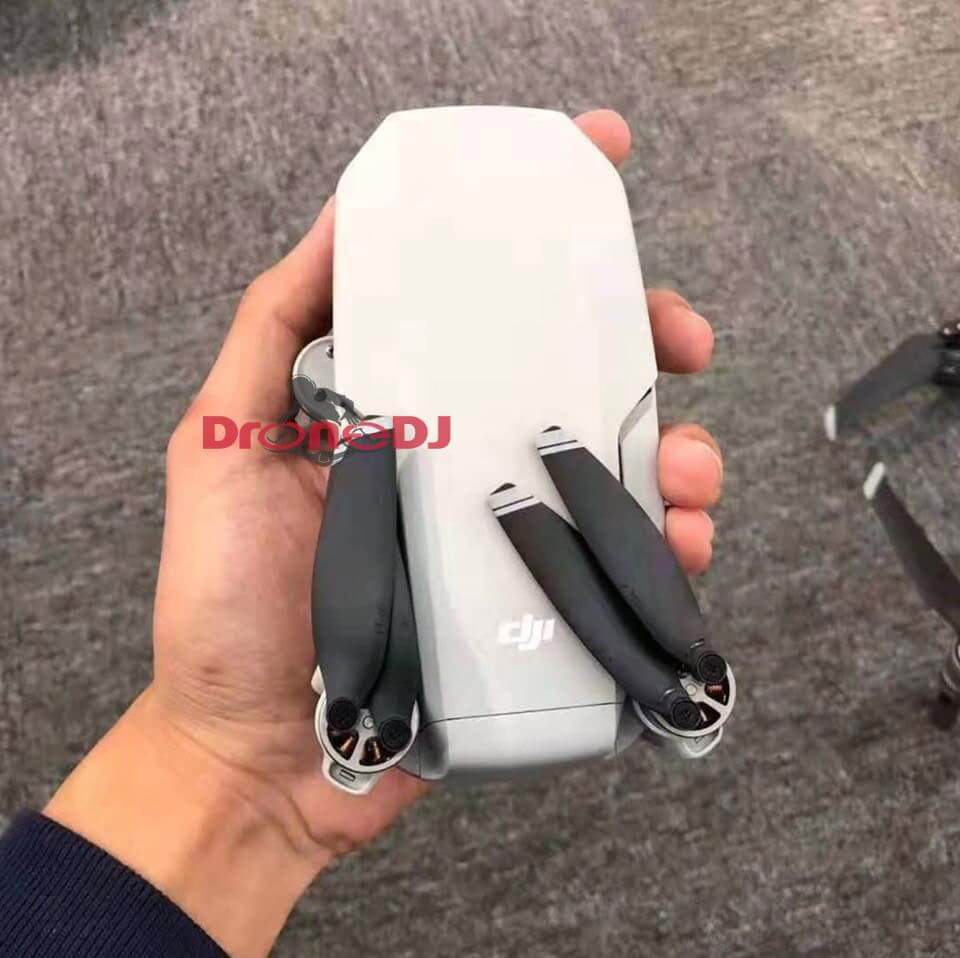 DJI Mavic Mini - Specifications and Price
"Anyone can fly", that should be the motto of the new DJI Mavic Mini, which is to be launched quickly in October before Christmas 2019. According to the sources given, the following technical data and costs result for the new mini drone from the market leader:
Weight: 249 grams
Max. Flight time: 30 minutes (certainly less in realistic conditions)
Video transmission: HD, up to 4 km
Sensors: Optical sensors and GPS for precise hovering
Features for everyone: Easily record and edit video
Video resolution: probably more 2,7K instead of 4K
Remote control: included in the scope of delivery, can probably be linked to a smartphone
Scope of delivery (Fly More Combo): DJI Mavic Mini drone, remote control, charging hub, two-way charging hub, transport bag, snap adapter, propeller bracket, connection cable, battery, tools
Price (Fly More Combo at NewEgg): $ 645
Price (Source: Commentary on DroneDJ): $ 399
All statements without guarantee; is based on unofficial advance information
Here you come to the official announcement page: Click
Anyone can fly with liability insurance ...
If the weight of 249 grams proves to be true, then the DJI Mavic Mini can be flown in America without FAA approval. So you only need the necessary change, a country in which the FAA has its finger on the drones and an area that can be flown and filmed over.
The Mavic Mini changes relatively little for Germany, because the next higher weight class is 2 kg - from then on you need proof of knowledge. This puts the Mavic Mini in the same weight class as the Mavic 2 Pro / Zoom and the Mavic Air - but it has worse specs.
In the USA, however, the Mavic Mini falls below the 250 gram mark and is therefore considered a "toy" that can be put into operation without FAA approval. In Germany, you need both a drone license plate and liability insurance for the Mavic Mini. You can find information about this in these two guides:
Why I tend to prefer the DJI Mavic Pro
Small drones and their small, light propellers often make a loud, high-frequency noise. The DJI Mavic 2 Pro, a drone from the manufacturer that is aimed at more demanding private users as well as semi-professional users, is certainly much quieter. This is much more helpful when flying in Germany, as you are much less likely to be hostile to passers-by. As a rule, they are not interested in whether you have a drone license, but only in whether they perceive the drone. For that reason, I would rather recommend the DJI Mavic 2 Pro:
Jens has been running the blog since 2012. He appears as Sir Apfelot for his readers and helps them with problems of a technical nature. In his free time he drives electric unicycles, takes photos (preferably with his iPhone, of course), climbs around in the Hessian mountains or hikes with the family. His articles deal with Apple products, news from the world of drones or solutions for current bugs.