Today, January 23, 2018, the DJI event "Adventure Unfolds" took place in New York, at which - similar to Apple's keynote events - innovations from the drone manufacturer from China were presented. Here I have given you a summary of the presentation that you can send by Live Stream with news and data on DJI Mavic Air created. TL; DR: Click here to go to the shop and to pre-order.
DJI Mavic Air
The DJI Mavic Air is the new, foldable and smart high-end drone that was unveiled today in News York by Michael Perry, DJI Director of North America. First there was a brief review of the company's previous milestones, such as the DJI Spark 9 months ago, the DJI Phantom 4 Pro before that, and the DJI Mavic Pro 18 months ago. Again and again, the designers and engineers had to go back to the drawing board. This time, due to new technologies and innovations, that also meant developing a new ventilation system to cool the drone well during flight and recording as well as on-board processing of recordings and to protect it from overheating.
Technical data
The DJI Mavic Air is only half the size of the Mavic Pro and also weighs significantly less. Here I have summarized the most important data about the new quadrocopter with 4K camera:
Take-off weight: 430 g
Diagonal: 213 mm
Maximum speed: 68,4 km / h (sport mode) or 28,8 km / h in "normal" mode
Maximum height above sea level: 5.000 m
Maximum flight time: 21 min
Camera: 4K video at 30 fps; Full HD video with up to 120 fps
Photos: High resolution with 12 megapixels
Data rate: 100 Mbit / s for the best video flow
Internal memory: 8GB (rapid withdrawal possible because the memory card no need to search)
Connection to other hardware: USB-C port
Sensors or 7 cameras for orientation (front, back and below) for ideal coordination and obstacle detection
For panorama and other feature images, it is possible to combine up to 25 high-resolution images (on-board within one minute)
More features below
You can find more specs in the article "DJI Mavic Air: Technical Specifications".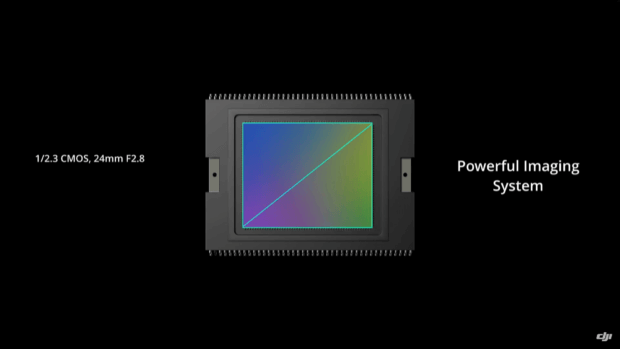 Revised 3-axis gimbal
The 3-axis gimbal has been revised for the new drone from DJI and is now supposed to compensate for flight maneuvers, vibrations and shocks even better than the predecessor of the Spark, Mavic Pro, Phantom 3 and so on. In addition, the gimbal and camera no longer hang as freely as with their predecessors. There is a protection that results from the new housing design, but which also serves to draw in cooling air, which is then passed through the drone.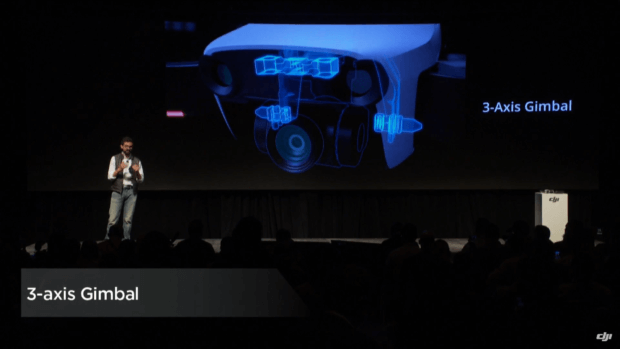 Antennas in landing pads
The antennas for receiving and sending signals (control, video, photos) are now at the extreme points of the drone, which should ensure better communication. They sit in the landing feet or legs of the drone and should neither disturb nor be disturbed by the other hardware inside.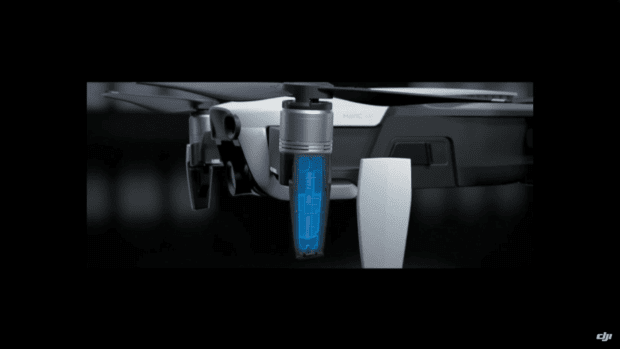 HDR, Active Track, Quick Shot Modes, Smart Capture, Flight Autonomy 2.0
With the DJI Mavic Air, not only the smallest, most mobile and smartest camera drone of its type and price range was presented, but new features were also presented. Here are all the functions that I wrote down during the performance.
HDR recordings for more details and contrast
HDR or High Dynamic Range stands for more beautiful images, better colors and clearer details in photos and videos. The new DJI Mavic Air features an HDR mode to provide just that. At the Adventure Unfolds Keynote in New York, Michael Perry presented this mode and showed two images of the same scenery, one with and one without HDR. The result shows that the new feature definitely pays off!
Active Track: better than before
ActiveTrack has been improved for the DJI Mavic Air. The drone will now follow one or more objects/people while keeping the correct distance, can deal smartly with changes in speed and much more. In addition, it is sufficient on the screen of the smartphone used in the DJI GO 4 App just tapping on the object/person to be followed. No box, no box has to be drawn around it. A smarter follow that enables faster good recordings of one-off events.
New Quick Shot modes: Asteroid and Boomerang (boomerang)
Asteroid is a new Quick Shot mode that combines individual high-resolution stills (i.e. photo recordings) from a panorama and bends them in such a way that a kind of small planet or "asteroid" is created. This effect has been in vogue for a few years and is almost out again. However, the new DJI Mavic Air can achieve the corresponding effect without any additional work on the part of the photographer. There is also the Boomerang effect for video recordings. The drone flies around the pilot (or another object) in a circular or oval movement, like a boomerang would. This creates a fully automatic sightseeing flight that would require a lot of manual practice.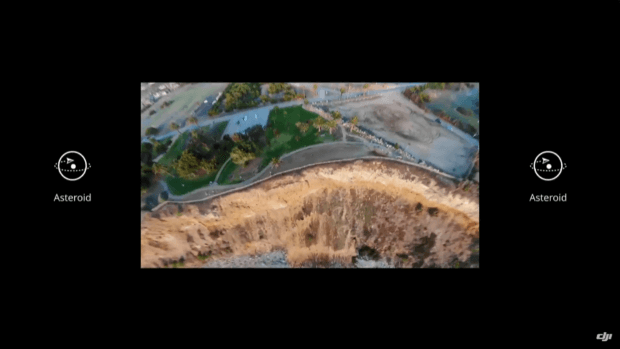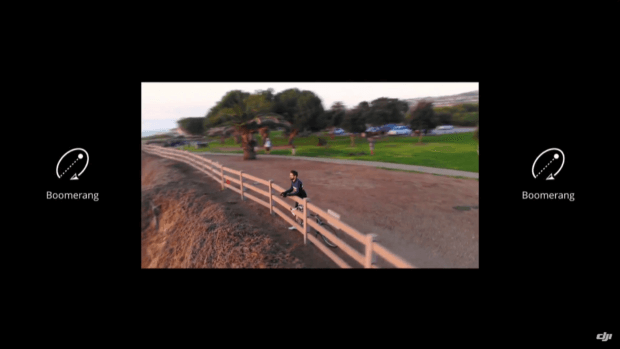 Smart capture: better than gesture modes
The gesture control (Gesture Mode) was particularly emphasized on the DJI Spark. With the new camera drone from China, the corresponding control and recording options without a controller and smartphone have been reinvented and provided with innovations:
Start with the palm of your hand
Moving with the palm of your hand (height and movement in space)
Increase and decrease the distance with two palms (like dragging with two fingers on the smartphone screen or Mac trackpad)
Land with the palm of your hand
Works at a distance of up to 19 feet (just over 6 meters)
Flight Autonomy 2.0
The new Flight Autonomy 2.0 results from the 3D map created on board, which the DJI Mavic Air creates using the 7 orientation cameras and the newly arranged sensors. When taking off, landing and navigating in the air, the drone is now much smarter and more manoeuvrable than, for example, the predecessor DJI Mavic Pro. In addition, there is the new Advanced Pilot Awareness System (APAS), which is conducive to faster and more intelligent avoidance of obstacles. This is supported by a very high wind resistance.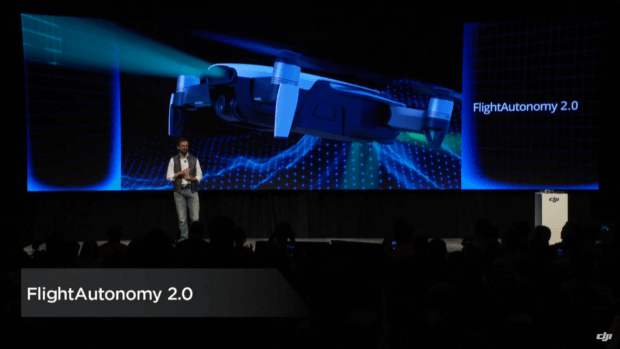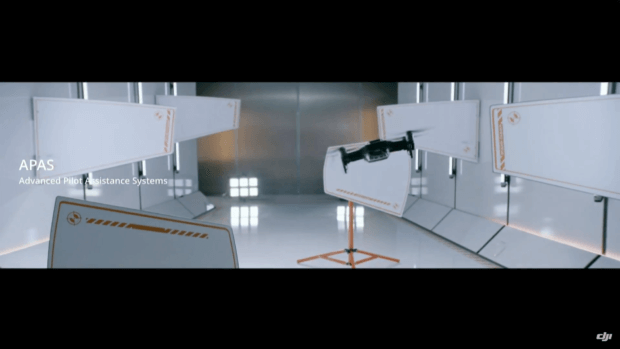 Outdoor usage in Patagonia by Chris Burkard
Not only Michael Perry was on stage, but also the outdoor photographer Chris Burkard. He was able to use the DJI Mavic Air on a trip through Patagonia in South America and praised the compact dimensions, the low weight and the smart recording and control options of the quadrocopter when he presented the recordings. It is a wonderful tool for all outdoor people who are looking for ready-to-use and handy equipment in addition to the DSLR, tripod and other bulky equipment. Burkard was convinced that Mavic Air will inspire millions of people to go out, experience and document adventures.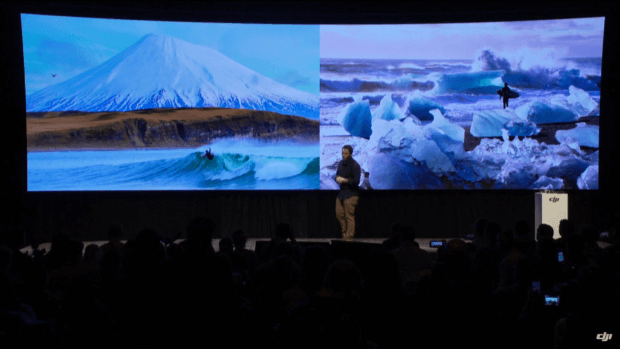 Buy / pre-order DJI Mavic Air
Starting today, so from now on, you can pre-order the DJI Mavic Air. This is just as possible at the dealer as it is at the official product page of the DJI Shop. You not only have the choice of the three colors "Arctic White" (white), "Onyx Black" (gray / black) and "Flame Red" (sports car red), but also between the standard edition for $ 799 or the DJI Mavic Air Fly More Combo at $ 999. That sounds like a lot; But if you consider the sophisticated technology and the scope of delivery, then this is put into perspective. By the way: when buying a DJI Mavic Air, pay attention to it, directly DJI Select to use! Incidentally, the Mavic Air will be shipped from January 28, 2018; then it is also available from the dealer.
Presentation of the Mavic Air in the video
Comparison: Standard and Fly More Combo
| | | |
| --- | --- | --- |
| | DJI Mavic Air (Default) | DJI Mavic Air FlyMore Combo |
| Mavic Air drone | 1 | 1 |
| Remote controller | 1 | 1 |
| Intelligent Flight Battery | 1 | 3 |
| charger | 1 | 1 |
| Charging cable / power cord | 1 | 1 |
| Propeller pairs | 4 | 6 |
| Propeller protection (set) | 1 | 1 |
| RC cable for smartphone | 1 each Lightning, Micro-USB and USB-C | 1 x Lightning, Micro-USB and USB-C each |
| Gimbal protection | 1 | 1 |
| Data cable (USB-C) | 1 | 1 |
| Carrying case | 1 | 1 |
| Some other same accessories | ... | ... |
| Battery charging hub (for up to 4 batteries at the same time) | - | 1 |
| Battery power bank adapter | - | 1 |
| overnight bag | - | 1 |
Your opinion
What do you think of the new DJI Mavic Air, which was presented today in New York by Michael Perry and Chris Burkard and a few helpers? Is it the camera drone you've been waiting for and are you looking forward to the new functions such as HDR, Active Track, the new Quick Shot modes Asteroid and Boomerang, Smart Capture, Flight Autonomy 2.0 and so on? Feel free to leave a comment with your thoughts on the device;)
After graduating from high school, Johannes completed an apprenticeship as a business assistant specializing in foreign languages. But then he decided to research and write, which resulted in his independence. For several years he has been working for Sir Apfelot, among others. His articles include product introductions, news, manuals, video games, consoles, and more. He follows Apple keynotes live via stream.