Today at 14:00 pm the countdown for "Fly as you are" from the drone manufacturer DJI ran to zero. As previously leaked, the new DJI Mavic Mini discontinued in the shop. A keynote should also have taken place; but the YouTube stream broke off shortly before 14:00 p.m., so I'm not so sure anymore: D If a keynote was on, you will probably be able to find it later on the DJI YouTube channel. Here you get the official information about the new DJI Mavic Mini drone.
New drone "for everyone" is available
As a Mavic Mini - The FlyCam for everyone you can buy the small drone in the DJI shop, which has already become known through leaks. Not only the name has been confirmed; the price of 399 € has also proven to be true. The Fly More Combo, which - as with previous models - contains more accessories, costs € 499. You can be very comfortable on the product page also order suitable microSD memory cards with 64 GB or 128 GB. Of course, these come from SanDisk, a manufacturer that I also like to recommend;) For € 15 there is also a DIY creative set with stickers and markers that are intended to decorate the drone.
The take-off weight of just 249 grams is also a rumor that has been confirmed. This is not only good because it makes the drone extremely portable, it also has other advantages. In Germany, for example, there is no labeling requirement, and in Austria you can fly the DJI Mavic Mini at a height of up to 79 meters (horizontal flight speed not factored in) due to the 30 joule rule without special permission. There is also a special version for Japan that is even lighter (see below). However, this also has a weaker battery and does not fly as long.
DJI Mavic Mini Specifications
The technical data from the DJI Mavic Mini data sheet partially coincides with the data that has already been leaked. For example, the weight, as already noted in some sources, is 249 grams, which means that the Mavic Mini is not subject to mandatory labeling in Germany, which largely justifies the German slogan "Everyone can fly". Here is an overview of the most important data:
Drone
Dimensions, folded (L x W x H): 140 × 82 × 57 mm
Dimensions, unfolded (L x W x H): 160 × 202 × 55 mm
Dimensions, unfolded with propellers (L x W x H): 245 × 290 × 55 mm
Weight: 249 g
Weight (Japan model): 199 g
Flight modes: S, P and C
Max. Rate of climb: 4 m / s (mode "S"), 2 m / s (mode "P"), 1,5 m / s (mode "C")
Max. Rate of descent: 3 m / s (mode "S"), 1,8 m / s (mode "P"), 1 m / s (mode "C")
Max. Speed ​​(NHN, calm): 13 m / s or 46,8 km / h (mode "S"), 8 m / s or 28,8 km / h (mode "P"), 4 m / s or 14,4 km / h (mode "C")
Max. Altitude (above sea level): 3.000 m
Max. Angle of inclination: 20-30 °
Operating temperature: 0-40 ° C
Flight time (at 14 km / h without wind): 30 minutes
Flight time, Japanese model (12 km / h without wind): 18 minutes
Resistance to wind: max. 8 m / s (wind force 4 Bft / moderate breeze)
Supported file systems: FAT32 (≤ 32 GB), exFAT (> 32 GB)
Battery: Intelligent Flight Battery with 2.400 mAh / 7,2 V / 17,28 Wh / 100 g
Alternative: Intelligent Flight Battery with 1.100 mAh / 7,6 V / 8,36 Wh / 50 g
Gimbal
Tilt: -110 ° to + 35 °
Roll: -35 ° to + 35 °
Swivel: -20 ° to + 20 °
Max. Controlled tilting speed: 120 ° / s
Tilt control range: -90 ° to 0 ° (default setting) or -90 ° to + 20 ° (extended)
Camera
Camera sensor: 1 / 2,3 "CMOS with 12 megapixels
Field of view: 83 °
Aperture: f / 2,8
Recording range: 1 m to ∞
Photo format: JPEG
Photo ISO: 100 to 3.200
Photo resolution: 4.000 x 3.000 pixels as 4: 3 or 4.000 x 2.250 pixels as 16: 9
Video format: MP4 (H.264/MPEG-4 AVC)
Video ISO: 100 to 3.200
Max video resolution: 2,7K (2.720 x 1.530 pixels) @ 30 or 25 fps
Other video resolution: Full HD (1.920 x 1.080 pixels) @ 60, 50, 30 or 25 fps
Video bit rate: 40 Mbit / s
QuickShot modes: Dronie, Rocket, Circles, Helix
CineSmooth mode: for "buttery smooth camera movements"
More info: Product page in the DJI Shop
DJI Mavic Mini scope of delivery
The scope of delivery of the DJI Mavic Mini depends of course on whether you choose the regular offer or the "Fly More Combo". Experience has shown that the latter offers a financial advantage over buying the standard offer separately and the accessories that are still included. I have listed what you can expect in each case in the following:
Mavic Mini scope of delivery: aircraft, remote control, battery, 1 pair of spare propellers, micro-USB cable, gimbal protection, 3 RC cables (USB-C, Lightning and micro-USB), 1 pair of additional control sticks, 6 spare screws, 1 screwdriver
Mavic Mini Fly More Combo scope of delivery: aircraft, remote control, 3 batteries, 3 pairs of spare propellers, 2 micro-USB cables, gimbal protection, 3 RC cables (USB-C, Lightning and micro-USB), 1 pair of additional control sticks, 18 spare screws, 1 screwdriver, 360 ° propeller protector, two-way charging station, charger with 18 W, transport case
DJI Mavic Mini price
So the price has come true. For 399 euros for the standard edition and 499 euros in the Fly-More combo package, you get a good deal as a beginner. You can expect high quality from DJI, the camera will not disappoint either, and the appropriate SD cards can also be found on the product page.memory Cards to buy. Ideal for the Christmas business, where a complete range should be ordered quickly and easily. With the large package, the two memory cards offered and the DIY creative set, you quickly reach 581 euros. You can certainly do without the latter gimmick; the SD card requirement should be calculated.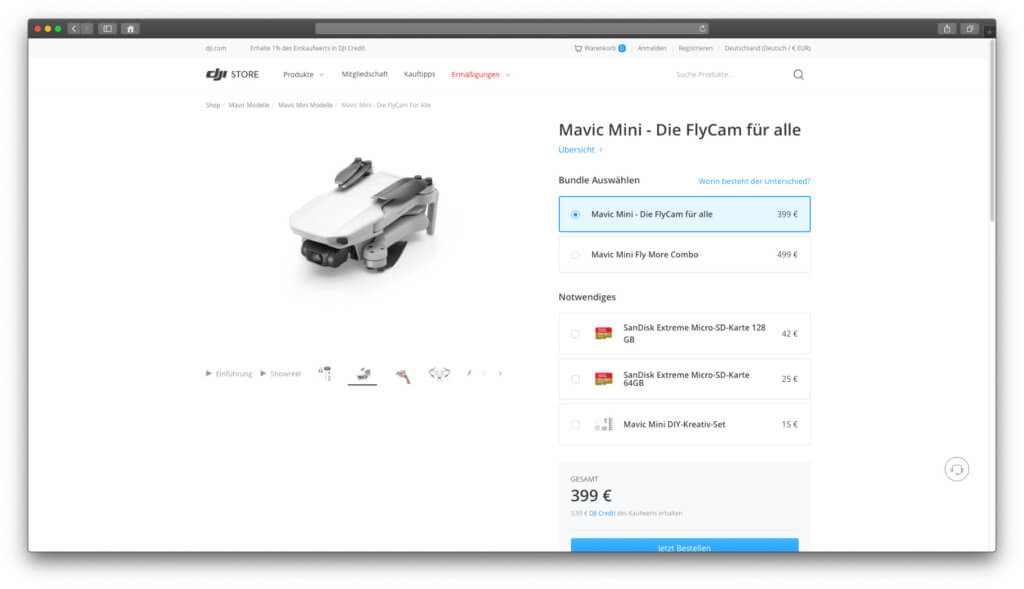 DJI Fly App for iOS and Android
The official DJI website states that the use of the smartphone in connection with the remote control of the DJI Mavic Mini requires the DJI Fly App is required. This should be compatible from iOS 10.0 and Android 5.0. However, I have not yet found this app in the Apple App Store or the Google Play Store. It is also not yet listed on the DJI app page. It will probably only appear in the coming days. The delivery time for the drone is currently 12 to 19 working days, so that shouldn't be a problem;)
Jens has been running the blog since 2012. He appears as Sir Apfelot for his readers and helps them with problems of a technical nature. In his free time he drives electric unicycles, takes photos (preferably with his iPhone, of course), climbs around in the Hessian mountains or hikes with the family. His articles deal with Apple products, news from the world of drones or solutions for current bugs.