If you want to fly your drone quieter, then hopefully you have one DJI Mavic Pro, because for these there are now low noise propellers. These came on the market with the current DJI Mavic Pro Platinum (2017), but are also compatible with the 2016 model. With the new quick release propellers, you can not only fly the drone more quietly, but also increase the flight time of the DJI Mavic Pro - up to 30 minutes per battery charge. You can either use the DJI Low Noise Propeller for the Mavic Pro order directly from DJI or wait for them at Amazon verfügbar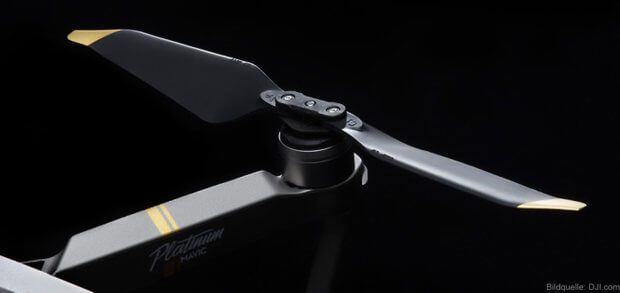 DJI Low Noise Propeller: Fly Mavic Pro more quietly
The new propellers for the small DJI drones of the Mavic Pro series are also called all-purpose flour guided. According to the manufacturer from China, they have a completely new, aerodynamic design. The noise level during take-off and landing should be noticeably reduced. The reduction in noise generated by the propellers of the new DJI Mavic Pro Platinum should bring up to 4 dB (60%). The manufacturer also states that the new propellers are not compatible with the Mavic propeller cage (protective device), but are compatible with the Mavic propeller protector.
DJI Mavic Pro Platinum: View details in the DJI Shop
Fly the drone more quietly for up to 30 minutes
The new DJI Low Noise Propellers of the type 8331 for the Mavic Pro drones not only lead to a quieter flight, but also to the better yield of the battery. This is reflected in a longer flight time. With the DJI Mavic Pro Platinum, the flight time can be increased to up to 30 minutes with the more aerodynamic propellers. With this model, they are included as standard in the scope of delivery, so that the standard information for the Mavic Pro Platinum in the DJI online shop also shows this value.
After graduating from high school, Johannes completed an apprenticeship as a business assistant specializing in foreign languages. But then he decided to research and write, which resulted in his independence. For several years he has been working for Sir Apfelot, among others. His articles include product introductions, news, manuals, video games, consoles, and more. He follows Apple keynotes live via stream.