Extremely light, with 4K resolution and 60 fps and equipped with its own gimbal for image stabilization - that's the new DJI Osmo Pocket. You can use the stabilized pocket-sized handheld camera Order now in the DJI Store. The price of 359 € seems a bit high for such a small device - but there is a lot of DJI technology in it, which promises professional recordings. Among other things, you can simply tap on an object, a person or an animal on the built-in display ActiveTrack to activate what makes the camera automatically follow the chosen one. FaceTrack keeps faces in focus. And much more!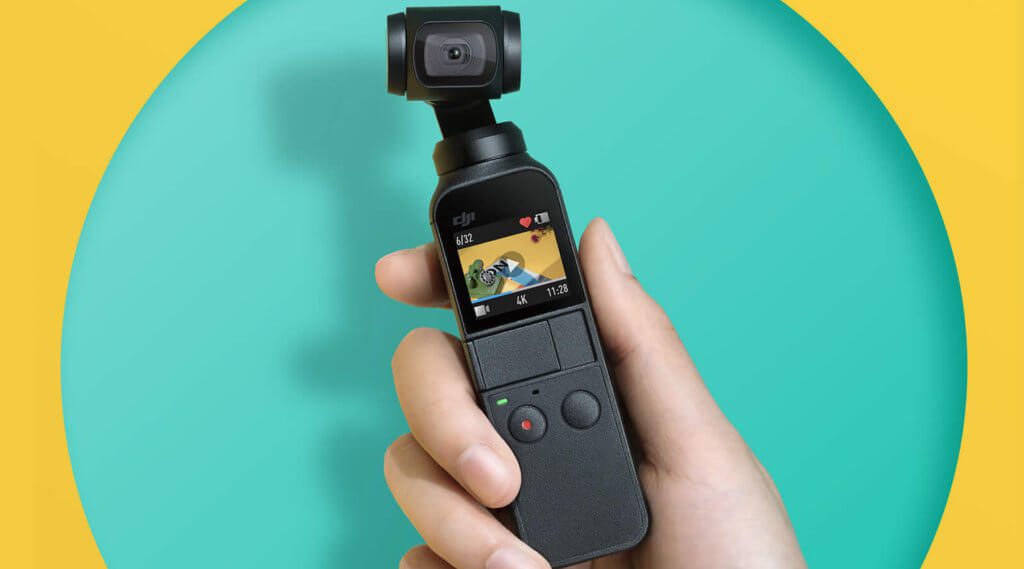 DJI Osmo Pocket in the video
DJI Osmo Pocket Specifications
"The best camera is the one that you always have with you. The Osmo Pocket features the smallest electronically stabilized gimbal that we at DJI have ever created", It says on the Handheld camera product page. If you want to see all the important information about the product before clicking on the DJI Store, no problem! Here are the most important technical details:
General
Manufacturer: DJI
Model: Osmo Pocket
Dimensions: 121,9 mm × 36,9 mm × 28,6 mm
Weight: 116 g
Storage: microSD, microSDHC, microSDXC with up to 256 GB
Supported file formats: FAT32 (≤32 GB), exFAT (> 64 GB)
Camera and recording
Image sensor: 1/2.3" CMOS with effective 12 megapixels
Wide-angle lens: 80 ° field of view, f2.0
ISO range: 100 - 3200
Shutter (electronic): 1/8000 s to 8 s
Maximum image size (single image): 4.000 x 3.000 pixels
Video resolution: 4K UHD with 3.840 × 2.160 pixels (24, 25, 30, 48, 50 or 60 fps) or Full HD with 1.920 × 1.080 pixels (24, 25, 30, 48, 50 or 60 fps)
Video format: MP4 or MOV (MPEG-4 AVC or H.264)
Maximum video bit rate: 100 Mbit / s
Special modes: FPV, ActiveTrack, FaceTrack, 3 × 3 panorama, (moving) time lapse, NightShot
Gimbal
Swivel axis: -230 ° to + 50 °
Inclination axis: -95 ° to + 50 °
Roll axis: ± 45 °
Controllable speed (maximum): 120 ° / s
Accumulator
Battery type: LiPo
Nominal capacity: 875 mAh
Voltage: V 7,7
Energy: 6,738 Wh
Operating temperature: 0 ° C to 40 ° C
Operating time: 140 minutes
Charging time: 73 minutes
What's in the box
DJI Osmo Pocket
Transport case
USB-C power cord
Smartphone adapter (USB-C)
Smartphone adapter (Lightning)
MIMO app
You can use the DJI Osmo Pocket not only with the device itself, but also via the app on the smartphone. The so-called MIMO app is available for this. This allows you to view the image in real time on a larger display and control the camera more conveniently. You can also use the MIMO app on your smartphone to trigger different modes of the DJI Osmo Pocket. Details about the app, device usage and recordings from the stabilized handheld camera can be found in the next video. Links to the app for iOS and Android will be submitted as soon as they are available in the relevant stores.
Recommended reading: DJI Mavic 2 Enterprise as a professional drone
Extensive DJI Osmo Pocket test video
DJI Osmo Pocket Accessories
As you have already seen in the DJI introduction video, there are extensive accessories for the Osmo Pocket Handheld Camera. On the Product page in the store you will find, among other things, these practical accessories:
Charging cradle: Mobile battery charging option with space for 2 microSD cards, 4 ND filters and 2 smartphone adapters
Radio module: lets you control the DJI Osmo Pocket via Bluetooth or WLAN via smartphone
Extension rod: Smart selfie stick with joystick and buttons for gimbal control and 1/4 inch thread for tripods
Waterproof housing: For recordings under water, operation thanks to buttons possible, usable up to 60 meters deep
Accessory holder: For the combination of DJI Osmo Pocket and smartphone or other accessories
ND filter set: 4 filters to reduce the incidence of light: ND 4, ND 8, ND 16 and ND 32
Control wheel: Two buttons and a wheel for better manual control of the gimbal
Jack plug adapter: With this you can connect an external microphone to the DJI Osmo Pocket
Quick release base: For attaching the accessory holder and the Osmo Pocket to smooth surfaces (helmet, vehicle, etc.)
Your opinion on the DJI Osmo Pocket
What do you think of the new handheld camera? Has DJI outdone itself with the Osmo Pocket or does the device already have defects? Feel free to leave your opinion and assessment as a comment under this post;)
After graduating from high school, Johannes completed an apprenticeship as a business assistant specializing in foreign languages. But then he decided to research and write, which resulted in his independence. For several years he has been working for Sir Apfelot, among others. His articles include product introductions, news, manuals, video games, consoles, and more. He follows Apple keynotes live via stream.