The Chinese drone manufacturer DJI has presented new quadrocopters, including the DJI Phantom 4 Pro. What this drone compared to what was previously regarded as a high-end device Phantom 4 from DJI for improvements, that's what I want to show you in this article. Here are a few catchwords as a foretaste: One-inch image sensor, 30 minutes flight duration, max. 72 km / h, 360 ° obstacle detection and control unit with its own display. So it will be exciting;)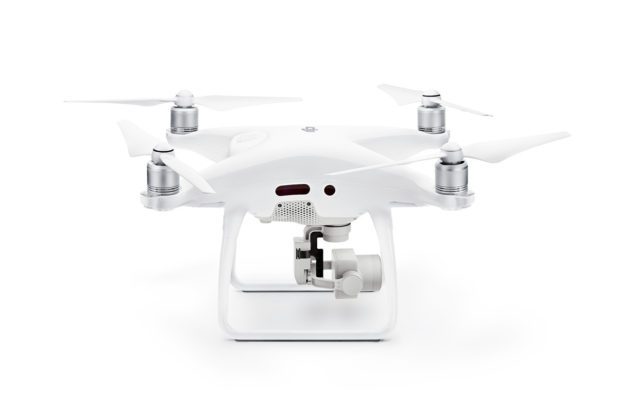 DJI Phantom 4 Pro data sheet: technical facts of the device
Here I would like to briefly give you the most important data about the new DJI drone. There are some very good improvements that make this drone the new high-end device:
Record with 4K resolution thanks to the one-inch sensor with 20 megapixels
Transmission in 1080p to the display of the controller
30 minutes flight time thanks to the revised battery
With a clear view of around 7 km range and transmission option
72 km / h speed, max. 50 km / h when using obstacle detection
The sensors have a range of 30 meters to the front and rear
Obstacle detection and environmental analysis in 5 directions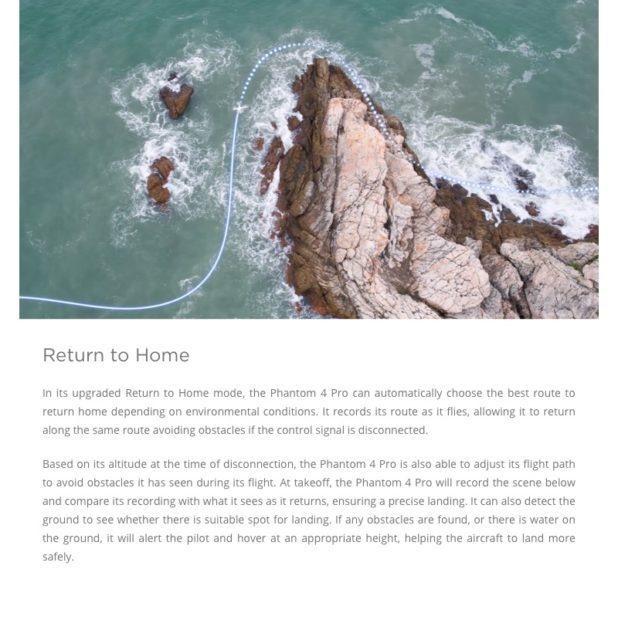 Overview of new control and flight modes
In addition to the technical information, facts and figures, the individual control and flight modes also play a role. The increase in the number of sensors in the device and the integration of a display in the controller open up completely new possibilities:
Draw mode: Route is drawn on the screen, the drone flies it off
ActiveTrack: 3 ways to hold an object, a person or an animal in the recording; Trace flies behind or ahead, Profile flies alongside and Spotlight ensures free movement around the selected object, person or animal
TAPFLO: also 3 ways to control the flight via the controller's touchscreen display; Display of the flight route via AR
Return to home: revised return function of the DJI Phantom 4 Pro, in which objects are detected, the ground is scanned and the best route for the return is selected
Gesture fashion: The gesture control of the drone, which it calls the Selfie camera makes usable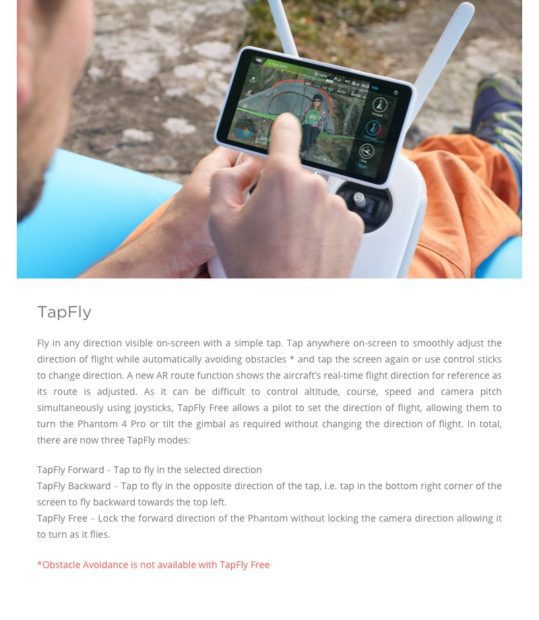 Comparison of DJI Phantom 4 and DJI Phantom 4 Pro
| | | |
| --- | --- | --- |
| | DJI Phantom 4 | DJI Phantom 4 Pro |
| Weight | 1.380 g | 1.388 g |
| Diagonal size (without propeller) | ? cm | ? cm |
| control unit | With tablet holder; Signal: 2,4 GHz to 2,483 GHz | With its own touch display; Signal: 2,4 GHz to 2,483 GHz and 5,725 GHz to 5,825 GHz |
| Camera sensor | 1 / 2,3 inch; 12,4 MP | 1 inch; 20 MP |
| Video recording (excerpt) | From 720p HD max 60 fps up to 4K UHD max. 25 fps; Codec: H.264; max. 60 MBit/s | From 720p HD max. 120 fps to C4K max. 60 fps; Codecs: H264 and H.265; max. 100 Mbit / s |
| Memory card support | Max 64GB | Max 128GB |
| battery performance | 5.350 mAh | 5.870 mAh |
| Battery life in flight | 28 Minutes | 30 Minutes |
| Flight range | 5 km | 7 km |
| Max. speed | 72 km/h | 72 km/h |
| Flight and video modes | ActiveTrack, TapFly, Return to Home | Improved versions of all of that + Draw Mode, etc. |
| obstacle detection | 0,7 to 15 meters | Up to 30 meters |
| Current price | 1.399 Euros | 1.699 Euros |
| More info and purchase | DJI shop | DJI shop |
Video introducing the DJI Phantom 4 Pro
Conclusion on the comparison of the two DJI drones
The DJI Phantom 4 is still a high quality and sophisticated device. The improvements of the Pro version are in the details, in here and there improved specs as well as in the revision of the control unit. I think that DJI Phantom 4 Pro In keeping with its name, it will primarily appeal to professional users, filmmakers, users in difficult terrain and action filmmakers. Also from a technical point of view, for example with the video codecs or the increased bit rate of the videos, there will certainly be professional users who will now opt for a DJI Phantom.
After graduating from high school, Johannes completed an apprenticeship as a business assistant specializing in foreign languages. But then he decided to research and write, which resulted in his independence. For several years he has been working for Sir Apfelot, among others. His articles include product introductions, news, manuals, video games, consoles, and more. He follows Apple keynotes live via stream.