The DJI Spark is a Mini drone with camerathat is not only small and handy, but also easy to use and equipped with numerous features. In the standard configuration you get the aircraft and enough accessories to fly for up to 16 minutes. For this you pay 599 euros. For the DJI Spark Fly More Combo you pay 799 euros, but you get a lot more accessories, an additional battery (i.e. over half an hour of flight time); And best of all: you get the remote controller, which has a greater range than the control via iPhone or Android smartphone.
Buy a bargain bundle here in the official shop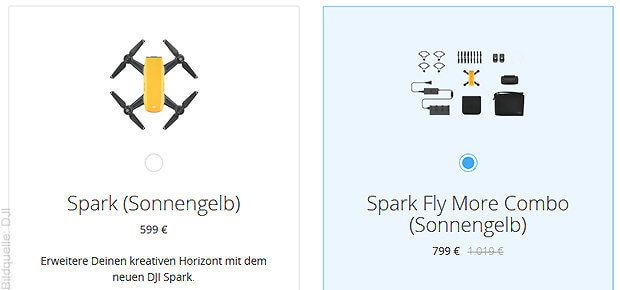 DJI Spark FlyMore Combo
The DJI Spark Fly More Combo Bundle (see below) brings you a lot of accessories that are not included in the standard set for 200 euros less. So with the simple DJI Spark Set you only get these products:
DJI Spark aircraft (drone)
6 x foldable quick release propellers (propellers)
1 x Intelligent Flight Battery
1 x charger
1 x Micro-USB Cables
1 x transport box
That's enough if you want to fly for a maximum of 16 minutes, take photos and videos and then stop. But do you make videos to equip a film with it, do you use the camera to record videos and photos of longer events, or just want to fly more than half an hour, then the DJI Spark Fly More Combo from 799 euros is the product of the Choice. And this is the DJI Spark Fly More Combo scope of delivery:
DJI Spark aircraft (drone)
1 x remote controller (wide-range remote control)
8 x foldable quick release propellers (propellers)
4 x propeller guards
2 x Intelligent Flight Battery (rechargeable batteries)
1 x charging station for several batteries
1 x micro USB cable
1 x transport box
1 x transport bag
Confusion about number of batteries
Of course, in preparation for this post, I also watched other reports on the DJI Spark and the DJI Spark Fly More Combo. Again and again I stumbled upon the misinformation that the standard set had two batteries (one in the aircraft and one extra) and that Fly More Set Bring three batteries (one in the drone and two extra). So with different unboxing videos on YouTube and the like, one was missing in each case, or how?
In short: I have Just wrote to DJI and asked how many batteries there are in which set. The answer came this morning:
"Dear Customer,
Thank you for contacting DJI online store. The spark unit have one battery in total. The Spark fly more combo have two batteries in total. Please feel free to contact us if you have any other questions.
Thank you. Have a nice day.
Best Regards,
DJI online store "
So the DJI Spark and the DJI Spark Fly More Combo only have one or two batteries. Perhaps you came across this post while looking for this information. Then of course I am happy if I could help you;)
Buy a set as a bargain
If you buy the "small" set and then the accessories shown as individual products, you quickly pay a four-digit amount. It is not for nothing that the DJI Shop says that the Fly More Set costs 799 euros instead of 1.019 euros.
Advantages than sober dates
In order to show you the direct and somewhat sober advantages of the set called DJI Spark Fly More Combo, I took a look at the data sheet of the individual components. The remote control is very important here as an individual accessory! Because this brings a greater range than the pure use of an iPhone or Android smartphone as a controller; however, there are a few restrictions depending on your location.
Remote control technical data
Wifi frequencies 2,4 GHz and 5,8 GHz
Exact frequency bands: 2,412-2,462 GHz and 5,745-5,825 GHz
2,4 GHz transmission range: 2 km (FCC, in the USA); 500 m (CE, in Europe including Germany); 500 m (SRRC, in China)
2,4 GHz transmission range: 2 km (FCC, in the USA); 300 m (CE, in Europe including Germany); 1,2 km (SRRC, in China)
Battery: 2.970 mAh capacity
Current / voltage in operation: 950 mAh / 3,7 V.
Clampable smartphones: 6,5 mm to 8,5 mm thickness / max. 160 mm length
To compare the range: With the DJI GO 4 app (iOS / Android) a maximum distance of 80 meters and a height of 50 meters are possible. But no matter whether remote control or just smartphone: you have to register the drone, otherwise only 50 meters distance and 30 meters height are possible - and without video transmission. Details about it can be found here.
Technical data of the battery
Battery type: LiPo 35
Capacity: 1.480 mAh
Voltage: V 11,4
Energy: 16,87 Wh
Charging voltage: 13,05V
Weight: around 95 g
Technical data of the DJI Spark
DJI Spark weight: 300 g
DJI Spark dimensions: 143 x 143 x 55 mm
2-way gimbal for the camera: nod and roll
Camera movement up and down possible
No camera movement left and right without rotating the drone
Sensor: 1 / 2.3 inch CMOS
Lens: f / 2.6
Image size photos: 3.968 x 2.976 pixels
Image size videos: Full HD 1080p @ 30 fps
formats: MP4 for video (MPEG-4 AVC/H.264) and JPEG for photo
Further details about the DJI Spark and the matching accessories can be found in the DJI Online Shop and the DJI information pages.
Soon in the Apfelot house
For the drone collection at Apfelot, the DJI Spark Fly More Combo has already been ordered as a bundle for the saver. So a DJI Spark test for this blog is not unthinkable! If you want to buy the DJI Spark, then I recommend you click directly into the official online shop by DJI. Because the current demand can lead to longer and longer shipping times, the longer you wait;)
Feel free to leave a comment on the topic or your experience with the new DJI drone!
After graduating from high school, Johannes completed an apprenticeship as a business assistant specializing in foreign languages. But then he decided to research and write, which resulted in his independence. For several years he has been working for Sir Apfelot, among others. His articles include product introductions, news, manuals, video games, consoles, and more. He follows Apple keynotes live via stream.