The DJI winter bargains as winter holiday deals are valid until January 1st, 2018. At the campaign of the market-leading drone manufacturer from China, you can buy camera drones and accessories cheaper - with a discount of up to 30%. In addition, you will receive 2017% instead of just 2% of the shopping cart value as DJI Credit during the 1 DJI winter promotion. So if you want to buy a DJI drone with a Spark, Phantom or Mavic Pro camera, this is currently the best deal. You can also buy DJI goggles, Osmo products and accessories at a lower price at DJI Winter Bargains. TL; DR: Click here for the offers.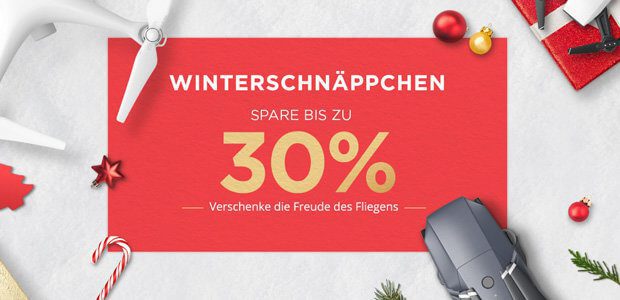 Buy drones cheaper: DJI winter bargains until January 1, 2018
With the DJI winter bargain deal, you get the popular camera drones from the Chinese manufacturer at a lower price. The promotion is only valid for a few days, but you can save a lot during these days. So if you want to buy a camera drone with your Christmas bonus, now is the right time to do so. You can buy these drones, handheld gimbals and accessories at a lower price at DJI Winter Bargains:
DJI Mavic Pro Fly More Combo: EUR 1.349 instead of EUR 1.499
DJI Mavic Pro Alpine White: EUR 1.249 instead of EUR 1.422
DJI Spark: EUR 499 instead of EUR 599
DJI Phantom 4 Pro: including a free additional battery
DJI Phantom 4 Advanced: including a free additional battery
DJI Osmo Mobile: EUR 239 instead of EUR 339
DJI Osmo + including its own camera: 649 EUR instead of 749 EUR
DJI Goggles: 499 EUR instead of 549 EUR
And much more
More DJI deals for winter 2017/2018
Until the New Year you will not only get the DJI winter bargains mentioned above, but also plenty of accessories for less. These include, for example, the "Spark Intelligent Flight Battery" for the DJI Spark drone or the corresponding remote control, which was made 30 euros cheaper. There are also propellers, propeller guards, chargers and so on. Of course, not only for the DJI Spar camera drone, but also for the Osmo hand stabilizers, for the Phantom 4 models and the Mavic Pro / Mavic Pro Platinum, there are a number of accessories to buy cheaper, from the propeller to the battery to the charging station. Just take a look on the action page the DJI winter bargain and take a look at the individual deals. You don't need a voucher code.
Since December 2017, the drone manufacturer from China has had a premium offer, the DJI Select called. It is worth ordering this when you buy a new drone. Why? Because you get exclusive vouchers for further purchases, VIP access to new products before everyone else, birthday offers and much more. If you want to learn more about DJI Select, then I recommend this post to you. If you are still looking for the right camera drone for your needs, then you are also at the right address in the Sir Apfelot blog - because there are tests, data sheets and comparisons of individual models. For example, look for a DJI Spart test in here.
After graduating from high school, Johannes completed an apprenticeship as a business assistant specializing in foreign languages. But then he decided to research and write, which resulted in his independence. For several years he has been working for Sir Apfelot, among others. His articles include product introductions, news, manuals, video games, consoles, and more. He follows Apple keynotes live via stream.