When looking for the right charger for various devices and connections, you will find many offers. With its relatively new "Dynamic Detect" range, the manufacturer AUKEY offers three chargers that automatically adjust their performance. Different from the ones before USB-C multiport chargers presented herethat have a stronger and a weaker USB-C port, the AUKEY PA-D2, for example, offers two connections with Power Delivery (PD) which, when used individually, offer 30 W; 18 W when fully occupied. If you need more power, you can buy a 3 W charger with type C + PD and type A with the PA-D60.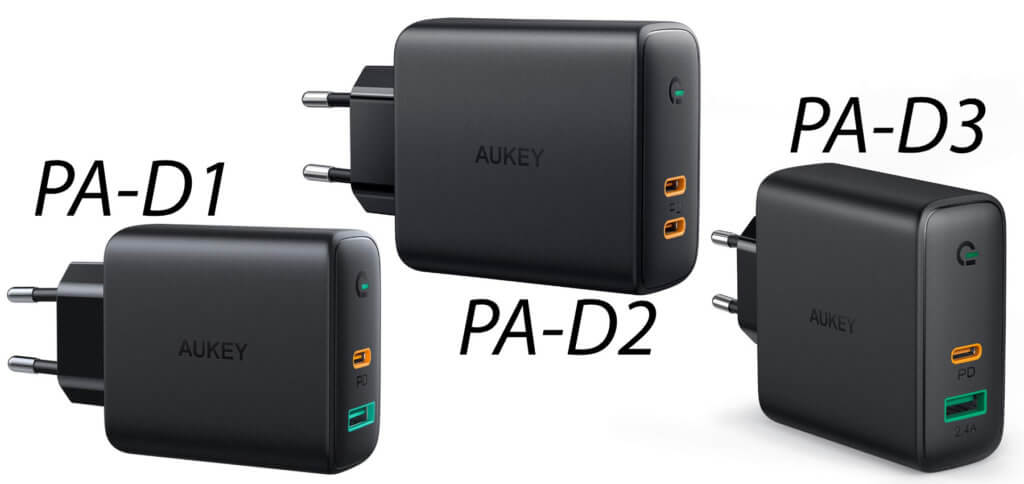 The AUKEY PA-D2 "Dynamic Detect" charger
The AUKEY PA-D2 charger is a USB-C multiport charger with two connections. The universal power supply unit for USB cables with a Type-C connector offers a total of 36 watts. If one of the two ports is used individually, then 30 watts can be used. The full power is used when both ports are in use, so that 18 watts are delivered each. For quick charging of Apple iPhones with a USB-C to Lightning cable or from an Apple iPad (Pro) that's not bad. For an Apple MacBook with Thunderbolt 3, you should rather use the AUKEY PA-D3 (see below). You can find information and purchase options for the PA-D2 on the Amazon product page.
Comparison of AUKEY PA-D1, PA-D2 and PA-D3
Perhaps you don't need two C connectors for your current devices, just one of the powerful sockets equipped with Power Delivery - and an A connector. This is exactly what the AUKEY Dynamic Detect power supplies PA-D1 and PA-D3 offer. The first brings you 30 watts, which can be used either individually on the USB-C port or broken down to 18 watts (USB-C) and 12 watts (USB-A) when fully occupied. The second offers 60 watts or 45 + 12 watts. In the following table I have clearly shown everything again.
Performance
Normal PD
Dynamic Detect
AUKEY PA-D1
30W
USB A: 12W

USB-C: 18W

USB A: 12W

USB-C: 30W (18W with double occupancy)

AUKEY PA-D2
36W
Per USB-C: 18W
USB-C: 30W (18W with double occupancy)
AUKEY PA-D3
60W
USB A: 12W

USB-C: 48W

USB A: 12W

USB-C: 60W (45W with double occupancy)
Jens has been running the blog since 2012. He appears as Sir Apfelot for his readers and helps them with problems of a technical nature. In his free time he drives electric unicycles, takes photos (preferably with his iPhone, of course), climbs around in the Hessian mountains or hikes with the family. His articles deal with Apple products, news from the world of drones or solutions for current bugs.
The page contains affiliate links / images: Amazon.de