With the smartphone, every user has the gateway to the world in their hands. This includes stock exchange trading, which experienced a boom as a result of digitization. The iOS operating system, together with Android, is the measure of all things for smartphones. For Apple fans, this means that trading compatibility should always be maintained and that there are numerous trading apps that make stock market trading easier and trading more attractive.
The guide is dedicated to these trading apps to help you unlock the potential of mobile trading.
Who is a trading app for?
It is important to understand that a trading app is not the only way private investors can trade. Trading apps compete with web platforms, which are also provided by the broker. The applications have been specially developed for traders with smartphones, who can carry out their actions on the stock market at any time while on the go. You receive push notifications for important events on the fast-moving stock exchange directly on your smartphone via the application.
You have to reckon with a slimmed-down version compared to the web platform, which is primarily intended for users of home PCs, since the size of the displays and the storage capacity of mobile phones reach their limits much more quickly. This applies, among other things, with a view to popular instruments such as chart analysis, where complex calculation systems are impossible in sophisticated representations.
However, you can also use web platforms and trading apps as a supplement. If you are at home, use a full version while accessing your account on the go with your trading app.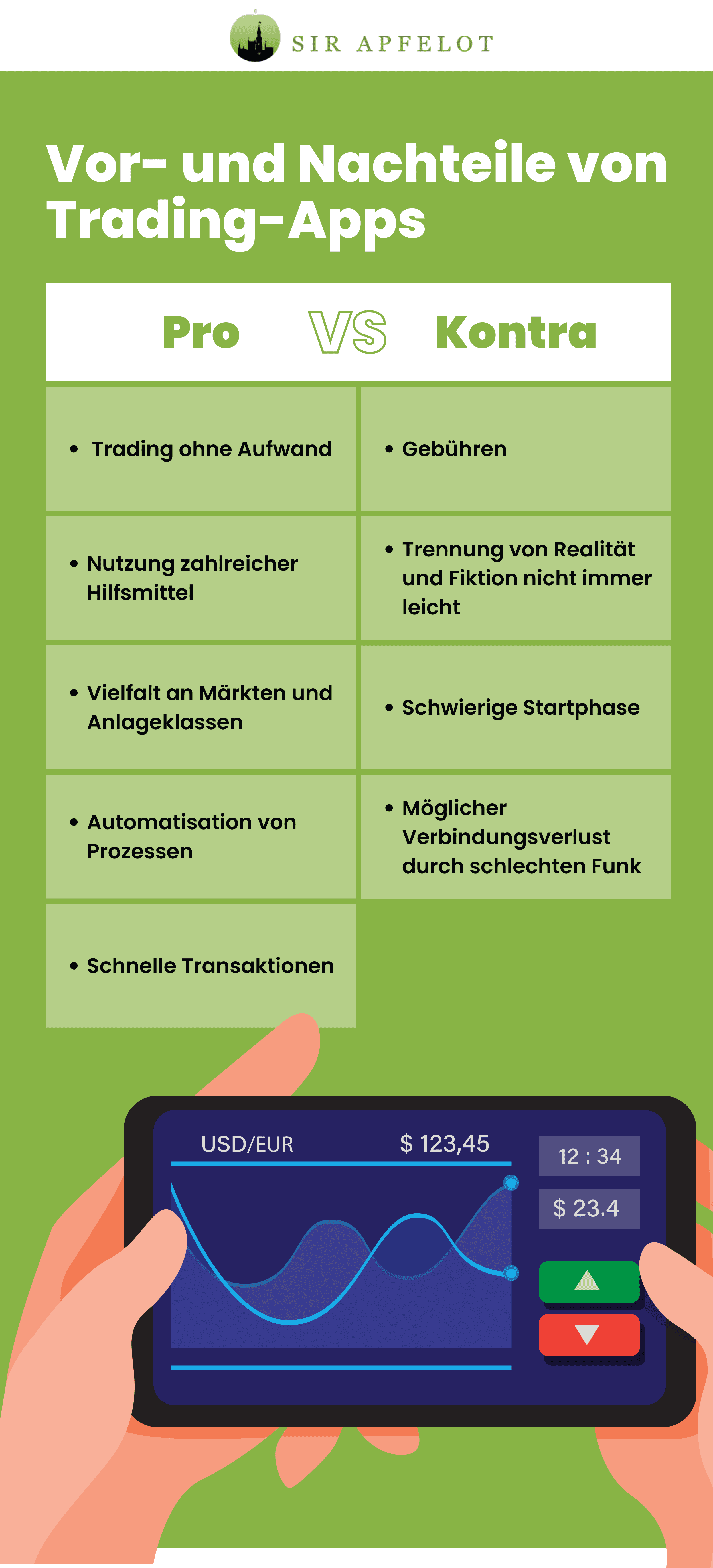 Investing in stocks via the iPhone – how does it work?
As mentioned earlier, trading apps are provided by the broker. For iPhone owners, this is Trading apps offer decisive for the iOS operating system in the broker comparison test. However, there should not be any compatibility problems with the iOS and Android operating systems due to their de facto duopoly position.
By registering with the desired broker, you automatically receive access to the trading app, follow the system's instructions and can use the app from now on.
Which markets can you trade on?
Brokers allow their users access to the major exchanges and asset classes worldwide. However, the offer varies from provider to provider. In terms of stock exchanges, the most important are those in New York City, Tokyo, London, Paris, Frankfurt, Shenzhen, Shanghai, Seoul, Hong Kong and Toronto. Again, the most important assets are stocks, derivatives, commodities, warrants, currencies and currency pairs, EFTs, futures, indices, bonds and real estate.
Here, too, the provider comparison helps to determine which broker offers access to which markets with its trading app. Quality and quantity are the metrics that matter, emphasizing the importance of markets over sheer number of venues when probing supply. More importantly, the offer fits your personal preferences.
For example, if you feel like a fish in water when trading forex, you will find one here Forex trading guide for beginners.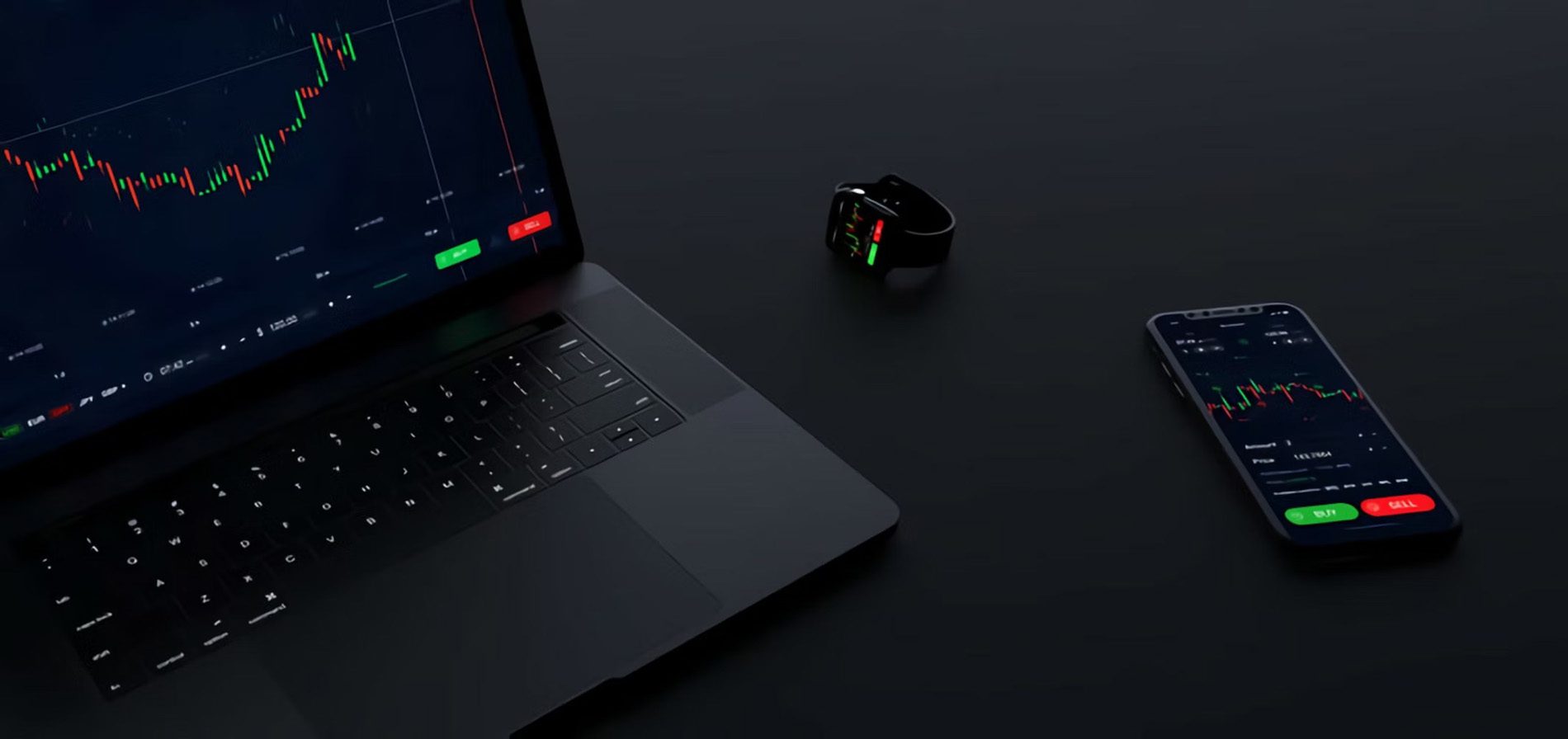 What makes a good trading app?
In addition to the variety of offers for asset classes and markets, the following aspects are most important for the app comparison test. Finally, we inform you about the important criterion of fees:
functionality
Apps should support traders in the best possible way. A free demo account to trade real money only when you feel ready is an absolute must-have. The support also includes the popular chart and analysis functions, which should be individualized as far as possible in order to adapt to personal needs. Features for automatic chart pattern recognition are particularly advanced in order to be able to react to trends in good time.
Traders should be provided with important news through the app, as news from the economy and politics affect stock prices. The most important stock prices can be read in real time and the app offers opportunities for training and tutorials. Finally, the degree of automation is also one of the most important criteria when comparing brokers, which offers decisive added value, especially for market orders, limit orders, stop-loss orders and take-profit orders.
Ease of use
Usability means that users encounter as few barriers as possible, but rather achieve their goals quickly and easily through a clear and meaningful structure. The ideal is the intuitive navigation that allows traders to navigate the app without thinking.
A short adjustment period is normal. However, the more user-friendly the app is, the shorter the time until users feel at home.
Community
It's a trend of the hour Social Trading, which allows traders to follow in the footsteps of successful traders in order to learn from them. Those who prefer to leave their own tracks are certainly not dependent on this feature. However, many traders appreciate the opportunity to exchange ideas with like-minded people, so that everyone can learn from everyone else and, last but not least, helps to build relationships.
How big is the trader community at the broker and how open are the interaction options? These are questions you should ask yourself when comparing providers.
Are trading apps safe?
Trading apps should be registered with at least one financial regulator. BaFin is responsible for Germany. CySEC from Cyprus, FCA from Great Britain and ASIC from Australia also have a good reputation. SSL encryption and two-factor authentication are now part of the security standard of trading apps, while data protection should be important when registering and verifying.
After all, brokers with deposit security offer the trader protection of their assets in the event of insolvency of the provider through this type of insurance. This always applies up to a certain level.
What are the costs of a trading app?
Brokers do not provide their apps out of charity. Rather, it's a win-win situation because they too want to do business. When comparing offers, it is therefore important to compare the different broker fees and adapt them to your own situation.
Possible fees when trading can be due for deposits, account maintenance, actions (spreads), holding positions overnight (swaps), inactivity and withdrawals. In addition, brokers often charge for special features and services such as the use of advanced charting and analysis functions or access to the full service, with which all functions of the trading app can be used.
Jens has been running the blog since 2012. He appears as Sir Apfelot for his readers and helps them with problems of a technical nature. In his free time he drives electric unicycles, takes photos (preferably with his iPhone, of course), climbs around in the Hessian mountains or hikes with the family. His articles deal with Apple products, news from the world of drones or solutions for current bugs.