Some time ago I was given the opportunity to receive headphones with flexible microphone from EasyAcc for a test. I have noticed this and in the last few weeks that EasyAcc G1 gaming headset tested. In this review, I have summarized how the over-ear headphones with a microphone that can be switched off did when playing, making calls and listening to music. Incidentally, I tried it on an Apple MacBook Pro, a Windows laptop from Lenovo and a Nintendo Switch (find the best microSD here).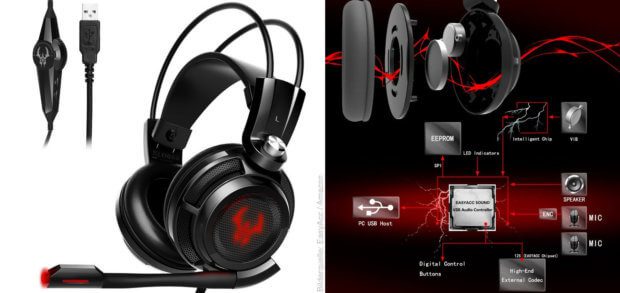 EasyAcc G1 Gaming Headset at a glance
The EasyAcc G1 Gaming Headset consists of a classic pair of round-shaped over-ear earcups, a sophisticated head holder, a microphone that can be turned up when you don't need it, and volume, microphone and vibration controls on the cable .
The vibration can be switched on to reinforce the bass and has proven itself in the test of the EasyAcc G1 gaming headset. Not only when listening to music, but also when playing The Legend of Zelda: Breath of the Wild, The Elder Scrolls V: Skyrim, Civilization v or Counter Strike. The headset is connected to the audio source via a USB-A port.
---
Data sheet: Technical data of the EasyAcc headphones
Here is some data about the gaming headphones with microphone, practical control element on the cable and USB connector:
Manufacturer: EasyAcc

Model: G1 Gaming Headset

Model Number: SMKG1-B

Dimensions: 23,5 cm x 23,5 xm x 11 cm (depending on whether the microphone is folded down or not)

Weight: 405 g

Integrated sound: 7.1 surround stereo sound for aural way of finding your way around the world of games

Cable remote control: volume control wheel as well as buttons for microphone and vibration

Adaptation to the wearer: flexible headband and soft synthetic leather padding

Compatible with Windows PC, Apple Mac, PlayStation, Xbox, Nintendo Switch, etc.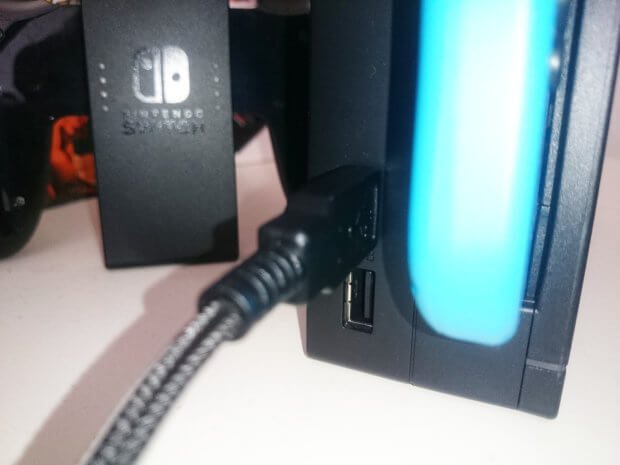 Sound, music and game experience
For the pleasant price of just under 36 euros (as of June 2018), of course, you can't expect high-end hi-fi headphones with the very best sound. Nevertheless, the auditory experience with the G1 headset from EasyAcc is not bad. Highs and lows are worked out well and the mids are not lost. The spatial design of the game world via surround sound (assuming the appropriate audio in the game) also works well.
The switchable vibration (can be activated and deactivated on the cable remote control) provides additional bass, which is just as much fun with rock and hip hop as it is with atmospheric video games. Instead of headbanging, there is a head and neck massage: D The EasyAcc G1 gaming headset performed really well in the test for both music and gaming on the computer and console.
Audio quality of the microphone
The microphone has a clear and clean sound. However, it is not a spatially limited directional microphone - that should be taken into account. This means that you can hear background noises or reverberation in larger or poorly equipped rooms during a conversation or recording. With a regular Skype call or the use of Teamspeak, Discord and similar services in a normal environment, the microphone sound should be well received.
In any case, it is transmitted clearly and distinctly, so that other players, people in the conference call or participants in the video telephony can understand you well. By the way: the microphone can be turned upwards and bent when in use. It also glows red when it is activated. So you can see immediately whether you have accidentally muted.
Plug and play as well as help for usage
Nowadays, driver CDs and similar digital aids for hardware that come on physical media are almost extinct. The simple use of the headphones via plug and play at a USB input means that they are basically unnecessary for the product presented here. Nevertheless, I took a look (under Windows) what the included CD has to offer.
They weren't absolutely necessary drivers, but rather a user interface for audio control, settings for the microphone and quick access to Windows services such as the sound recorder or the media player. None of this is necessary; For inexperienced users who are not particularly familiar with the Windows system and its audio settings, it could be a useful help.
---
Comfort and fit - even when playing for a long time
In the EasyAcc G1 Gaming Headset Test, I found two essential things: First, that the comfort increases with every wear, and second, that the inner padding (foam on plastic) is too thin for me. The first comment is meant in such a way that the headset feels more adapted to the shape of the head with each use. People with a smaller head / head circumference may find the headphones comfortable - I had to get used to them.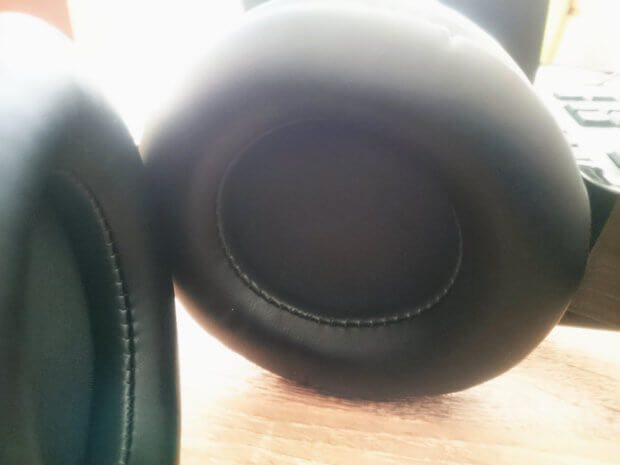 Second comment relates to prolonged wear; for example, if the civilization session extends to nine or ten hours again. Then you can feel the hard plastic under the rather thin upholstery. This can of course be remedied by adjusting the headphones again on the ears. In combat-intensive role-playing games, arena fights or skill quests, however, you don't want to take your hands off the mouse, keyboard, game pad or controller less often.
Buy the EasyAcc G1 Gaming Headset
You can buy the EasyAcc G1 Gaming Headset among others at Amazon. On the product page you will also find more pictures, technical information and, last but not least, user ratings, customer reviews, customer questions and answers.
Headphones with microphone for music, skype and video games
The EasyAcc G1 Gaming Headset did not do badly in the test and did a good job. With a little more padding over the hard plastic in the earpiece shells, it would have turned out to be very good. With a bit of getting used to, the gaming accessories can still be recommended as good.
Summary
All in all, the EasyAcc G1 Gaming Headset did pretty well in the test. If you have a small head circumference or insensitive ears, you won't have any problems with the light padding in the sound shell even after playing for hours or listening to music for a long time. Maybe I'm just over-sensitive: D
From the point of getting used to these small flaws, there are actually only good points that put the price-performance ratio of the headphones for Mac, PC and console in the right light. The audio quality in both the output (headphones) and the input (microphone) is more than useful - the headset is definitely good for getting lost in a game. And to all those who wear glasses: the glasses do not cause any problems when wearing this headset;)
After graduating from high school, Johannes completed an apprenticeship as a business assistant specializing in foreign languages. But then he decided to research and write, which resulted in his independence. For several years he has been working for Sir Apfelot, among others. His articles include product introductions, news, manuals, video games, consoles, and more. He follows Apple keynotes live via stream.
The page contains affiliate links / images: Amazon.de