If you are looking for an irrigation computer or an additional component for the tap that can be smartly controlled to help you water your garden, greenhouse or lawn, then the Elgato Eve Aqua could be the right choice. The "Smart Water Controller" for outdoor use can be controlled via Bluetooth, via HomeKit Bring it into the smart home and thus operate it while on the move. I have summarized a few data and details about the irrigation aid in this small post. You can buy the Elgato Eve Aqua, among other things at Amazon.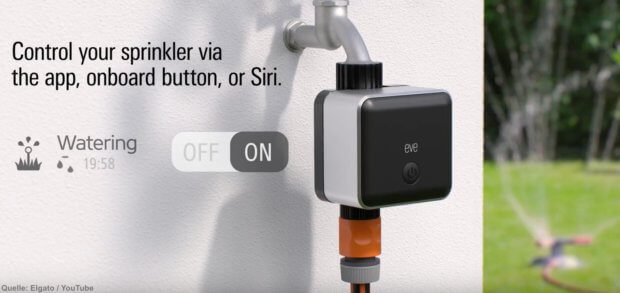 Elgato Eve Aqua - HomeKit Compatible Irrigation Control
After the last product update Elgatos in the form of the Eve Smoke As a HomeKit smoke detector for interiors, there is now the small box called "Eve Aqua" for the summer. The irrigation control costs 99,95 euros and can be controlled via the manufacturer's app, the Apple Home app and Siri. In addition to setting up schedules and controlling while on the move (Smart Home Hub required), the Elgato Eve Aqua also wants to score with an automatic switch-off that is supposed to prevent flooding and wasted water. The weatherproof box can provide these technical data:
Dimensions: 9,5 x 12,3 x 8,2 mm
Weight: 355 g
Power supply: 2 x AA (included)
Connection for water tap: 26,5 mm thread for 1/2 "connection
Pressure: min. 1 bar, max. 5 bar
Compatibility: Eve App, Apple HomeKit with Home App (iOS 11.3 or newer)
Communication: Bluetooth Low Energy (10 m range)
Smart features: voice control (Siri), watering timer, consumption calculation, automatic switch-off, etc.
Operation also possible on the device: yes
Elgato Eve app: for iOS
5,96 EUR
Weatherproof irrigation aid for the garden
The Elgato Eve Aqua is a box that is screwed onto the tap in order to control the irrigation outside - i.e. in the garden, greenhouse or bed. Irrigation plans with timer, automatic shutdown and other smart features as well as control via Siri and when you are on the move are practical. Customer questions and answers as well as customer reviews and ratings can be found on the product page.
Customer opinions and criticism
So far, in addition to several customer questions and answers, Amazon has also had two customer reviews - one with 5 stars, which deals with the good functionality, and one with 2 stars, which deals with the Bluetooth connection (as of June 28, 2018). In the latter, the criticism is expressed that there are disconnections because the HomeKit hub (in the special case the Apple TV) was not close enough to the Eve Aqua. This is quite understandable, because anyone who has a house, its living room or other room in which the hub is located is not always facing the garden or directly at the point where the tap is outside. So that applies to purchase and use of the device to consider!
Elgato Eve Aqua in the video
An informative one Video Elgato has provided information about the device and its functions on YouTube. The info video, which is less than a minute long, gives a good impression of the irrigation aid and its functions:
After graduating from high school, Johannes completed an apprenticeship as a business assistant specializing in foreign languages. But then he decided to research and write, which resulted in his independence. For several years he has been working for Sir Apfelot, among others. His articles include product introductions, news, manuals, video games, consoles, and more. He follows Apple keynotes live via stream.
The page contains affiliate links / images: Amazon.de