Anker has introduced a new set for monitoring your home, apartment, office and virtually any other place. The eufyCam 2C Package consists of two full HD cameras with night vision that can be used inside and outside as well as the home base 2. The wireless cameras have a battery life of up to 180 days and a local memory of 16 GB is already included in the surveillance camera set. Particularly interesting: False alarms caused by leaves, dogs, wind, etc. can be reduced by 95% - ergo less battery consumption and fewer recordings that have to be sorted out. Until December 16.12.2019, 25 there is a XNUMX% discount;)
Click here to go directly to the eufyCam 2C: Amazon product page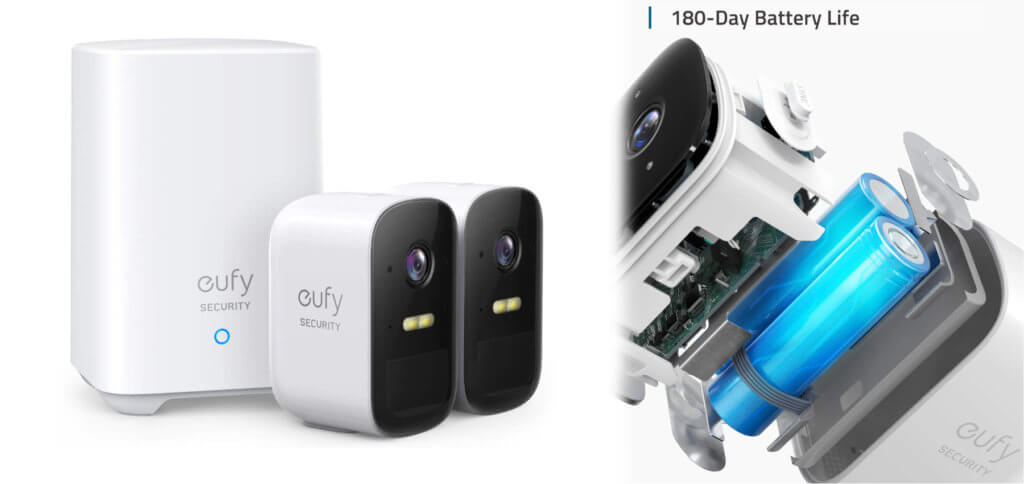 Buy eufyCam 2C with a 25% discount (until December 16.12.2019, XNUMX)
You can get the three-part set of two cameras and a Homebase 2 for € 239,99 on Amazon, among others. With the voucher code EUFYCAM2C you can, however, secure a price reduction of 25% during the payment process. At the time of this post's publication (December 10.12.2019th, XNUMX) the product page says "Currently not available" because the surveillance camera set is probably already sold out, but it may be delivered by the time the voucher expires;)
eufyCam 2C - Technical data
Wireless, IP67-certified, without a cloud subscription, but with 16 GB of its own eMMC (embedded Multi Media Card) - that sounds pretty good. But what else does the eufyCam 2C from eufy by Anker have to offer? I have summarized the most important technical data from the eufyCam 2C data sheet for you here:
1080p full HD resolution for both cameras
135 ° wide-angle lens for a wide field of view
Night vision technology for shooting in the dark
Built-in headlights with LED light
Up to 180 days of battery life
Person detection and detection of false alarms
Individually adjustable detection zones
Two-sided audio function for use as an intercom
IP67 protection class for outdoor use
Coupling with Google Assistant / Amazon Alexa possible
Local storage via 16GB eMMC, optional cloud storage
Scope of delivery: eufyCam 2 2 camera set, Homebase 2, mounting material, micro USB cable, power supply unit, Ethernet cable, operating instructions
Which camera do you use in the security system?
Do you have one or more cameras installed to secure your house, apartment, garden or office? Perhaps the predecessor of the model described above, the eufyCam E from eufy by Anker? Feel free to leave a comment on the topic, even if you may not think of cameras to secure your house and yard;)
Jens has been running the blog since 2012. He appears as Sir Apfelot for his readers and helps them with problems of a technical nature. In his free time he drives electric unicycles, takes photos (preferably with his iPhone, of course), climbs around in the Hessian mountains or hikes with the family. His articles deal with Apple products, news from the world of drones or solutions for current bugs.
The page contains affiliate links / images: Amazon.de