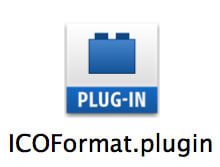 Since I create WordPress websites for customers every now and then, there comes a point where a favicon.ico must be saved. Unfortunately, my Adobe Phtotoshop CS5 does not offer this by default, which I find quite embarrassing. Fortunately, there is a way to add this feature to Photoshop for free. The whole thing is implemented via a plugin that can be found at Telegraphs can download. How to proceed exactly in order to be able to save a [Favicon-> favicon] in [Photoshop on Mac-> photoshop] is explained here:
Adobe Photoshop should not be running
Download the plug-in from the telegraphics.com.au website. There are different versions:
For example, if you have loaded the .dmg for the Intel Macs, you have to mount the dmg and put the "ICOFormat.plugin" file in the "Applications> Adobe Photoshop> Plug-Ins> File Formats" folder.
Photoshop will now be restarted and you should find the format "ICO (Windows Icon)" under the command "File> Save As".
For me, the whole action with Adobe Photoshop CS5 on the Intel Mac worked out very well. If an has saved the icon as "favicon.ico", you only have to put it in the main folder of the domain via FTP, so that you can access it via the URL "http://www.yourdomain.de/favicon.ico" could achieve. Then it will also be automatically recognized and displayed by the browser.
Thanks to Telegraphics for the plugin!
Jens has been running the blog since 2012. He appears as Sir Apfelot for his readers and helps them with problems of a technical nature. In his free time he drives electric unicycles, takes photos (preferably with his iPhone, of course), climbs around in the Hessian mountains or hikes with the family. His articles deal with Apple products, news from the world of drones or solutions for current bugs.