A VPN helps you surf anonymously, change your location digitally and be more secure on the Internet. In many reviews, ExpressVPN is the test winner, which is due to several advantages of the provider. The VPN for Mac, Windows, iPhone, iPad, Android, Linux and routers is not free, but can be used extensively. There is also a 30-day money-back guarantee. An ExpressVPN test is possible at any time to check out all functions and options, e.g. B. to try out the 160 server locations in 94 countries or the split tunneling extensively. You can find all information, products and prices directly on the provider side.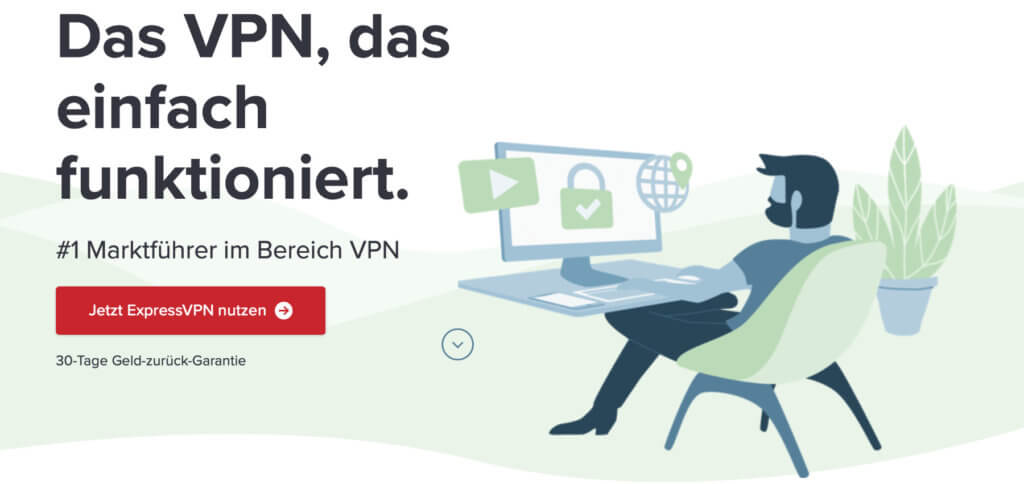 ExpressVPN Reviews - Top marks for VPN service
If you search on Google, DuckDuckGo, Ecosia and Co. after "ExpressVPN Test" or "ExpressVNP Test 2020", then you get several test and comparison pages presented as search results. Regardless of whether the headline is "VPN in comparison", "The best VPN provider comparison 2020" or a variation of it, in most cases the provider plays in the upper ranks or even ranks first.
But there are also more serious tests and experiences from private individuals and specialist journals. In the summaries of this and that VPN at ExpressVPN, the over 3.000 servers, which are distributed at 160 locations in 94 countries around the world, are positively highlighted. But in addition to large numbers, the provider for the Virtual Private Network (VPN) has much more to offer. For example split tunneling ...
What is split tunneling in VPN?
Split tunneling as a feature of a VPN allows you to control local network devices, even when the VPN is active and your entries from Mac, PC, smartphone or tablet are encrypted and redirected to the Internet. As the name suggests, it is a division into different tunnels. The data streams are either sent directly to the Internet or redirected via the VPN, depending on the user setting. This happens at the same time, so that, for example, the apps and websites for the smart home, local network or the like can be accessed directly, while other requests are redirected - if used in parallel. This service is almost exclusively available from ExpressVPN.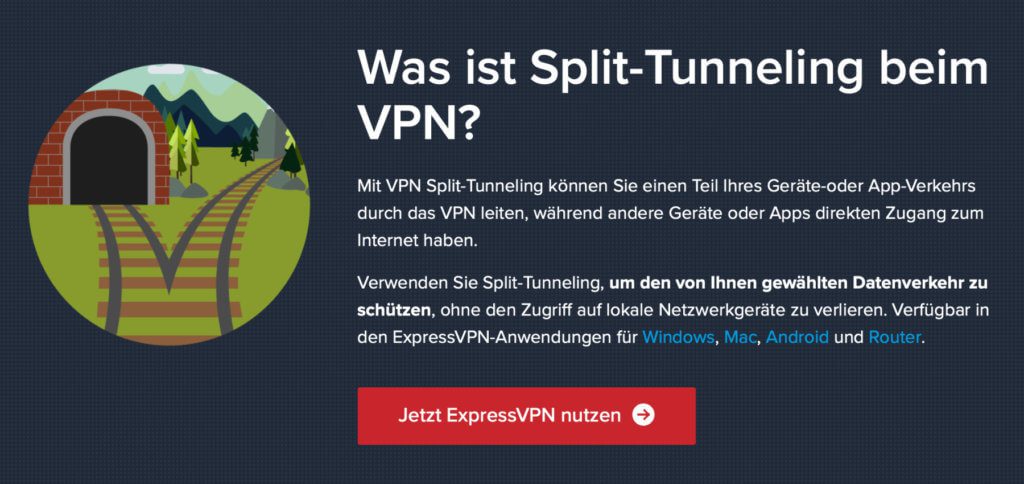 What can happen without split tunneling:
You cannot access local and external web services at the same time
The bandwidth is heavily used with high traffic and complete VPN redirection
LAN devices cannot be addressed when VPNs are in use
Benefits of ExpressVPN Split Tunneling:
Watch streams blocked in this country (e.g. from the USA) while using web services with local IP
Access network devices, such as the printer, even when browsing the Internet through VPNs
Use internet services and websites with good bandwidth, even when downloads are in progress
ExpressVPN Pricing - It's good that the VPN costs money
If you're comparing VPNs, you should definitely take a look at this provider. Because the ExpressVPN app is compatible with the MacBook / Pro / Air as well as with the iMac / Pro, Mac Pro and Mac mini. she can from OS X 10.10 Yosemite to macOS Catalina 10.15 be used.
On Windows PCs from Lenovo, HP, Dell, Acer, Microsoft and Co., the ExpressVPN app is compatible with Windows 10, 8 and 7. As already mentioned, there are also solutions for iOS, Android and Linux. The development and maintenance of the apps as well as the 24-hour support naturally cost money. And it's good that the provider doesn't get the same through advertising or data sales.
So if you want to use the high-quality VPN service, you have to buy it. Another advantage of this, in addition to the ones already shown, is that no logs are created. ExpressVPN is a VPN without log files in which the user activities are documented. The servers also have their own DNS infrastructure to prevent DNS leaks.
That also costs money. The cheapest package for all features is therefore $ 99,95 a year; monthly costs of just 8,32 US dollars, around 7,69 euros. That's cheaper than the cheapest Netflix subscription;) In addition to the 12-month package, there are also offers for half a year or a month. The tiered pricing looks like this:
ExpressVPN price for 1 year: $ 99,95 ($ 8,32 per month)
ExpressVPN price for 6 months: $ 59,95 ($ 9,99 per month)
ExpressVPN price for 1 month: $ 12,95 to be paid monthly
View apps and offers: Call up the provider's website
FlashRouters: Buy a flashed router with ExpressVPN
If you don't just want to download an app to use a VPN or install a browser extension in Chrome or Firefox, you can go one step further. For example, the FlashRouters Shop offers LAN and WLAN routers in which ExpressVPN is directly integrated. This has the advantage that you don't have to set up the VPN with every device, but you have the advantages of the VPN out-of-the-box at the start as soon as you connect to the router's WLAN or LAN.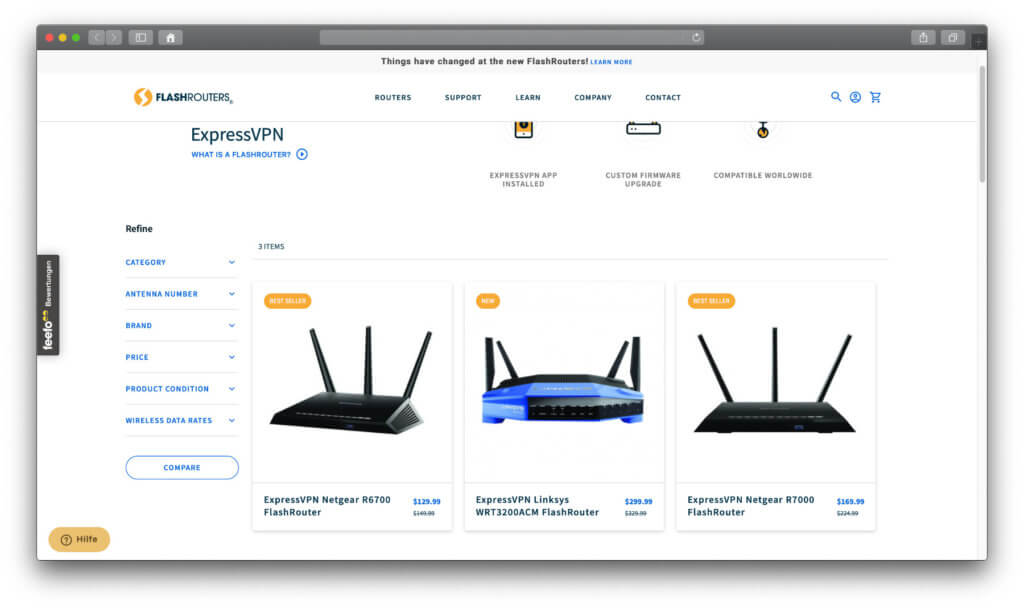 The routers flashed with ExpressVPN are (current) models from Linksys and Netgear - you can find the overview here. But keep looking at the Side of the shop um, you will find more Custom Flashed Routers - also some from Asus. The VPN providers that are offered also include NordVPN, IP Vanish, HMA, CyberGhost (or Cyber ​​Ghost) and Private Internet Access. Check it out ;)
ExpressVPN experiences - used for various purposes
In test and experience reports as well as comparisons with NordVPN, CyberGhost, Surfshark, ProtonVPN and so on, there are different areas of application and focus. Sometimes you have to keep your location a secret as a journalist, sometimes you just want to watch a streaming service or a live sports broadcast from the USA. Circumventing censorship - for example in China - is another reason for using VPNs. In addition, there is general protection Phishing, Malware and unauthorized access.
On the English language website CompariTech it says (translated into German):
Although most VPNs have stopped working in China, ExpressVPN is still working. This provider doesn't have servers in China, so they don't have to monitor their users' activities or comply with any other aspect of Chinese data retention laws. It also makes it far less likely that government officials will eavesdrop on the service hardware.
The MacWorldSummary for home use by Ian Paul also speaks for ExpressVPN (translated into German):
ExpressVPN's pricing is a little high, but it offers a lot for the money. This isn't the cheapest VPN out there, and anyone interested in simply securing their connection in public should look elsewhere. For anyone planning on taking full advantage of its features, including Smart DNS for their set-top box, Netflix streaming, and backup over open Wi-Fi, ExpressVPN is worth it.
ExpressVPN benefits at a glance
Use the Internet and Internet-based services with anonymity and security
Unblock websites from other regions / countries

Use VoD and streaming offers that are not available in your home country
Hide your own IP address and surf with a server-side IP
Use split tunneling to stay active in the local network in parallel
Kill switch as an emergency switch cuts all connections if the VPN fails
The own DNS structure prevents information from being leaked in this way
Industry-leading encryption (Advanced Encryption Standard with 256-bit keys, AES-256 for short)
Automatic or manual protocol selection (UDP OpenVPN, TCP OpenVPN, L2TP IPSec or PPTP)
And much more
ExpressVPN download for macOS, Windows, iOS, Android and Co.
With ExpressVPN, you get a VPN that is not only safe and fast, but also a self-financed service that doesn't rely on advertising or data sales. If you want to encrypt and disguise your Internet use on the provider's servers in the future, you will find the corresponding ExpressVPN download on the official website. In addition to the offers for Apple computers and Windows PCs, there is also an Android VPN, Linux VPN and VPN extensions for Chrome and Firefox. Here you get all information and the download option.
Conclusion on ExpressVPN
ExpressVPN is a VPN that ensures security and anonymity when surfing the web and using internet services and apps thanks to numerous servers in various locations. Whether Mac, Windows PC, iPhone, iPad or Android device - thanks to a strong connection and good bandwidth, the encrypted Internet has enough speed to stream Netflix, YouTube, HBO, sports and live events. If you have your connection redirected by ExpressVPN servers, you can, for example, use non-national services. There is also the possibility of avoiding censorship in China, for example. Your IP address is encrypted and exchanged, there is leak protection and much more. Check it out;)
Jens has been running the blog since 2012. He appears as Sir Apfelot for his readers and helps them with problems of a technical nature. In his free time he drives electric unicycles, takes photos (preferably with his iPhone, of course), climbs around in the Hessian mountains or hikes with the family. His articles deal with Apple products, news from the world of drones or solutions for current bugs.