In 2017, so-called fidget spinners were a rapidly spreading trend. Children and adolescents in particular have used these finger toys to calm down, increase concentration and give their hands something to do. But even in 2019, fidget spinners are still in demand and are used by many people - whether as toys or therapy. That's why I completely overhauled the article about these products from two years ago and picked out the bestseller offers that crystallized out on Amazon over time, which can shine with good ratings and customer reviews.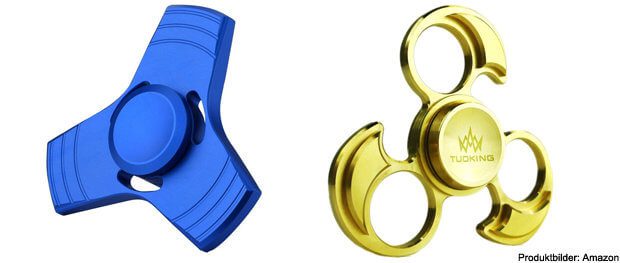 Fidget Spinner - finger toy for nervous hands
In 2017 the big hype about the fidget spinner came to Germany. Above all, children and young people - thanks to YouTube, Instagram and similar media with corresponding influencers - quickly became the professionals in all categories. Which brand should be the best? Which games and trick shots can you practice with fidget spinners? And how long can the best fidget spinner spin? This and much more was discussed. What remained are the articles for nervous people and ADHD people, who feel a calming effect from the finger toy and work better in everyday life or in stressful situations thanks to the products ... even two years after the hype.
The best fidget spinners on Amazon
Below is an Amazon bestseller list that updates itself automatically. So you will always find the latest products here that have the best price-performance ratio. Even beyond 2019 and the years to come, you won't buy outdated models or end up on product pages whose items are no longer available - like with the links from 2017, which I have now removed;)

Fidget Spinner in Action: Tricks and More
Whether children, teenagers or adults - in addition to simply turning, there are also various trick exercises and games for everyone who has a fidget spinner. Rotating on your fingertip, for example, is one of the first tricks that you might try out with such an article. The hand-eye coordination, the concentration and the undivided attention of the exercise could have a positive effect on the person performing the exercise. Here is a little YouTube video that shows five fidget spinner tricks from easy to difficult:
Nervousness, ADHD, anxiety, and more are to be treated
The small toys are designed to lead from nervousness to concentration. Some descriptions and product presentations also say that they are ideal means to deal with fears (job interviews, lectures, etc.) and disruptions (ADHD, OCD, etc.) to get a grip. So if you want to use a toy for your hands for mental health, you will find it. Because it can be very comforting when your hands have something to do in stressful situations. A certain calming or channeling of the excess energies is given.
Your opinion
What do you think of Fidget Spinner as a toy against stress and nervous fidgeting of fingers? Do you already have such a product in use and can you say something about the effectiveness of Fidget Spinner or Finger Spinner? Feel free to leave a comment with your opinion on the topic and / or browse through the other categories this blog ;)
After graduating from high school, Johannes completed an apprenticeship as a business assistant specializing in foreign languages. But then he decided to research and write, which resulted in his independence. For several years he has been working for Sir Apfelot, among others. His articles include product introductions, news, manuals, video games, consoles, and more. He follows Apple keynotes live via stream.
The page contains affiliate links / images: Amazon.de