Final Cut Pro for the Apple Mac is a program for professional video editing. The software is available in the Mac App Store and, if desired, as a pre-installed program when purchasing a new Apple computer. In this guide you will find everything you need to know about Final Cut Pro: system requirements, features, free trial version, price, sources for tutorials and resources, and other information. Over time, we will update this post from time to time. The current version is as of the end of 2021.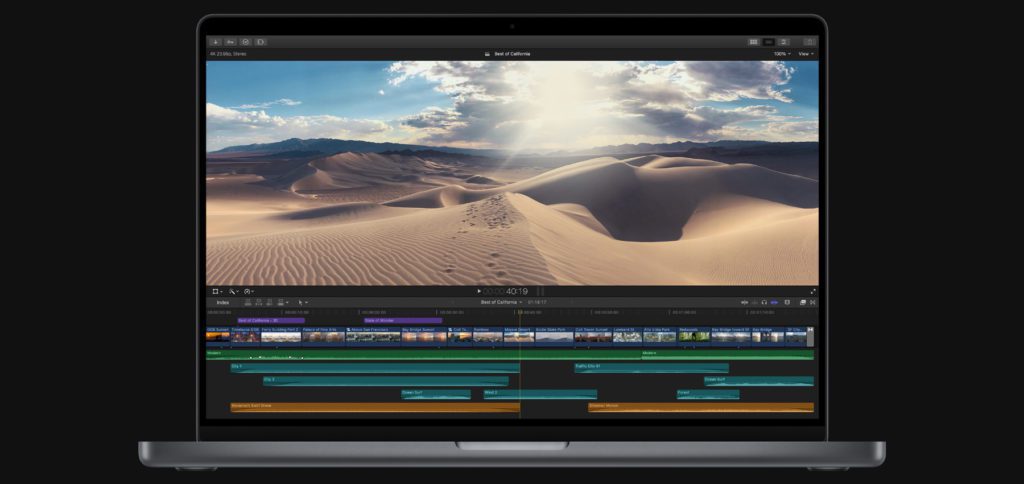 Final Cut Pro system requirements
The current version of Final Cut Pro for macOS brings you extensive options for video editing, editing and further post-production of videos, films, commercials and similar projects. The app not only runs on new Mac models with an M1 chip, but also on older computers from Cupertino. However, you should note these system requirements for Final Cut Pro:
Operating system: macOS 11.5.1 (Big Sur) or newer
RAM: 4 GB RAM (at least 8 GB for 4K video editing, 3D titles, 360 ° recordings, etc.)
Graphics card: compatible with metal (Details), 1 GB VRAM video memory for the mentioned functions
Hard drive: at least 3,8 GB free space for the Final Cut Pro app
Further information: Internet access required for some functions, a separate drive may be required for burning discs (DVD, Blu-Ray)
Status: end of 2021
Final Cut Pro - General information about the Apple app
If you want to professionally cut and otherwise edit videos on your Apple Mac, Mac Pro, iMac, iMac Pro, Mac mini, MacBook, MacBook Pro or MacBook Air, then this software can be the right choice. Video editing is offered here at a comparatively high price, but it offers a professional scope that goes far beyond the cutting together of holiday videos.
In this app, color grading, the use of digital effects, titles and more can be implemented in cinema quality. But not only can you cut, edit and graphically equip a video or film here, you can also output it with individual codec settings. In addition to conventional media, this also applies to 360 ° media for VR environments. More on this in the section on "Compressor".
Final Cut Pro - Motion
Motion is the name of the tool for Final Cut Pro that helps track movements and use them for titles, effects and transitions. It is optimized for Macs with Apple Silicon Chips and Apple Neural Engine and ensures that the digital content created is properly implemented. Motion is currently not a fixed part of the app, but can be purchased separately. The price is 49,99 euros.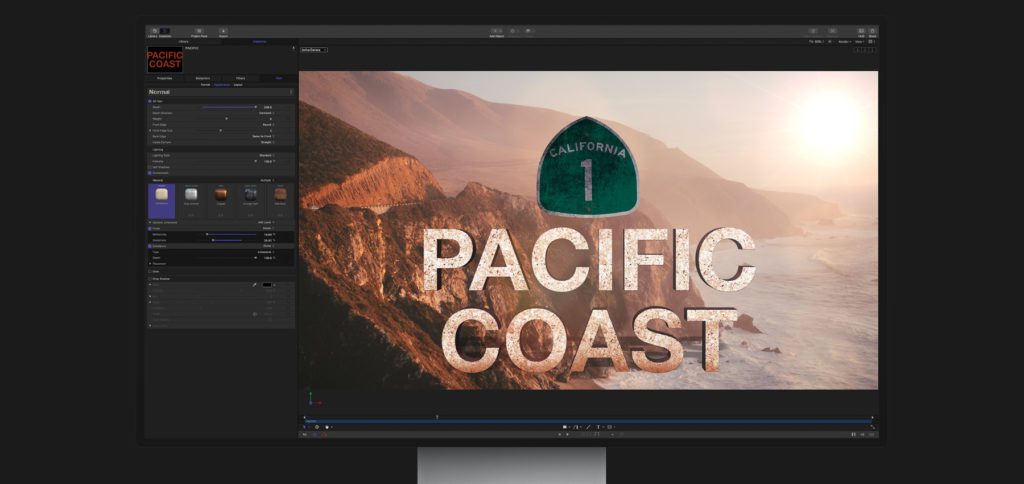 Final Cut Pro - Compressor
Compressor is the name of the Final Cut Pro tool that allows individual video conversion. Output settings can be easily adjusted to meet specific requirements, to create the best format for video platforms, or to create a video package that can be offered through the iTunes Store. Are there other Apple computers on the network? Then Compressor can use their power to speed things up. The price is 49,99 euros.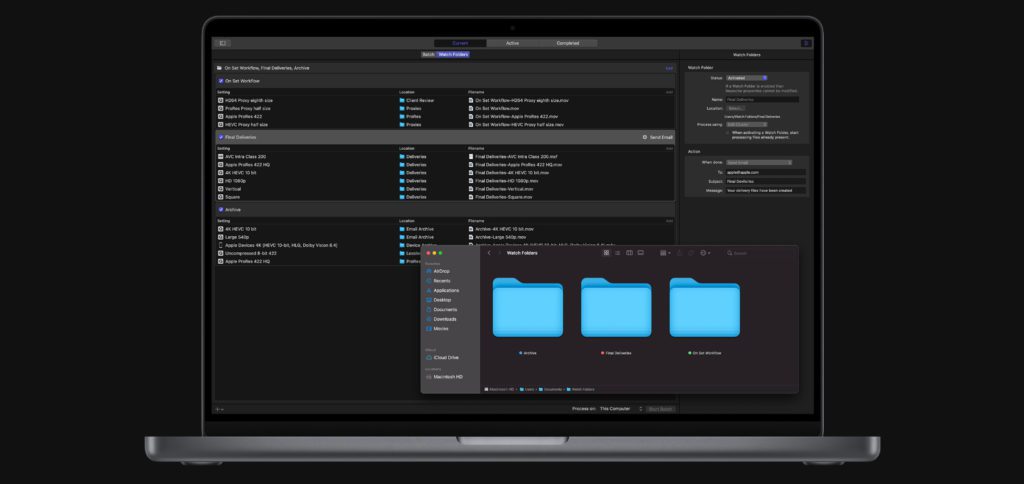 Other parts of the ecosystem: plug-ins, effects, titles, audio, and more
In addition to the additional content mentioned, there are many other offers for the video editing app from Apple - both in software and in hardware form. On a separate page (see link collection below) numerous examples are given that would go beyond the scope here. Therefore only the category overview here for orientation:
Effects
Subtitle tools
Color correction
Title
Transitions
Animated content
Templates
Tools
Audio
Import / export and management
Workflow extension
Media management
Collaboration
ProRes cameras and devices
ProRes RAW cameras and devices
ProRes RAW software
Camera plug-ins
ITunes Deployment Partner
Final Cut Pro resources
As with any professional software, it is also the case with Final Cut Pro that you should first deal with the individual possibilities, functions, options, menus, controls and offers. A bit of theory has to be worked through before the desired result can be achieved in practice. Apple offers a collection of Final Cut Pro resources for this purpose. Again, only a category overview, as all the details would go beyond the scope:
Documentation
Ripple training
Online tutorials
Books
White Papers
Support
Pro video formats
Communities
Final Cut books
Apple Final Cut Pro X (FCPX) is non-linear video editing software developed by Apple Inc. It was first released in June 2011 as the successor to Final Cut Pro 7. Final Cut Pro X is the first version of Final Cut Pro to run exclusively on a 64-bit platform. The software has been completely rewritten to take advantage of newer technologies such as Metal and Grand Central Dispatch. There is a range of helpful literature that deals with the program and that even beginners can learn about FCPX:
Use Final Cut Pro for free: Here's how!
On the official Apple website on the subject of "Final Cut Pro" linked below, you will find a button in the top right that says "Try it for free". If you click on it, you will get to the information page for the test version of Apple Final Cut Pro. You can test the basic version for 90 days free of charge or familiarize yourself with the tutorials and instructions provided to see whether it is worth buying at full price for you. The free Final Cut Pro download is also available directly on the site so that the test period can be started straight away.
Buy Final Cut Pro
Final Cut Pro can be found in the official Mac App Store for macOS computers. There the app for professional video editing on the Mac costs 299,99 euros. The current version from 2021 requires 3,2 GB or 3,8 GB memory on the local hard drive and at least macOS Big Sur version 11.5.1. The following languages ​​are currently supported: German, English, French, Japanese, Spanish, Simplified Chinese. You can find the link to the offer in the list below.
Buy a new Apple Mac including software
Another source of supply for Final Cut Pro is to have the software installed on your newly purchased Mac, iMac, MacBook, or the like. You can find the corresponding option in the official Apple Online Store, directly in the adjustments of the selected computer. In addition to the processor or SoC, RAM, memory size and keyboard design, you can purchase Final Cut Pro for 299,99 euros and / or Logic Pro select for 199,99 euros.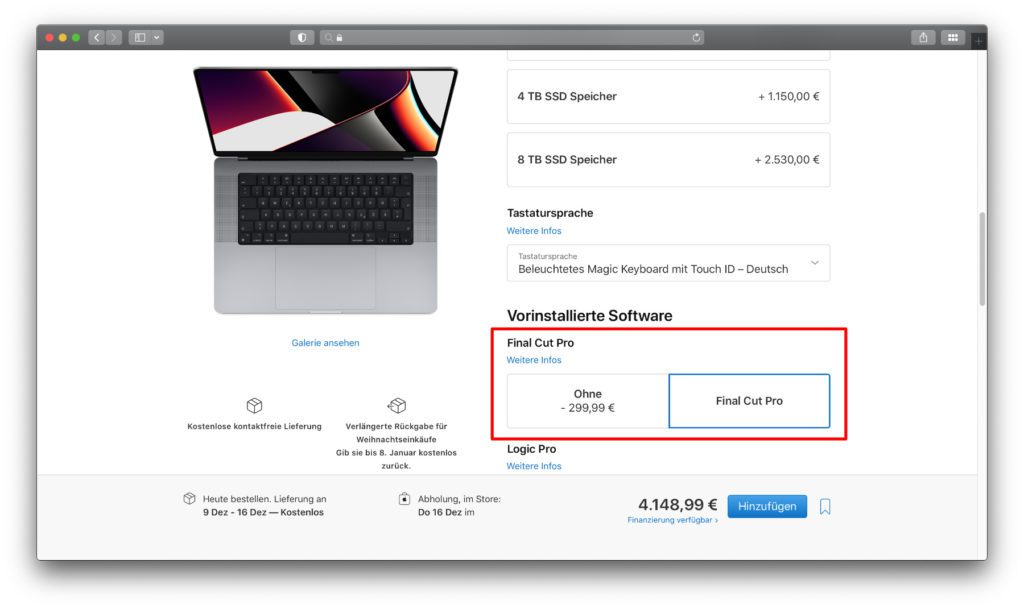 Collection of links on the topic
After graduating from high school, Johannes completed an apprenticeship as a business assistant specializing in foreign languages. But then he decided to research and write, which resulted in his independence. For several years he has been working for Sir Apfelot, among others. His articles include product introductions, news, manuals, video games, consoles, and more. He follows Apple keynotes live via stream.
The page contains affiliate links / images: Amazon.de