Amazon has released a new remote control for current Fire devices. The new Alexa Voice Remote Pro comes with backlighting for its keys for use in the dark. There are a lot more of them now. Because there is not only space for the well-known Fire TV and Alexa buttons, but also for the TV channel selection, for the TV channel list, for two Alexa routines and for four predefined apps.
The remote can also be used for Alexa voice commands and even play a sound when you tell Fire or Echo devices to find the remote. A major update that you can treat your Fire devices to for €39,99 starting today.
Abbreviation: Click here for the new remote control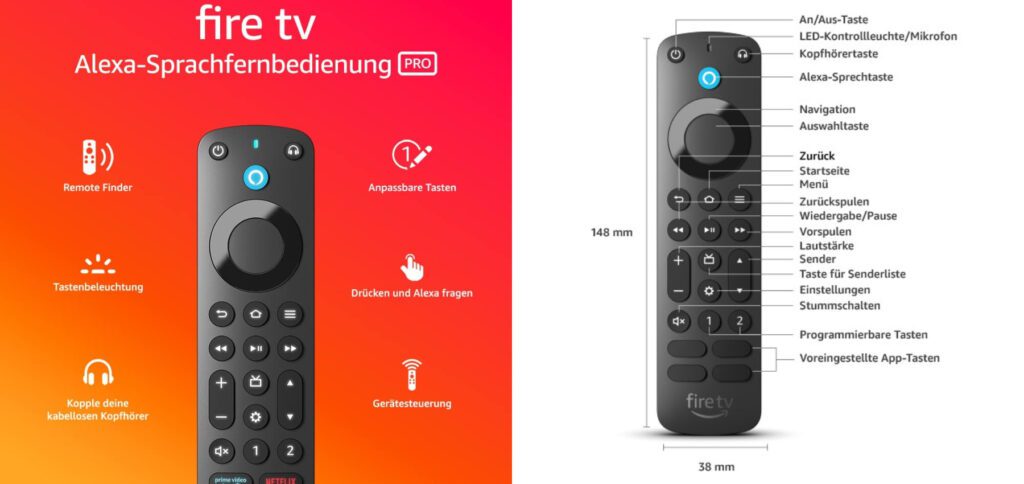 Alexa Voice Remote Pro available today
The Alexa Voice Remote Pro can be purchased from today on the Amazon product page linked above. It is of course important with which devices it is actually compatible. It can be used with the following streaming devices: Fire TV Stick 2nd and 3rd gen, Fire TV Stick Lite, Fire TV Stick 4K, Fire TV Stick 4K Max, Fire TV Cube 2nd and 3rd gen. Accordingly, the new remote control with even more buttons and backlighting can do the same not Works with these streaming devices: 1st and 2nd gen Fire TV, 1st gen Fire TV Stick.
New buttons on the "Pro" Fire TV remote
While the first separate remote controls for set-top boxes, projectors with an operating system and streaming sticks all had a minimalist design, the overloaded television remote control seems to be celebrating its comeback. Overall, you can use these buttons on the new "Pro" version of the Fire TV remote control:
On off
Headphone button
Alexa voice input
navigation ring
Select button (in ring)
Back
Home
Menu
Rewind
Play/Pause
fast forward
Volume (+ / -)
Transmitter (▲ / ▼)
channel list
Settings
Stumschalten
Programmable button 1
Programmable button 2
4 x preset app button
After graduating from high school, Johannes completed an apprenticeship as a business assistant specializing in foreign languages. But then he decided to research and write, which resulted in his independence. For several years he has been working for Sir Apfelot, among others. His articles include product introductions, news, manuals, video games, consoles, and more. He follows Apple keynotes live via stream.
The page contains affiliate links / images: Amazon.de