The featured last week iPhone operating system iOS 15, which will be rolled out as an update for compatible devices in autumn 2021, brings with it various new features and options. You can use iOS 15 on all devices that also have iOS 13 and iOS 14, i.e. iPhones back to the 6s, 6s Plus and SE from 2015. However, you will not get all the functions on these and on some successors. Some are only available from the iPhone XS from 2018; some are even limited to the iPhone 12 from 2020. You will find an overview below.
Question and answer: Is my iPhone compatible with iOS 15?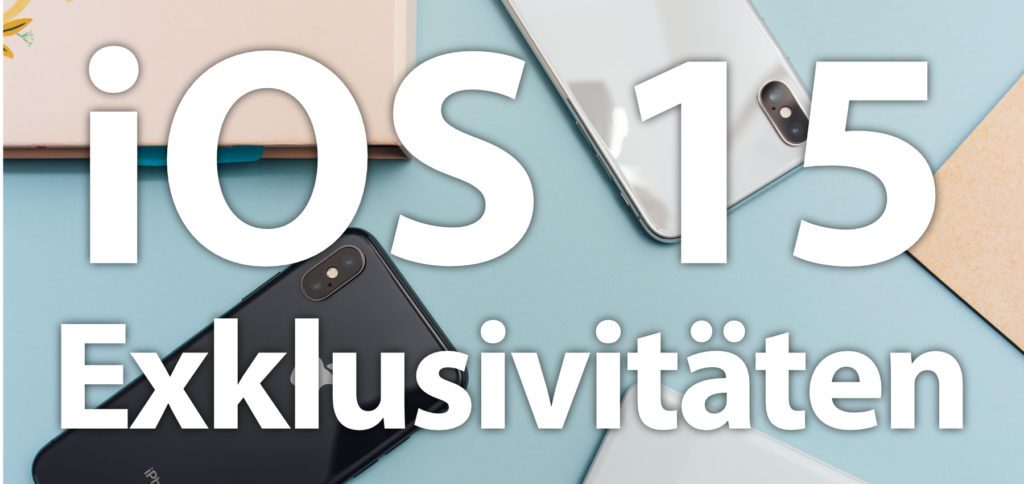 iOS 15 features for the A12 Bionic Chip or newer
For some functions in iOS 15, at least the A12 Bionic Chip from Apple is required. That is probably also the reason why Apple TV 4K was presented with it in April. The chip or the newer versions will be used in iPhones from 2018, i.e. from iPhone XR, iPhone XS and iPhone XS Max. You will also find the following iOS 15 functions in iPhone 11, iPhone 11 Pro, iPhone 11 Pro Max, iPhone SE (2nd Gen), iPhone 12 mini, iPhone 12, iPhone 12 Pro and iPhone 12 Pro Max:
FaceTime with Spacial Audio: The voices of the interlocutors are spatially divided according to their position on the display. This should create a more natural conversation atmosphere.
FaceTime in landscape mode: Not only does the landscape format (landscape mode) for FaceTime become possible, the background is also blurred in order to direct the focus to the person speaking.

Maps with interactive globe: The 3D globe will only be usable with the above smartphone models from Apple. This is accompanied by some details such as the representation of height differences.
Maps with AR signposting: Orientation to the environment and the AR display of the route are not available on older devices.

Photos with live text: The recognition of text in photos, images, screenshots, etc. as well as the options for editing it are only available from the A12 Bionic Chip.

Look up photo info: The object and information recognition in photos and images goes hand in hand with it. Recognizing objects or receiving information about known photo content is only possible with devices from 2018.
New animated weather wallpapers: Probably not that important, but the new weather animations in the weather app will only be available from the iPhone XR, XS and XS Max.
Speech processing on the device: Audio inputs, for example for Siri, are only processed on the iPhone from iOS 15 (unless you choose to share in the cloud). But the neural engine of the newer devices is required for this.
Key in the wallet: Finally, the digital keys are an exclusive feature for iPhones with A12 Bionic Chip or newer.
These iOS 15 features are only available on iPhone 12 (and newer)
IPhone 12 mini, iPhone 12, iPhone 12 Pro, and iPhone 12 Pro Max came out last year; at that time still with iOS 14. In autumn the update to iOS 15 will also come for these current smartphones from Cupertino. There are only these options for this and the coming models:
Improvements for the panorama mode in the camera app, for example the compensation of distortions of the picture, better recording of moving content and reduction of grain.
Improved connection over 5G for faster use of iCloud, download of high definition Apple TV content and so on.
Prioritization of 5G connections if the WLAN currently in use is weak.
Exclusive functions of iOS 15 from iPhone 7 or 8
And that's not all. Because although there are many other improvements and innovations that also come on older iPhones, there are still differences here as well. You can differentiate between the predecessors of XR, XS and XS Max:
iPhone 6s, 6s Plus and SE from 2015: Get the fewest of the new features.
iPhone 7 and iPhone 7 Plus from 2016: Required as a minimum to use Spacial Audio with dynamic head tracking.
iPhone 8, iPhone 8 Plus and iPhone X from 2017: Are at least required to measure the running stability and to generate data on the risk of falling.
The source for this post formed this message at 9to5Mac.
After graduating from high school, Johannes completed an apprenticeship as a business assistant specializing in foreign languages. But then he decided to research and write, which resulted in his independence. For several years he has been working for Sir Apfelot, among others. His articles include product introductions, news, manuals, video games, consoles, and more. He follows Apple keynotes live via stream.