If you also want to use your 4th generation (5) or 2017th generation (6) Apple TV 2021K for video games from Apple Arcade, you can't avoid a game controller. But which gamepad works with the Apple TV? And what video game controllers are recommended for their game library? Here are the answers to these questions. In this guide you will find four wireless game controllers for Apple TV and Apple Arcade. These can also be used with the Mac, iPhone and iPad. Feel free to leave a comment about your favorite;)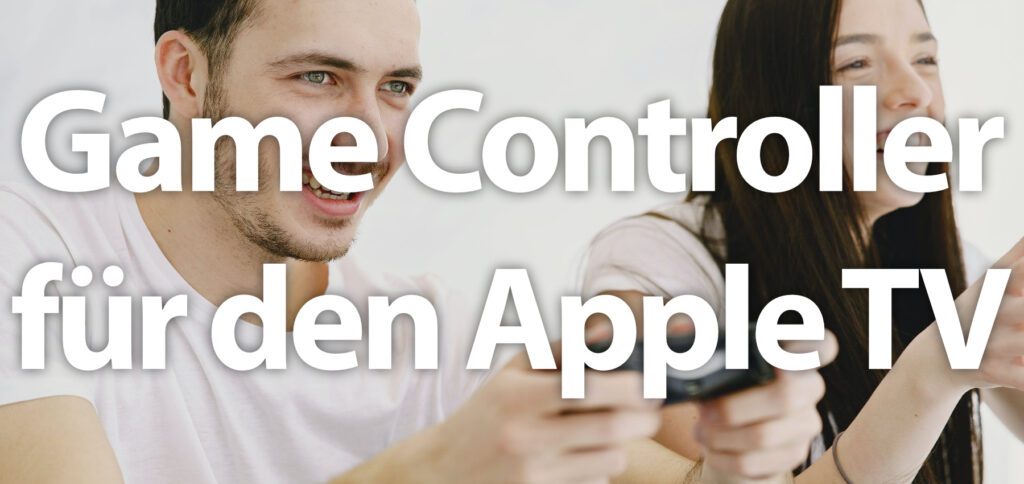 SteelSeries Nimbus + Wireless Gaming Controller
You get the SteelSeries Nimbus + Wireless Gaming Controller for iPhone, Mac and Apple TV as well as in another version for Windows PC, Android devices and VR devices. The SteelSeries Nimbus + Gamepad for Apple devices is of course the version that you should use if you want to play the games in Apple Arcade. A suitable holder is included in the scope of delivery for gaming on the iPhone. Mobile gaming is also taken into account in the SteelSeries Nimbus + Wireless Gaming Controller.
You get the game controller for Apple TV HD 2015, Apple TV 4K 2017 and Apple TV 4K 2021, the Apple Mac and iPhone / iPad with wireless connection officially licensed by Apple via this Amazon product page with prime delivery. As a Prime member, you can get the accessories including free shipping at home quickly. According to the manufacturer, the battery lasts up to 50 hours; the long battery life is also positively highlighted in the reviews.
14,09 EUR
Sony PlayStation DualShock 4 or DualSense Controller
In einem previous counselor On the subject of game controllers for Apple Arcade, I already introduced you to the DualShock 4 wireless controller for the PlayStation 4 from Sony. This is especially recommended if you are using a PS4 anyway. Then you can use the gamepad not only on Mac, iMac and MacBook, Apple TV, iPhone and iPad, but also on the console for which it was made. You can use the PlayStation DualShock 4 controller buy with this link.
5,00 EUR
PlayStation 4 - DualShock 4 Wireless Controller, Black
A new, highly sensitive SIXAXIS sensor enables first-class motion control.
The dual analog sticks have been improved and offer greater precision, better material on the surfaces ...
The L2 / R2 buttons on top of the controller have been rounded down to make it easier and smoother to use.
The DualSense controller of the PS4 is also compatible with the (current) Apple TV 5K as well as for the latest console from Sony, for the PlayStation 5. So if you already have one of these or want to get one, then you can also use the gamepad with Apple hardware. Apart from that, you can buy the DualSense Wireless Controller individually for the Apple TV Box. This link takes you to the product page. Prime delivery is back here with free shipping for members.
3,23 EUR
DualSense wireless controller [PlayStation 5]
Discover an even more immersive and immersive gaming experience that brings the action to life in your hands.
Haptic feedback: Thanks to the double drives that replace conventional rumble motors, you can feel directly ...
Adaptive Triggers: Experience the different levels of strength and tension when you are in the ...
Xbox Wireless Controller from Xbox One / Series X
The Xbox Controller is a good choice for Apple TV HD 2015, Apple TV 4K 2017 and Apple TV 4K 2021 if you want even more device compatibility. In addition to the Xbox Series X, Xbox Series S and Xbox One, this gamepad is compatible with Mac, iPhone, iPad and Windows PC. The latter, of course, since the offer comes from Microsoft. You get the Xbox Wireless Controller for Apple TV and Apple Arcade via this product page in different colors with prime shipping.
A small disadvantage of this game controller is that it requires batteries (2 x AA or LR06). With the appropriate equipment, this allows you to continue playing or pause charging, but it also means more battery waste. Therefore, you should order two or four rechargeable AA batteries directly. If you don't have a charger and don't want to, buy one with a USB charging port, which you can charge with your regular power supply or on the computer with a universal cable - here is an example with micro USB.
Xbox Wireless Controller Robot White
Experience the modernized design of the Xbox Wireless Controller in Robot White, which with its molded surfaces ...
Stay on target thanks to the structured grip surface and the hybrid D-Pad
You can customize the controller to suit your needs and use the Xbox Accessories app to assign the buttons as ...
After graduating from high school, Johannes completed an apprenticeship as a business assistant specializing in foreign languages. But then he decided to research and write, which resulted in his independence. For several years he has been working for Sir Apfelot, among others. His articles include product introductions, news, manuals, video games, consoles, and more. He follows Apple keynotes live via stream.
The page contains affiliate links / images: Amazon.de