On December 15, 2016, there was not only the last episode Neo Magazine Royale for this year (and the last one for Dendemann); it was too the new Game Royale with the title "The Secret of Jannis Island" on gameroyale.de unlocked. The second now Point and click adventure to "Hunter of the lost bald head"From the picture and sound factory (btf ​​GmbH) Jan Böhmermann out of his studio König and leaves him stranded on an island. Whether he is only accompanied by Lena Meyer-Strandgut or other people, you can find out in the game, which will soon be called Download is ready. #hine magic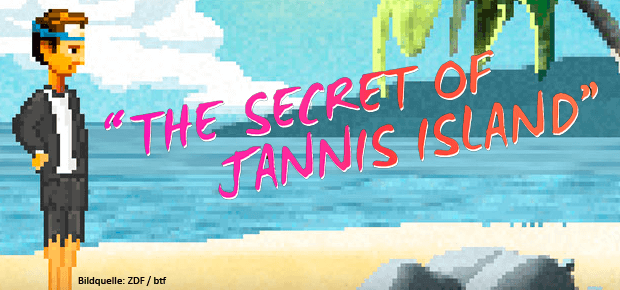 Game Royale with Jan Böhmermann: A beautiful Christmas tradition
Retro gamers who love old games from Lucas Arts and Co can now look forward to a game from btf for the second time. Even "Hunter of the Lost Bald Head", in which one should find William Cohn and give him his textbook, convinced through allusions to Day of the Tentacle, arguably the craziest point-and-click classic that the mainstream knows about. "The Secret of Jannis Island" as the title and the material available up to the release now indicated that one was making allusions to The Secret of Monkey Island would get. I'm already wondering what the third game could be called - "Jan & Ralf Hit the Road" maybe;)
Game Royale: Raiders of the Lost Bald Head
I don't want to say too many words about the first part of the series or be tempted to spoil. Those who have not yet played the game in breathtaking 320 x 200 pixel graphics should polish their floppy disks over the quiet last days of the year and download the game here. It's available for iOS, Mac OS X, Android, and Windows. "A game of fun that doesn't seem to end (up to 3 hours, in Saarland even 30!)", It says from the developers.
Game Royal 2: The Secret of Jannis Island with Jan Böhmermann ...
… and Lena Meyer-Flotsam. I have alluded to it - for private amusement, but also for this article - and I have to say: it delivers what the first game promises several times over. If you want to plunge (again) into a pixelated adventure with Jan Böhmermann and explore an island, you should either go straight to neo-magazin-royale.de Play the browser game or the Game Royale 2 Download from December 22, 2016, 20:15 p.m. for iOS, Mac, Android, Windows or Steam. Then the wait until the new season of Neo Magazin Royale (start: February 2, 2017) is not that long.
But now to the game: Instead of on Super Mario Run I was looking forward to the game like Bolle and I was not disappointed. At the beginning you see Jan Böhmermann floating on a raft. In the course of his voice messages that he sent via Apple Watch dispatched, one also learns that the raft is out Lye roll consists. Ultimately, Böhmermann ends up on an island (as already known) and you feel less like The Secret of Monkey Island than reminiscent of the LOST series. Because, among other things, there is a crashed plane and a flap in the floor from which light comes. It also contains the number combination 4, 8, 15, 16, 23, 42.
But I don't want to give too much away. Just maybe that you have to use the outboard motor to chop up the thicket. And yes: a goat is often mentioned and everything or everyone else that could be associated with it. Even Frauke Petry and the like get their fat off. In addition, the well-known characters of Neo Magazin Royales are used - or at least mentioned. So: Super Mario Run or The Secret of Jannis Island? My favorite is certain;)
What was that for 1 show?
It was less of a broadcast than a dend. There Dendeman from 2017 there is no longer the background music of the Neo Magazin Royale, he got a farewell that had washed up. All kinds of rap greats in Germany as well as other artists, including Olli Schulz, delivered lines - most of them from the classics by Dendemann himself. An indirect announcement of a new (and long overdue) Albums? Hopefully!
Conclusion: Christmas can come!
I already feel that the new Game Royale has been generously gifted by btf GmbH and I was very happy about the season finale of Neo Magazin Royale as well as the new pixel game. If you don't want to be satisfied with a free video game by Jan Böhmermann and his team, then I have a few more Christmas gift ideas for you: here and here . You can always find more ideas and tips for Christmas gifts in the Sir Apfelot blog - just take a look and find the gadget or nerd stuff that you like the most;)
After graduating from high school, Johannes completed an apprenticeship as a business assistant specializing in foreign languages. But then he decided to research and write, which resulted in his independence. For several years he has been working for Sir Apfelot, among others. His articles include product introductions, news, manuals, video games, consoles, and more. He follows Apple keynotes live via stream.