Glympse You can use the app to share your GPS-determined location, regardless of your iPhone, iPad, Android smartphone or tablet. The free app shares your location via SMS or email with contacts you have selected. They can track your whereabouts or your route on a map - this also works on the Apple Mac, the Windows PC or other systems that use the webApp can call.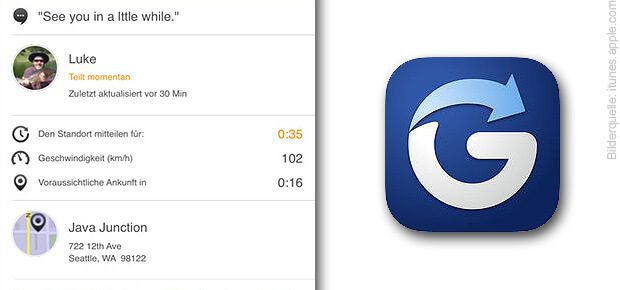 Glympse: New version available recently
There was an update for the free Glympse app only at the end of June 2017. Bugs have been removed, the location can now be shared for up to 12 hours instead of just 4 hours, and there is a new quick access menu. You can also display your estimated time of arrival. So when you're driving to visit someone, that person can see roughly when you're getting there, if you're stuck in a traffic jam, and so on.
Recommended reading: iPhone, headphones and driving - prohibited or not?
Glympse download for iOS and Android
The Glympse app can be used mobile on the iPhone and iPad from Apple as well as on smartphones and tablets with Android. You can download the app, which is rated quite well for both systems, for free in the corresponding shops:
Possible application examples for the app
With Glympse you can share your location, for example to show your friends where you are at the city festival, carnival or other major event. Long agreements or WhatsApp chats are unnecessary. You can also share your location when traveling so that the family doesn't have to worry. Parents can also monitor their children's walk to and from school. Theoretically, you can also tell the breakdown or emergency service the exact location with the app. Registration is not necessary, by the way, not even for the recipient, who can receive the location with any internet-enabled device.
By the way, Glympse can also be used via iMessage and on smartwatch systems such as the Apple Watch with watchOS;)
After graduating from high school, Johannes completed an apprenticeship as a business assistant specializing in foreign languages. But then he decided to research and write, which resulted in his independence. For several years he has been working for Sir Apfelot, among others. His articles include product introductions, news, manuals, video games, consoles, and more. He follows Apple keynotes live via stream.