The new action camera GoPro Hero 6 Black is out, and it brings a ton of new specs and features. If you are interested in the technical data, the range of functions, the price and the sources of supply for the manufacturer's new action cam for professional outdoor cameras, then you've come to the right place. I have compiled all the relevant data and information about the new GoPro Hero6 Black for you.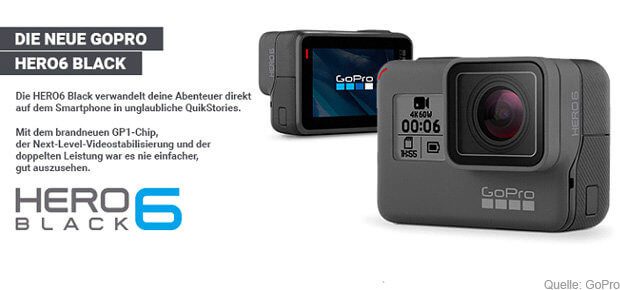 GoPro Hero 6 Black: GP1 chip, touch zoom, HDR photos
The new GoPro Hero 6 Black Compared to its predecessor, the GoPro Hero 5 Black should bring twice the performance in terms of video recordings. Thanks to the connection via Bluetooth or WLAN, the photos and videos of the new Action Cam are also quickly on the iPhone, MacBook or in the cloud. The most important new features are the optimized GP1 CPU, touch zoom, voice control and the ability to take HDR photos. In addition, and this is probably even more important in practice, the video stabilization of the GoPro Hero 6 Black has been improved.
Comparison with the previous models
In the following table I would like to offer you a comparison of the current GoPro Hero6 Black with the GoPro Hero5 Black and the GoPro Hero5 Session. This way you can see which camera is more suitable for your requirements or which one is more suitable for your wallet / holiday budget;)
GoPro HERO 6 Black
GoPro HERO 5 Black
GoPro HERO 5 session
Photos
✔
✔
✔
Videos
✔
✔
✔
Video stabilization
✔

(improved)

✔
✔
Bluetooth & WLAN
✔
✔
✔
Waterproof up to 10m
✔
✔
✔
One-button operation
✔
✔
✔
Voice control
✔
✔
✔
Wind noise suppression
✔
✔
✔
Automatic upload to the cloud
✔
✔
✔
GPS
✔
✔
-
Touch display
✔
✔
-
Raw photos
✔
✔
-
Touch zoom
✔
-
-
Optimized GP1 CPU
✔
-
-
HDR photos
✔
-
-
Price (as of 29.09.2017/XNUMX/XNUMX)
€569,95
€389
€333,06
More details / buy
Photo and video: possibilities of the GoPro Hero 6 Black
The design has not changed compared to the previous model. As you can see in the table, however, there are some innovations in the new GoPro flagship with regard to the inner workings. I would like to briefly show you what options you have in the areas of photo and video with the GoPro Hero 6 Black:
Photos
Sensor captures 12 megapixels
Burst / series image: 12MP, 30fps
Time-lapse intervals: 0,5; 1; 2; 5; 10; 30; 60 seconds
Night exposure exposure times: 2; 5; 10; 15; 20; 30 seconds or automatic
Time lapse at night / darkness: 4; 5; 10; 15; 20; 30 seconds or 1; 2; 5; 30; 60 minutes or automatic
Videos
4K videos at 60fps
2,7K recordings at 120fps
1440p video at 120fps
1080p videos at 240fps
Time-lapse video: 0,5; 1; 2; 5; 10; 30; 60 seconds
Video loop: 5; 20; 60; 120 minutes
More data, functions and voice commands
If you want to know more about the technical data of the GoPro Hero 6 Black, about its functions and possibilities or about the individual voice commands with which you can operate it, then take a look at Cam for Pro past. In addition to the action cam, you can also view and order the appropriate accessories there. A little tip for collectors: your accessories for the GoPro Hero 5 Black also fits the new flagship of the manufacturer;)
After graduating from high school, Johannes completed an apprenticeship as a business assistant specializing in foreign languages. But then he decided to research and write, which resulted in his independence. For several years he has been working for Sir Apfelot, among others. His articles include product introductions, news, manuals, video games, consoles, and more. He follows Apple keynotes live via stream.