When looking for a manual, a user manual, tips and tricks for the GoPro camera and its functions, one stumbles across a wide variety of offers. The manufacturer of the Action Cam offers the download of operating instructions on its website; and on Amazon you can get manuals and instructions for exciting, well-produced videos with the GoPros. If you're looking for a GoPro Hero 7 manual or product guides for the GoPro Hero 7 Black, Silver and White then read on in this guide - here you will find all the links you need;)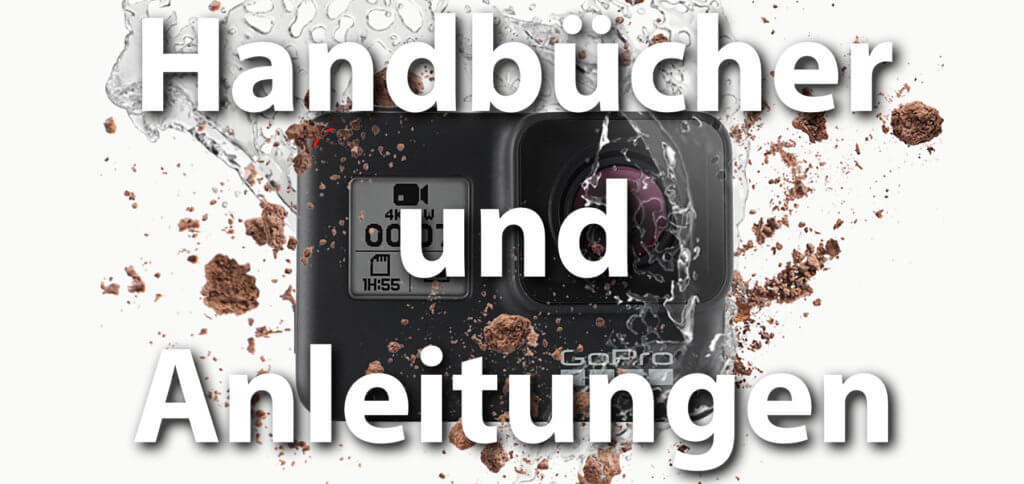 Product instructions - GoPro Hero 7 user manual as PDF download
The manufacturer GoPro hides its operating instructions for the action cams on offer and their accessories a bit on its website. You can find the search function to find the right product manual for your camera on this page: https://de.gopro.com/help/productmanuals. There you enter your product category (cameras), the model (e.g. GoPro Hero 7 Black) and the preferred language (German, English, etc.) in the search mask. You will then see links to the available documents. You can find the product instructions for the GoPro Hero 7 Black as PDF here: https://de.gopro.com/content/dam/help/hero7-black/manuals/HERO7Black_UM_DE_REVA.pdf (can be saved and printed out).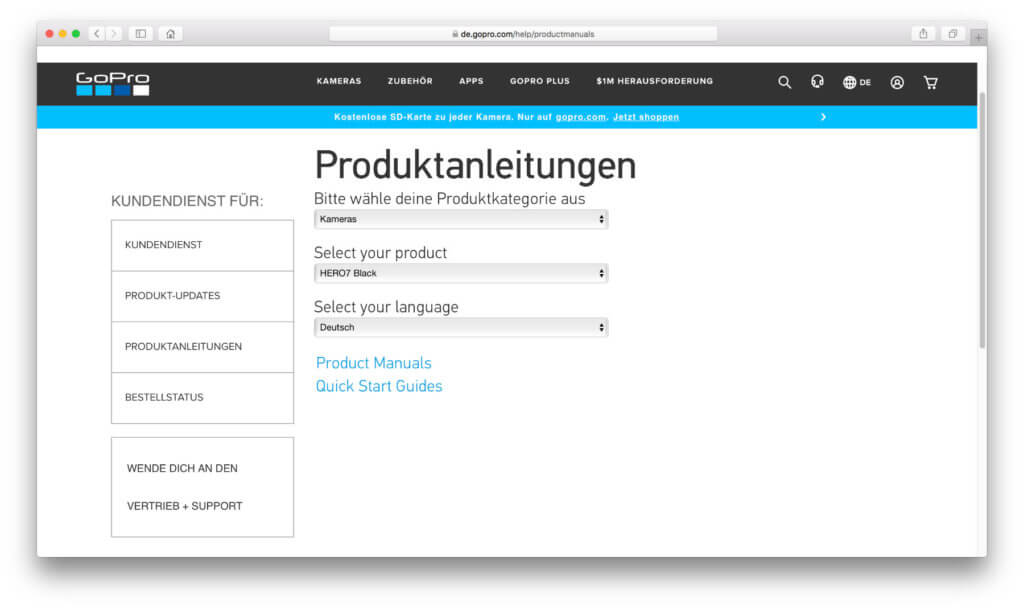 Buy GoPro Hero 7 manual, guide and instructions on Amazon
But if you are looking for information, instructions and advice in addition to setting up the camera and using its functions for videos and photos, then you will find what you are looking for on Amazon - there are many other suitable books as well as works as GoPro Hero 7 manual. The worldwide mail order business offers a small but fine selection of specialist literature for GoPro users. Partly tailored directly to the Action Cam, partly more generally designed for digital video creation. Below you will find a selection of books for GoPro users.
GoPro !: Mit Spaß und System zum spektakulären GoPro-Video
The 290-page paperback "GoPro !: With fun and a system for a spectacular GoPro video" costs 22,90 euros in print and 17,99 euros in the Kindle version. The video blogger Julian Breuer shows his tips and tricks for successful videos with the small digital camera. From the idea to using the camera to filming and post-processing, the individual steps are shown and explained in five chapters and a summary. A look at the book and mostly positive customer reviews can be found on the Amazon product page.
Current book by Julian Breuer
In this pocket book, GoPro users and bloggers summarize their tips and hints for successful GoPro videos. The positive reviews from readers show that it is not only a good start for beginners, but also interesting for advanced users.
GoPro - Perfect action videos and photos made easy
The paperback "GoPro - perfect action videos and photos made easy" by Michael Hennemann also received mostly positive customer reviews. On the 288 pages, the author first goes into the history of digital video art - from soundless VGA clips to full HD videos. Then there is an overview of GoPro models (admittedly, it is already badly outdated) and then basic settings, video settings for advanced users and tips for taking photos with the GoPro are given.
In a separate chapter, the author of the guide also goes into the individual mountings (straps, suction cups, tripods, etc.) and their correct use. Finally, it is also about the GoPro smartphone app and the video post-processing. A look at the book, which costs 9,95 euros as a print edition, can be found on this product page.
Book on photos and videos by Michael Hennemann
Sport, leisure and outdoor - there is action everywhere that you can capture with the small, robust GoPro Action Cam. This book of tips and tricks for video production also has mostly positive reviews. Check it out.
Filming digitally: the comprehensive manual
The entire title of the 623-page compendium by Jörg Jovy is "Digital filming: The comprehensive manual: Planning, recording, editing and presenting films". Only available in hardback for 39,90 euros from Amazon Prime, the book offers four parts or headings, which are then broken down into individual chapters and sections: planning, recording, editing and presentation.
From brainstorming to practical topics such as lighting and image sharpness to film editing techniques and the various types of presentation (YouTube, Vimeo, DVD, Blu-Ray, cinema, etc.), everything and much more is included. So this is not a specific GoPro Hero book, but a help for everyone who wants to manage professional one-man or one-woman film projects and implement them adequately. Take a look at the book and buy it you can use this link to go to its Amazon site.
Compendium for video production by Jörg Jovy
Whether GoPro or another digital camera - with this compendium, which is the number 1 best seller in the video books on Amazon, you will learn how to implement an idea digitally and how to present it correctly. Everything is included, from brainstorming to dissemination in the relevant target group.
GoPro Hero 6 books (mostly in English)
The publications presented above are all available in German and thus offer you the most understandable introduction to the possibilities of the GoPro - also for the latest model as a GoPro Hero 7 manual. However, there is currently no book that deals specifically with this model and its Black, Silver and White versions. However, and this can be a start for anyone interested, there are some books (especially in the Kindle shop) that focus on the GoPro Hero 6 enter. Here is a selection of the mostly English books:
After graduating from high school, Johannes completed an apprenticeship as a business assistant specializing in foreign languages. But then he decided to research and write, which resulted in his independence. For several years he has been working for Sir Apfelot, among others. His articles include product introductions, news, manuals, video games, consoles, and more. He follows Apple keynotes live via stream.
The page contains affiliate links / images: Amazon.de