With the GoPro HERO10 Black, the leading manufacturer of action cameras launched a new professional model on September 16, 2021. Like its predecessors, the device primarily uses a separately available microSD card to store photos and videos. But which ones? memory card should you use? Which specifications, designations and abbreviations are important when making a selection? In this guide I have summarized which SD card is suitable for the GoPro HERO10 Black is. So you save the 5,3K videos with 60 fps and 100 MBit/s data rate safely and without errors.
Summary: GoPro HERO10 Black Specifications and Comparison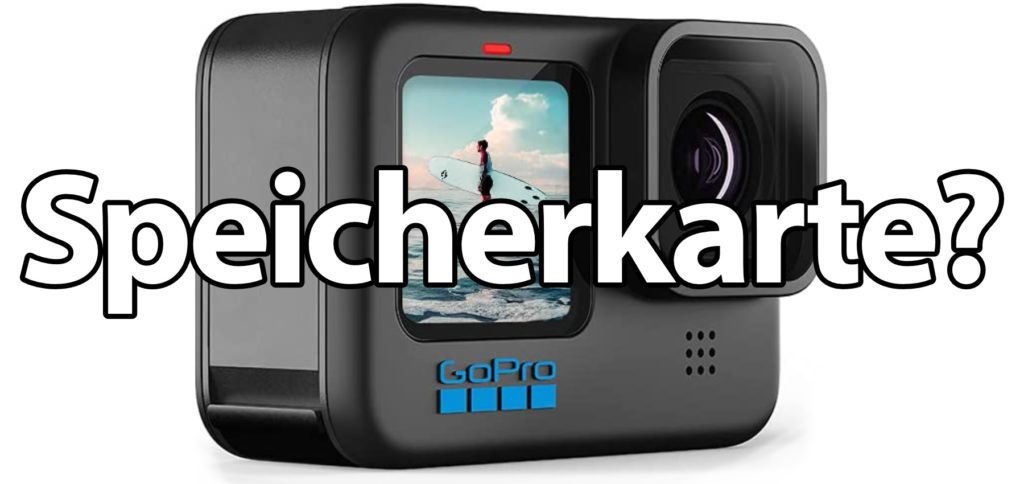 GoPro HERO10 Black with microSD memory card
There is one major difference with regard to the small microSD cards: microSDHC (HC = High Capacity) offer a maximum of 32 GB of storage space. For larger amounts of data there is microSDXC (XC = Extended Capacity), which offer storage from 64 GB - but also 1 TB, 2 TB and more. For such large amounts of memory, these cards have the right requirements thanks to their fast interfaces and protocols.
Of course, only using the latter variant in an action cam for high-resolution photos and videos really makes sense. GoPro usually recommends microSDXC memory cards with up to 256 GB of storage capacity for the individual cameras, including those with 128 GB. Which one exactly suits you depends on the recording frequency and length of your videos - you can change more often, take smaller ones. Do you record for a long time, use large ones.
Important abbreviations on SD and microSD cards
Memory cards compatible with GoPro cameras usually have the names UHS-I, V30 and U3. There are also other symbols and abbreviations on the cards that show how fast they are and how reliably they can store large amounts of data in a short amount of time. You can find a summary of the topic here: SD card designations: What are Class, SDHC, SDXC, UHS, I, A, V and Co.? I have listed explanations of the most important points below:
UHS-I (often just as the abbreviation "I") - saves at up to 104 Mbit / s
U3 - saves with at least 30 Mbit / s
V30 - saves videos with at least 30 Mbit / s
GoPro HERO10 Black memory card recommendations: SanDisk microSDXC
Here in the blog we will almost always recommend the storage media from SanDisk. Because these have always proven to be the most reliable in years of use and in comparison to other manufacturers or brands. Even when camera drones were used several times a few years ago, they were most reliable, even in areas where others have given up the ghost. This probably applies to action cam recordings with the GoPro HERO10 Black as well. Therefore, these are the SD cards we recommend for the GoPro HERO10 Black:
How much memory do 5,3K and 4K recordings use?
Above I have linked you to the article on the GoPro HERO10 Black, in which you can find the technical data of the camera, among other things. In it you will discover - in addition to numerous other details about the device - the reference to the selectable video resolutions from 1080p Full HD to 2,7K to 4K and 5,3K. Depending on the resolution, fps numbers from 24 to 240 can be selected. Here you could now calculate how many images per second and with what size are saved. Or you look at the maximum bitrate of the videos, which is 100 Mbit / s.
Since eight bits represent a byte, that's roughly 12,5 MB per second. One minute of video therefore takes 750 MB; and ten minutes 7.500 MB or 7,5 GB (for the sake of simplicity, this is converted to 1.000 instead of 1.024). Further calculated in this way, 45 GB of storage space is required for one hour of video. With a 256 GB microSDXC card in the GoPro HERO10 Black, you can record roughly five and a half hours at the highest bit rate. However, it is lower, especially with lower resolutions, which means more recording time.
After graduating from high school, Johannes completed an apprenticeship as a business assistant specializing in foreign languages. But then he decided to research and write, which resulted in his independence. For several years he has been working for Sir Apfelot, among others. His articles include product introductions, news, manuals, video games, consoles, and more. He follows Apple keynotes live via stream.