From October 2nd, 2016 the GoPro HERO5 Black and the one that continues to be presented with her GoPro HERO5 Session from the action camera manufacturer GoPro. You can read here what technical data and, above all, what innovations these cameras bring with them. I also have a comparison of the models mentioned with the regular one GoPro HERO session compiled as well as data and facts about GoPro Karma drone built into the following designs. So if you are interested in high-resolution and, above all, smooth video recordings, the following information is just right for you.
GoPro HERO5: data sheet and comparison with other models
GoPro HERO5 and the GoPro HERO5 Session two new waterproof cameras for active and outdoor enthusiasts come onto the market. The large version (Black) costs 429,99 euros and the small camera cube (Session) costs 329,99 euros. Here I would like to briefly list the specs of the individual models and also include the current session model.

HERO5 Black
12 megapixel photos with 30 fps time lapse
RAW and WDR can be selected as image format
Video: 4K 30 fps, 1.440p 80 fps, 1.080p 120 fps
image stabilizer
Waterproof to a depth of 10 meters
Bluetooth and WLAN
touch display
HERO5 Session
10 megapixel photos with 30 fps time lapse
Video: 4K 30 fps, 1.440p 60 fps, 1.080p 90 fps
image stabilizer
Waterproof to a depth of 10 meters
Bluetooth and WLAN
HERO session
8 megapixel photos with 10 fps time lapse
440p 30 fps, 1.080p 60 fps
Waterproof to a depth of 10 meters
Bluetooth and WLAN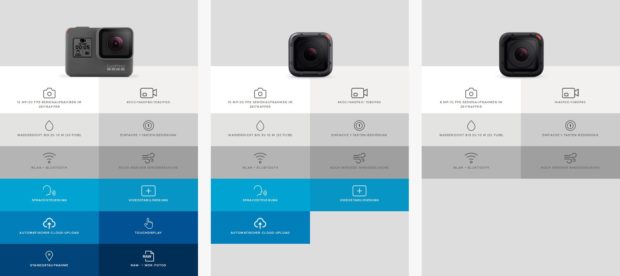 More details about the HERO5 Black
If you look at it the three models in comparison on, then of course the black version of the new GoPro stands out clearly. In addition to the device, there is also a kind of case in the scope of delivery, which is not closed - after all, the camera itself is already waterproof. However, this type of frame serves as a mount aid for attachment to a tripod, gimbal or other fixed point.
Speaking of gimbal: GoPro Karma is THE new drone
As of October 23, 2016, in addition to the new cameras, the GoPro Karma available; the long-awaited drone from the action camera manufacturer. After the first tests, it is already known as a serious competition for the DJI Phantom 4 traded.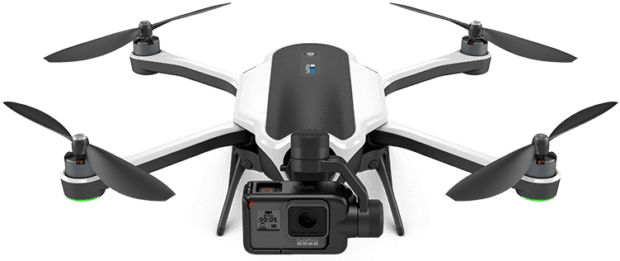 In addition to the compact design and easy transport, this may be due to the fact that the control unit already has a screen (so no extra smartphone or tablet is required) and that the cardanic suspension ("gimbal") can be removed and used as a handheld ("steadycam") is. In addition, the stabilizer can also be mounted on the supplied backpack.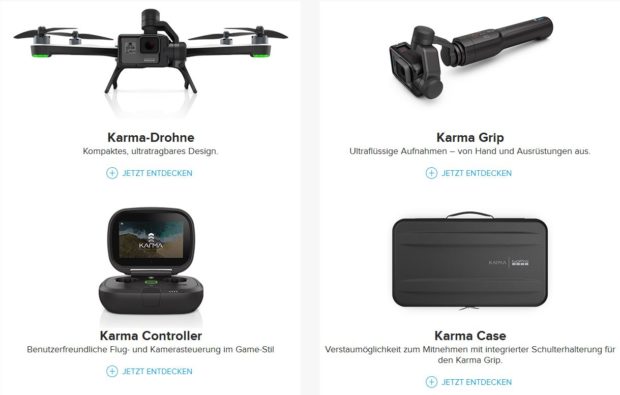 How does it all look in action? This is shown, among other things, by the vlogger and technology freak Casey Neistat from NYC in a current video about the drone:
Conclusion on the new equipment from GoPro
The camera manufacturer grows with its tasks and reacts to customer needs. In addition to the fact that you no longer need an extra case to take underwater photos with the camera, the other features are also outstanding. Then there is the Drone called Karma with its compact size, easy transportability and the removable gimbal for mobile use on the ground. Top!
After graduating from high school, Johannes completed an apprenticeship as a business assistant specializing in foreign languages. But then he decided to research and write, which resulted in his independence. For several years he has been working for Sir Apfelot, among others. His articles include product introductions, news, manuals, video games, consoles, and more. He follows Apple keynotes live via stream.