Today is Friday, October 13th, 2017, and since it is also the Halloween month, it all fits together perfectly. Therefore, in this post I am going to introduce you to a few scary, horror and Halloween articles that could be interesting for nerds, but also for ordinary readers. There is also something for every age;)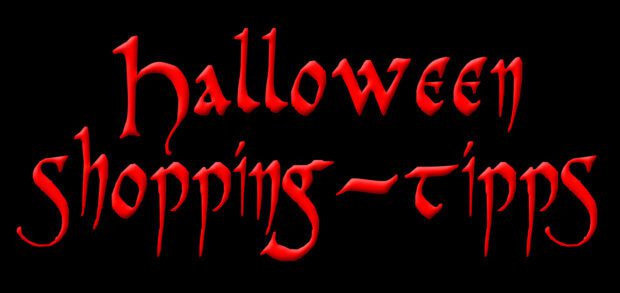 Horror and scary fun: films, DVDs and streams
The first thing I want to do is show you a DVD that is suitable for children - namely a collection of Simpsons Halloween episodes. If you or your children could like this cartoon horror, then you can read the "Treehouse of Horror" DVD in German Order here. If it may be a little darker and more suitable for adults, then of course I recommend - in keeping with today's day - the "Friday the 13th" films. Here I have selected all the parts for you as a mediabook, i.e. Blu-Ray + DVD + bonus DVD:
You can find even more films that go well with Halloween and the gloomy autumn weather in the articles on the cinematic works of Stanley Kubrick and Quentin Tarantino. I also have a list with you Zombie films well worth seeing compiled. If you'd rather see the film series or the series about the Hannibal books by Thomas Harris, then take a look at this one Hannibal contribution past ;)
Kids and nerd products for Halloween
What is really fun before and on Halloween, and not only for children, but also for adults, are iron-on beads. The well-tried craft beads are ideal if you want to immortalize different motifs and attach / hang up somewhere. Iron-on beads that glow in the dark are particularly suitable for the gloomy Halloween party:
3,39 EUR
Hama 3414 - noctilucent iron-on beads
These iron beads, which glow at night or in the dark, are ideal if you want to effectively accommodate ghosts, pumpkins, spiders and more. Instructions and accessories for sticking the iron on beads for Halloween fun are included.
If you don't necessarily want to use the element of surprise at a party, but also on the go, then this jute bag is definitely something for you. Not just for fans of "The Big Bang Theory";)
Surprise element jute bag
Bu! You can now take the element of surprise with you wherever you go. And not only that: your mate and iPad also fit in the bag. Or the candy you collect on Halloween night.
After graduating from high school, Johannes completed an apprenticeship as a business assistant specializing in foreign languages. But then he decided to research and write, which resulted in his independence. For several years he has been working for Sir Apfelot, among others. His articles include product introductions, news, manuals, video games, consoles, and more. He follows Apple keynotes live via stream.
The page contains affiliate links / images: Amazon.de