From today you will get HomeDevices in the iOS App Store. The free app from Yannic Fries serves as a dictionary for HomeKit devices and their technical data. So if you are looking for the right equipment for your smart home, you can read about the right devices in the database. The HomeDevices app shows the respective sensors, control elements, conditions and more for the individual HomeKit devices. They can also be sorted by device type (socket, door lock, thermometer, etc.). Last but not least, the app is useful for seeing what is in your own devices.
TL; DR: You can go directly to the app here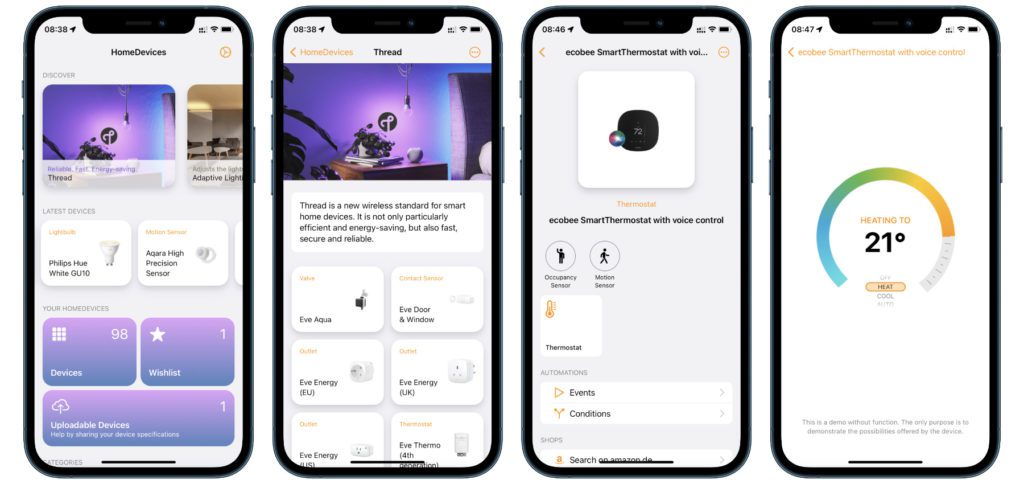 Information about the HomeDevices app
You can download HomeDevices for free from the App Store onto your iPhone or iPod touch. In order for the app to run properly, this is Operating system iOS 15 necessary. The 11,8 MB small app then offers the possibility to search a current database of HomeKit devices, to create a wish list and also to enter your own devices and their data in the database. Because the database is currently still growing due to the cooperation of the users; the manufacturers do not maintain their devices themselves. So you can look up known HomeKit devices and archive your own - similar to Apple devices in Mactracker.
Here is an overview of the HomeDevices functions that the developer Yannic Fries made available to us:
Display HomeKit devices for what they really are
Listing of sensors, controls, events and conditions
Devices can be filtered by device type (temperature sensor, door lock, socket, etc.)
A wish list is available for devices that are not yet available
Your own HomeKit devices and their specs can be compared with the database
Devices that are not yet listed can be entered into the database (they must be physically available for this)
Devices can be easily shared via a URL
Version 1.1 is already waiting for the release from Apple; it enables the use of a region filter
Free download from HomeDevices
You can find the free download of the HomeDevices app with this link as well as in the App Store on your iPhone or iPod touch. Not only iOS 15 is required as the operating system, but also knowledge of English. It is understandable that Yannic Fries first brought out the app in English in order to address as large a target group as possible and to be able to generate database entries. He himself is an indie developer from Germany and has been working intensively with Apple HomeKit since 2015. You can find even more information as well as pictures and functions of the presented app on the corresponding Website . Feel free to leave a comment about the app :)
After graduating from high school, Johannes completed an apprenticeship as a business assistant specializing in foreign languages. But then he decided to research and write, which resulted in his independence. For several years he has been working for Sir Apfelot, among others. His articles include product introductions, news, manuals, video games, consoles, and more. He follows Apple keynotes live via stream.