Moving from work to home office can be tough. It's not just the new work environment that is probably not motivating; you can't even meet up with colleagues quickly to clarify questions. So if you work in a large company, in a creative forge with many projects or another company with a need for networking, then you need smart tools for working from home. In the event that you, like me, run your home office on your Apple Mac, I've found a couple of powerful tools for work planning and communication. Maybe there is something for you and your company;)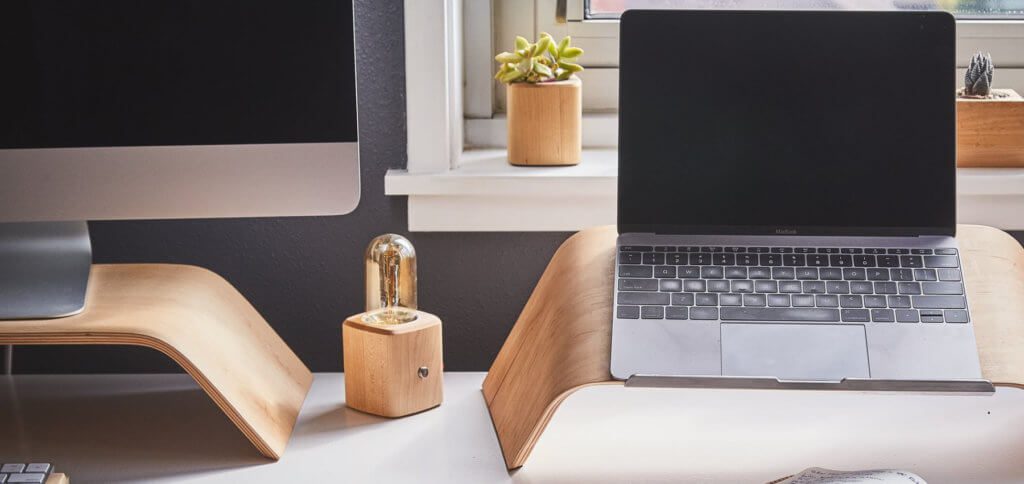 Apple classics: Mail, Messages, FaceTime and Calendar
If everyone in the company uses an Apple computer or at least an iPhone or iPad, then the "Messages" and "FaceTime" apps are good on-board helpers for work at home. With "Mail" you can also merge, organize and view different e-mail accounts at any time. You can also transfer appointments and deadlines from the Apple mail client directly to the "Calendar" app. This helps you to plan your day, to design entries in color (according to urgency, according to work and private, according to other criteria) and to have everything in view. Video calls are particularly easy to implement with "FaceTime".
Professional home office: Things, Slack, Zoom, AnyDesk and more
But of course there are also situations and tasks in which the standard tools do not make any progress; especially in the professional field. Therefore I would like to offer you a few tools from different developers in the following - some of them are not only made for macOS on the Apple Mac and iOS or iPadOS, but also for Windows and Android;)
Things
Things is an app that runs on the Mac, the iPhone and also the iPad. I use them to link e-mails to to-do tasks. Since I sometimes get several change requests, extensions and additional requests for a website from customers, Things helps me to keep track of things. So none of the tasks for an order get lost in the e-mail inbox and I can carry out my work to the satisfaction of the customers;)
Slack
Slack is a comprehensive tool for businesses of all sizes. From a small creative office to a large company with several departments, everyone stays up to date here. Groups (for projects or departments) can be created, documents and files sent, tasks distributed, working hours recorded and video telephony implemented. Once you've got your bearings, you can deliver a really efficient job.
Zoom
If you're only looking for a cross-platform video conferencing service, Zoom could be a solution. Whether it is a small group or a large address, almost anything is possible with Zoom - and that in HD quality. Up to 1.000 video participants are supported; up to 49 videos can be displayed on one screen. Further details on the services and functions of Zoom can be found on the website.
AnyDesk and TeamViewer
Both TeamViewer as well as AnyDesk allow you to share your screen with others over the internet. So if you want to show someone your designs without having to output the project files, or do you need technical support - then simply use one of these services to transfer the display from your computer quickly and easily. You can even set whether the viewers should have access to your screen and your system - so they can solve your problem with their own mouse pointer and keyboard inputs, contribute their own ideas or use your computer for remote work (if you have more power and who wants to make available).
Mac programs for time recording in the home office
There are apps for time recording for the Mac, iPhone and iPad as well as for the Apple Watch. But before you download any, it is better to ask the boardroom, IT or another responsible office in your company which software is suggested.
If the company doesn't care how you measure your working hours, you can choose from various free and paid offers. With "TimeTrack - time recording" (App Store) in the Lite version for iPhone, iPad and Apple Watch you can record your working hours for free. The "WORK - work time recording" app is also free and also works on the three systems. You can use Slack on the Mac; or timeEdition (Website ), where you not only stop the time, but also assign activities, assignments and projects.
Which programs do you use for efficient work in the home office? Feel free to leave a comment with your recommendations and tips (also for Windows);)
Jens has been running the blog since 2012. He appears as Sir Apfelot for his readers and helps them with problems of a technical nature. In his free time he drives electric unicycles, takes photos (preferably with his iPhone, of course), climbs around in the Hessian mountains or hikes with the family. His articles deal with Apple products, news from the world of drones or solutions for current bugs.